Links Orthodox
You are not a Church, you are a heresy. Metropolitan Seraphim of Piraeus replies to the Papist Bishop of Syros Island: From the Greek newspaper "ORTHODOX PRESS"Translated by: www.oodegr.com Issue of 9th November 2007.
St Spyridon | Occasional Prayers - OrthodoxNet.com - Orthodox Prayers. Occasional Prayers - Orthodox Prayers and Creeds The Jesus PrayerO Lord Jesus Christ, Son of God, have mercy upon me, a sinner.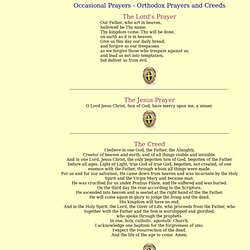 The CreedI believe in one God, the Father, the Almighty, Creator of heaven and earth, and of all things visible and invisible. Orthodox Answers: Answers to Your Questions about Eastern Orthodoxy, Apologetics. | Sola Scriptura. In the Vanity of Their Minds by Fr.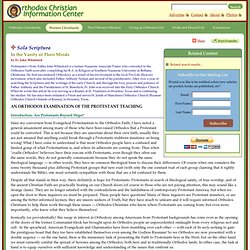 John Whiteford Webmaster's Note: Father John Whiteford is a former Nazarene Associate Pastor who converted to the Orthodox Faith soon after completing his B.A. in Religion at Southern Nazarene University in Bethany, Oklahoma. He first encountered Orthodoxy as a result of his involvement in the local Pro-Life (Rescue) movement, which also included Father Anthony Nelson and several of his parishioners. The Saint Eanswythe Orthodox Mission. SAINTS INDEX. Orthodox Saints, Lives, Calendar. An Orthodox Assessment Of Evangelicalism - Speaking the Truth in Love - Ancient Faith Radio. Orthodox Perspectives on Peace, War and Violence | In Communion.
Ecumenical Review / March 2011 by Fr.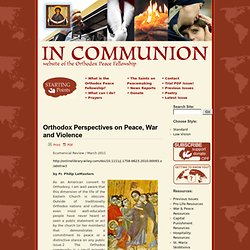 On the Foundation of the Apostles and Prophets | Glory to God for All Things. Now therefore, you are no longer strangers and foreigners, but fellow citizens with the saints and members of the household of God, having been built on the foundation of the apostles and prophets, Jesus Christ Himself being the chief cornerstone, in whom the whole building, being fitted together, grows into a holy temple in the Lord, in whom you also are being built together for a dwelling place of God in the Spirit (Eph. 2:19-22).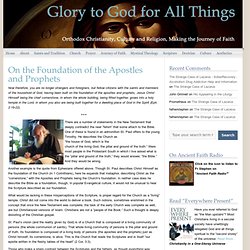 There are a number of statements in the New Testament that deeply contradict the near "fetish" that some attach to the Bible. One of these is found in an admonition St. What Is Heresy? There are not a few Orthodox who are confused about the place of their Church ln the 20th century and the religious milieu through which She is passing.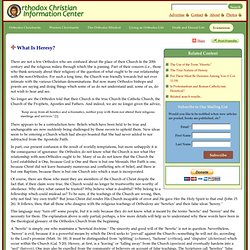 Part of their concern (i.e., those who think seriously about their religion) of the question of what ought to be our relationship with the non-Orthodox. For such a long time, the Church was friendly towards but not ever intimate with the various Christian denominations. But now many Orthodox bishops and priests are saying and doing things which some of us do not understand and, some of us, do not wish to hear and see. No longer are the Orthodox told that their Church is the true Church the Catholic Church, the Church of the Prophets, Apostles and Fathers.
What do Orthodox Christians teach about death and what happens when we die. This is a transcript of a talk given by Fr.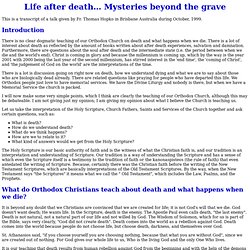 Thomas Hopko in Brisbane Australia during October, 1999. Introduction There is no clear dogmatic teaching of our Orthodox Church on death and what happens when we die. There is a lot of interest about death as reflected by the amount of books written about after death experiences, salvation and damnation. Furthermore, there are questions about the soul after death and the intermediate state (i.e. the period between when we die and the world's end). Orthodox Christian Children. Byzantine Prayer Rope. Orthodox Lectures and Chanting. Www.stpaulsirvine.org/orthodoxy.html. Ethics and Moral Issues. Additionally, see our Orthodoxy Page for general articles about the Orthodox Faith, our Wisdom of the Saints for selected articles by Orthodox Saints.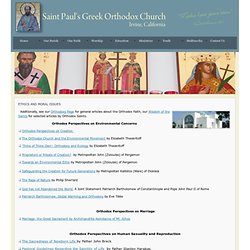 Orthodox Perspectives on Environmental Concerns Orthodox Perspectives on Creation. Ecumenical Patriarchate of Constantinople. | THE TRUE ORTHODOX CHURCH. An Orthodox View of Abortion: The Amicus Curiae Submitted to the Supreme Court. No. 88-605 In The Supreme Court of the United States.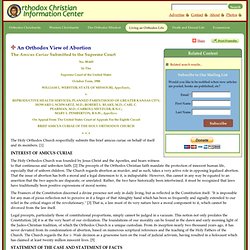 The Fasting Rule of the Orthodox Church. The Church's traditional teaching on fasting is not widely known or followed in our day.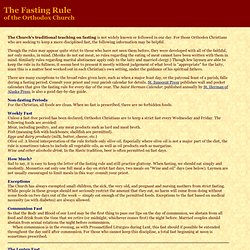 For those Orthodox Christians who are seeking to keep a more disciplined fast, the following information may be helpful. Though the rules may appear quite strict to those who have not seen them before, they were developed with all of the faithful, not only monks, in mind. (Monks do not eat meat, so rules regarding the eating of meat cannot have been written with them in mind. Similarly rules regarding marital abstinence apply only to the laity and married clergy.) Though few laymen are able to keep the rule in its fullness, it seems best to present it mostly without judgement of what level is "appropriate" for the laity, since this is a matter best worked out in each Christian's own setting, under the guidance of his spiritual fathers. Greek Orthodox Archdiocese of America. The Veneration of the Virgin Mary in the Orthodox Church. By Archbishop Dmitri of Dallas and the South Because of recent discussions about the Catholic Church's considering defining a new dogma concerning the Virgin Mary it might be of interest to Christians of other Churches to have some explanation of the Orthodox Church's position concerning her.
The Orthodox Church honors and venerates the Virgin Mary as "more honourable than the Cherubim and more glorious without compare than the Seraphim …" Her name is mentioned in every service, and her intercession before the throne of God is asked. She is given the title of "Theotokos" (Greek for "Birth-giver-of-God), as well as "Mother of God". The Divine Liturgy of Saint James - The British Orthodox Church. The Holy Orthodox Popes of Rome. Return to Home Page The Holy Orthodox Popes of Rome In this present short work it is our aim to present a full list of the holy popes of Rome, a work which to our knowledge has never been carried out before in its Orthodox context.
We feel that this task is particularly valuable at the present time for two reasons: Firstly, Rome remains the historic centre of the Western Patriarchate and remains a holy place of Orthodox pilgrimage after that Patriarchate ceased to confess Orthodoxy. Western Rite Orthodoxy UK Official Website. Web Site. Introduction Booklets Other MusicLinks & Mail eMatins is merging with AGES DCS. You can view pdf files of the texts for many more services and print scores in Chrome and Safari. www.agesinitiatives.com/dcs/public/dcs/ You can find links for musical scores in the HTML files. Scroll to the hymn you need, click on the music icon; the score will appear in the right frame. OODE- ORTHODOX OUTLET FOR DOGMATIC ENQUIRIES.
Orthodox Links. Orthodox catechism topics. It is a sad fact that so many of the faithful of the Orthodox Church are ignorant of its dogmatic truths. The lack of knowledge of the Church's divine teachings is not normal, though many consider that all dogmas concern only specialists. Anyone who desires to be called a Christian has the responsibility to be as knowledgeable as possible. The truth is that we are all in need of constant catechesis. In trying to meet this divine need, we are posting brief, clear and simple texts that contain necessary information about our Faith. All-Merciful Savior Orthodox Mission, Austin, Texas, St. John. Greek Orthodox Church - Saint George Cathedral: Prayer, Fasting, Sacraments, Sacred Music, Icons, Angels, Feasts of Virgin Mary, Monastic Life, Study Links, Articles. MENOLOGION 3.0. Www.gutenberg.org/cache/epub/130/pg130.html. What Orthodox Christians Believe. Friend of God Foundation. Liturgical Service Structures | Antiochian Orthodox Christian Archdiocese.
Crushing the Dragons of Theophany « Glory to God for All Things. Bishop Alexander's Website. Administration—Hierarchs—Bishop Ambrose of Methone. Virgin Mary the Theotokos as Mediatress. Home :: Orthodox Christian Information Center. Daily Prayer Basics - How To Pray. Saint Luke Orthodox Church - Ministries - Community. Orthodox Research Institute. Zoe for Life! ORTHODOXY AND ROMAN CATHOLICISM.
Joseph's Corner. Annunciation Byzantine Catholic Church. Annunciation Byzantine Catholic Church. The Divine Liturgy of Saint John Chrysostom. Orthodox Christian Faith. Saint Ignatius of Antioch - Part I. Monachos.net - Orthodoxy through Patristic and Monastic Study. Passions. Greek Name Days. OrthodoxChristianity.net - Orthodox Christian Forum and Resources. Orthodox Answers: Answers to Your Questions about Eastern Orthodoxy, Apologetics.
Orthodox Prayer: Daily Prayer, Jesus Prayer, Lord's Prayer, Prayer Rule, Articles and Books, Prayers for All Occasions; Praying to Saints.
Bodycard 0240
---