LIVE RESSOURCES
Latest TV News. Al jazeera. Live stream. Al Jazeera English: Live Stream - Watch Now. MONDE : Libye : suivez en direct les événements - 26 février 2011. 20110224elpepuint_2_Ges_SWF.png (PNG Image, 970x550 pixels)
LE « LIVE » du 26 février de DAZIBAOUEB sur la REVOLUTION en cours en LYBIE. Ecitice. Live Blog - Libya Feb 24. As the uprising in Libya enters its tenth day, we keep you updated on the developing situation from our headquarters in Doha, Qatar.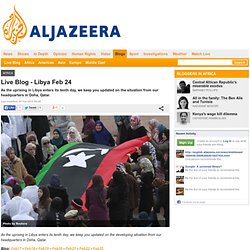 Blog: Feb17 - Feb18 - Feb19 - Feb20 - Feb21 - Feb22 - Feb23 AJE Live Stream - Special Coverage: Libya Uprising - Twitter Audio: Voices from Libya Benghazi Protest Radio (Arabic) Blog - The Arabist. Watch Al Manara TV Live Streaming Online For Free. Le Monde (lemondefr) Libya February 17th | Keeping with the events as they happen. Libye : Tobrouk, une ville libérée qui retient son souffle. LE MONDE | • Mis à jour le | Par Cécile Hennion 6 / 7 Sur la route côtière, les gens font le signe de la victoire, ont l'air fous de joie, et semblent sûrs que Kadhafi va être renversé.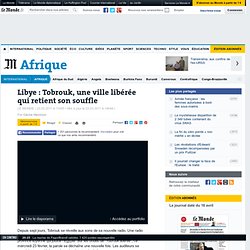 Crédits : REUTERS/ASMAA WAGUIH facebook twitter google + linkedin pinterest 7 / 7 A Benghazi, des imams et des comités formés de jeunes et d'intellectuels - avocats, docteurs, etc. - ont appelé la population à abandonner les armes prises aux forces de sécurité. "La situation est stable depuis l'arrestation des bataillons et la ville est sous le contrôle des habitants et de la jeunesse, qui font la circulation avec la police", explique Ali, étudiant de 18 ans, qui refuse de donner son nom de famille.
Watch Free LIVE Al Jazeera Arabic TV Channels MBC Rotana LBC ListenArabic.com. Al Jazeera English: Live Stream - Watch Now. StateDept: create #NoFlyLibya -keep Gaddafi's bombers grounded. cc: PJC. Libya17Feb_1. Libye: suivez le direct de Benghazi (webradio) | Samedi 19 Février 2011 sur StreetPress. Sultan Al Qassemi (SultanAlQassemi)
---
elsinse Feb 22 2011

Live and new and point ... The man come back and speak english
---