LIVE RESSOURCES
MONDE : Libye : suivez en direct les événements - 26 février 2011
20110224elpepuint_2_Ges_SWF.png (PNG Image, 970x550 pixels)
私は看護学校を卒業して、病院に看護師として就職をしました。私が配属されたのは急性期・消化器外科なのですが、そこでの仕事は多忙を極めています。 私はまだ仕事に慣れていないのですが、一人前として働かなければ仕事が回らない状態ですし、習うより慣れろで仕事をしてきました。 しかし少し慣れてきた今になって疲れが出てきているのです。私が目指していたのは患者さんと関わり、心を癒す看護師です。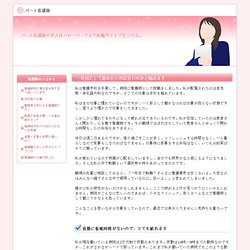 ecitice
(via onlinevolunteering.org) Libya Crisis Map When the Libya crisis broke on 16 February 2011, Estella Reed, recruitment professional from the UK, wanted to contribute her time and knowledge to raise awareness of what was going on inside the country. "I have been following the crisis in Libya and was saddened by the suffering that I have seen", she says. As the crisis in Libya began to unfold, the Office for the Coordination of Humanitarian Affairs (OCHA), the UN agency responsible for bringing together humanitarian actors to ensure a coherent response to emergencies, faced a critical challenge: the lack of information about events inside the country.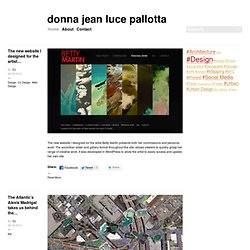 Live Blog - Libya Feb 24
As the uprising in Libya enters its tenth day, we keep you updated on the developing situation from our headquarters in Doha, Qatar. Blog: Feb17 - Feb18 - Feb19 - Feb20 - Feb21 - Feb22 - Feb23 AJE Live Stream - Special Coverage: Libya Uprising - Twitter Audio: Voices from Libya Benghazi Protest Radio (Arabic)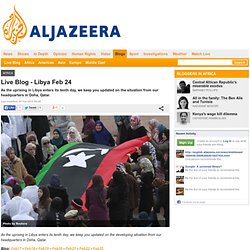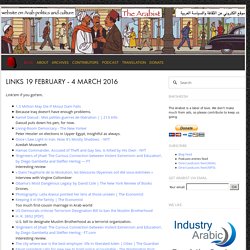 The talented team at the professional translation service Industry Arabic brings you this installment in our regular In Translation series. Letter to Sisi: Why do they object to your candidacy? Moataz Bellah Abdel-Fattah, al-Watan, March 28, 2014 A statesman is like someone driving a very large vehicle with many mirrors and gauges; he has to pay attention to all of them at once and to pick up on warning signs in time.
Watch Al Manara TV Live Streaming Online For Free
Le Monde (lemondefr) on Twitter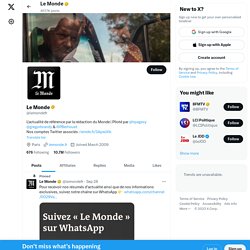 Language: English Bahasa Indonesia Bahasa Melayu
Libya February 17th | Keeping with the events as they happen
A large organization? No. A privately funded group? Umm..nope! Professional journalists with years of experience in the business?
LE MONDE | • Mis à jour le | Par Cécile Hennion 6 / 7 Sur la route côtière, les gens font le signe de la victoire, ont l'air fous de joie, et semblent sûrs que Kadhafi va être renversé. Crédits : REUTERS/ASMAA WAGUIH facebook twitter google + linkedin pinterest 7 / 7 A Benghazi, des imams et des comités formés de jeunes et d'intellectuels - avocats, docteurs, etc. - ont appelé la population à abandonner les armes prises aux forces de sécurité. "La situation est stable depuis l'arrestation des bataillons et la ville est sous le contrôle des habitants et de la jeunesse, qui font la circulation avec la police", explique Ali, étudiant de 18 ans, qui refuse de donner son nom de famille.
Libye : Tobrouk, une ville libérée qui retient son souffle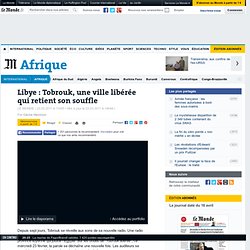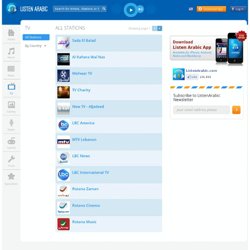 Watch Free LIVE Al Jazeera Arabic TV Channels MBC Rotana LBC ListenArabic.com
ListenArabic.com give you the opportunity to watch Live Arabic TV channels online. There are TVs that broadcast in the Arabic language - Arabic TV Channels online like MBC , LBC , OTV , Abu Dhabi Channel , Islam channel …they all broadcast a variety of programs including online news, entertainment, and religion... You can watch Arabic TV entertainment and talent shows like Star Academy on LBC , the Lebanese TV station, or Arab Idol on MBC …in addition to other Reality shows like Mission Fashion, Perfect Bride on LBCI… Arab TV Networks: - ART (Arab Radio and Television Network) has many Arabic TV channels online: Aflam1, Aflam2, Cinema, ART America, ART Movies America, VIP, ART Movie World….and much more.
StateDept: create #NoFlyLibya -keep Gaddafi's bombers grounded. cc: PJC
Libya17Feb_1
Libye: suivez le direct de Benghazi (webradio) | Samedi 19 Février 2011 sur StreetPress
Sultan Al Qassemi (SultanAlQassemi) on Twitter