# Libya 17 TH 16/03
La secrétaire d'Etat américaine, Hillary Clinton, a dit "espérer" un vote jeudi au Conseil de sécurité de l'ONU sur une zone d'exclusion aérienne et "d'autres actions" pour contrer l'offensive des troupes de Mouammar Kadhafi contre les insurgés en Libye. La France a lancé une tentative de la dernière chance pour arracher au Conseil de sécurité de l'ONU un accord pour une action militaire en Libye qui stopperait l'avancée des troupes de Mouammar Kadhafi, sur le point de reconquérir Benghazi, fief de la rébellion. "La France appelle solennellement tous les membres du Conseil de sécurité à prendre pleinement leurs responsabilités" et à soutenir l'appel de la Ligue arabe à l'imposition d'une zone d'exclusion aérienne au-dessus de la Libye, a écrit le président Nicolas Sarkozy dans une lettre à chacun d'entre eux.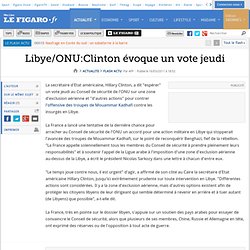 Libye/ONU: Clinton espère un vote jeudi
6:19 p.m. | Updated The New York Times said Wednesday that four of its journalists reporting on the conflict in Libya were missing. Editors said they were last in contact with the journalists, who were reporting from the northern port city of Ajdabiya, on Tuesday morning New York time. And despite secondhand reports that they had been swept up by Libyan government forces, the paper said it could not confirm that information. "We have talked with officials of the Libyan government in Tripoli, and they tell us they are attempting to ascertain the whereabouts of our journalists," said Bill Keller, executive editor of The Times. "We are grateful to the Libyan government for their assurance that if our journalists were captured they would be released promptly and unharmed."
Four New York Times Journalists Are Missing in Libya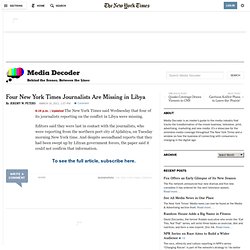 Footage of Misrata Today (March 16) |
À Benghazi, "l'armée de Kadhafi n'inquiète personne"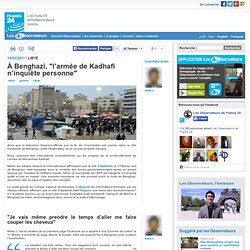 "Je vais même prendre le temps d'aller me faire couper les cheveux" Milad C. est le créateur de la première page Facebook qui a appelé à une "journée de colère" le 17 février. Il a monté sa page depuis la Suisse, mais est aujourd'hui à Benghazi pour soutenir l'insurrection. La situation est très calme. Tous les magasins sont ouverts. Je vais même prendre le temps d'aller me faire couper les cheveux.
صحيفة ليبيا اليوم
Rebel fighter jets 'sink Gaddafi warships'
Rubbish is piled up in front of a caricature of Muammar Gaddafi on a street in the rebel stronghold of Benghazi. Like many dictators, Gaddafi carefully controlled how his image was used, often portraying himself as a deity or beloved leader. In rebel-controlled areas, ridicule has become a key weapon in the fight against the climate of fear that has long gripped the country. Anti-Gaddafi caricatures and graffiti have sprung up across cities such as Benghazi portraying him in an unflattering light. Reuters photographer Finbarr O'Reilly captured anti-Gaddafi graffiti and caricatures in Benghazi.
Caricatures of Muammar Gaddafi in Benghazi, photographed by Finbarr O'Reilly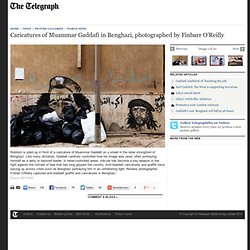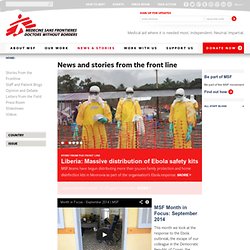 Amid fierce and ongoing fighting in Libya, Médecins Sans Frontières/Doctors Without Borders (MSF) has been forced to withdraw its staff from Benghazi. The teams have moved to Alexandria, Egypt, or are on their way there. They will try to continue supporting Libyan health facilities, primarily through provision of medicines and medical materials. To date, MSF has made 33 tonnes of medical supplies available, but security conditions have made it effectively impossible for medical teams to travel safely to areas where the fighting has created the greatest needs. MSF team forced to turn back On two different occasions last week, an MSF team tried to reach the fiercely-contested town of Ras Lanuf but was forced to turn back due to insecurity.
Libya: MSF withdraws from Benghazi
Kadhafi avait menacé la semaine dernière: si le président français persistait à reconnaître le Conseil national de résistance comme seul représentant du peuple libyen, le "Guide" rendrait public "un grave secret" lié à la campagne présidentielle française de 2007, de nature à faire chuter Sarkozy. Le fils de Mouammour Kadhafi précise sa pensée ce jeudi, dans une interview à Euronews . Saïf al-Islam affirme, sans néanmoins en apporter la preuve : "Il faut que Sarkozy rende l'argent qu'il a accepté de la Libye pour financer sa campagne électorale. C'est nous qui avons financé sa campagne, et nous en avons la preuve.
Le fils de Kadhafi assure avoir financé la campagne de Sarkozy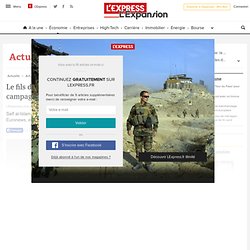 Le fils de Kadhafi assure avoir financé la campagne de Sarkozy
Notre honneur
" OUR HONOR !"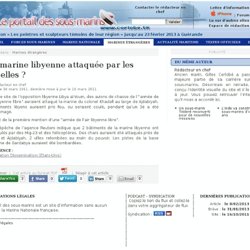 La marine libyenne attaquée par les rebelles?
Selon le site de l'opposition libyenne Libya al-Youm, des avions de chasse de l'"armée de l'air libyenne libre" auraient attaqué la marine du colonel Khadafi au large de Ajdabiyah. 2 bâtiments libyens auraient pris feu, ou seraient coulé, pendant qu'un 3è a été endommagé. Il s'agit de la première mention d'une "armée de l'air libyenne libre". Une dépêche de l'agence Reuters indique que 2 bâtiments de la marine libyenne ont été coulés par des Mig-23 et des hélicoptères. Des chars auraient été attaqués près de Brega et Ajdabiyah, 2 villes retombées au main du pouvoir. Les pistes de la base aérienne de Gardabya auraient été bombardées.
unnamed pearl
#OpLibya : Chat on OpLibya IRC channel
Frequences to Jam.