Library stuff
CCGS Intranet.
American library association. AustLit: The Australian Literature Resource Home Page. Silk road. #YAsaves: Sherman Alexie on Why the Best Kids Books Are Written in Blood. Mythology. Library and Information Studies | Courses. National Year of Reading 2012. A mystery, a memoir, a journey into the outback, a sinister and haunting tale, an unsolved disappearance, uncontrollable desires, the horrors of war, laughter, heartbreak and a dark secret - you will find them all in the eight books which Australians have decided will be the National Year of Reading 2012 collection.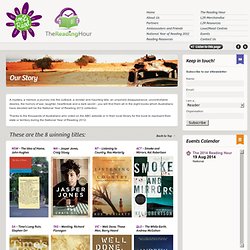 Thanks to the thousands of Australians who voted on the ABC website or in their local library for the book to represent their state or territory during the National Year of Reading 2012. Teacher Librarians, School Library Technicians, Officers and Staff | Western Australian School Library Association.
10 Awesome Free Tools To Make Infographics. Who can resist a colourful, thoughtful venn diagram anyway?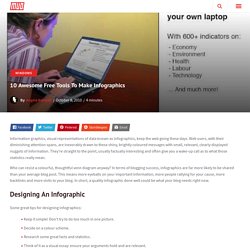 In terms of blogging success, infographics are far more likely to be shared than your average blog post. This means more eyeballs on your important information, more people rallying for your cause, more backlinks and more visits to your blog. In short, a quality infographic done well could be what your blog needs right now.
Learn how Everything Works!". 20 heroic librarians who save the world. With the help of the amazing powers of Bob Newhart, and Jane Curtain.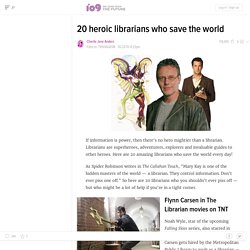 You forgot a small, but vital part of that sentence. I know they were kind of corny, but I liked The Librarian on TNT, especially the first one. I thought it would have made a damn fine series, but then we have Warehouse 13 now so I'll call it good. HOT QR Codes in the Classroom & Library. QR Codes are popping up everywhere!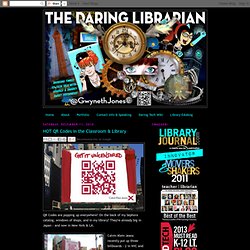 On the back of my Sephora catalog, windows of shops, and in my library! They're already big in Japan - and now in New York & LA. 21st Century School Librarianship. 25 ways IT will morph in the next 25 years. Network World - Imagine a world where the computers, networks and storage systems are all tens of thousands of times faster than they are today -- and then think about the sci-fi type of applications that will be possible.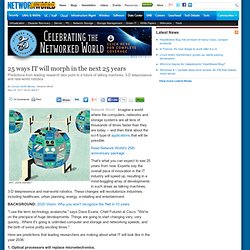 Read Network World's 25th anniversary package That's what you can expect to see 25 years from now. The Next Generation of Discovery. By Judy Luther & Maureen C.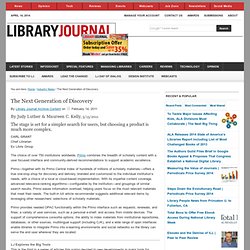 Kelly, 3/15/2011 The stage is set for a simpler search for users, but choosing a product is much more complex. CARL GRANT Chief Librarian Ex Libris Group The choice of over 750 institutions worldwide, Primo combines the breadth of scholarly content with a user focused interface and community-derived recommendations to support academic excellence.
---