Children book awards
Children's Book Council of Australia. American Children Young Adult Book Award List A-Z. Publishers note regarding American Awards.
We cover over 70 US Adult and Children's Literary Prizes plus monitor over 40 US State Awards. Links to the books listed on these pages will take you to the Powells Books USA Data base, to Amazon or to Fishpond Australia! We are currently changing over all links from Amazon globally to support local book retailers. Sorry that it is a bit of dogs breakfast but given the size of the task it will take sometime to sort out! . The Michael L. Printz Award for Excellence in Young Adult Literature. The Michael L.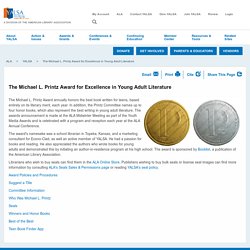 Printz Award annually honors the best book written for teens, based entirely on its literary merit, each year. In addition, the Printz Committee names up to four honor books, which also represent the best writing in young adult literature. The awards announcement is made at the ALA Midwinter Meeting as part of the Youth Media Awards and is celebrated with a program and reception each year at the ALA Annual Conference. The award's namesake was a school librarian in Topeka, Kansas, and a marketing consultant for Econo-Clad, as well an active member of YALSA.
The CILIP Carnegie & Kate Greenaway Children's Book Awards. The CILIP Carnegie and Kate Greenaway Medals are the UK's oldest and most prestigious children's book awards.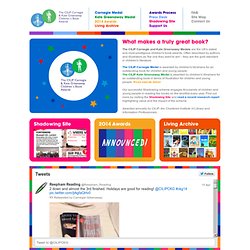 Often described by authors and illustrators as 'the one they want to win' - they are the gold standard in children's literature. The CILIP Carnegie Medal is awarded by children's librarians for an outstanding book for children and young people.
---