LGBT
Effing Dykes
Films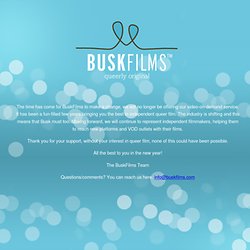 The time has come for BuskFilms to make a change, we will no longer be offering our video-on-demand service. It has been a fun-filled few years bringing you the best in independent queer film. The industry is shifting and this means that Busk must too. Moving forward, we will continue to represent independent filmmakers, helping them to reach new platforms and VOD outlets with their films. Thank you for your support, without your interest in queer film, none of this could have been possible. All the best to you in the new year!
Outro Espaço – Downloads, filmes e seriados para lésbicas.
It Gets Better Project
AfterEllen.com
Autostraddle
The Lesbian Handbook.com
The L Word Vaults
The Bizarre World of the Bisexual
The Perils of Lesbianity
Greatest Yahoo Answer. Ever.
Homosexuality and the Bible
The L Chat