LGBT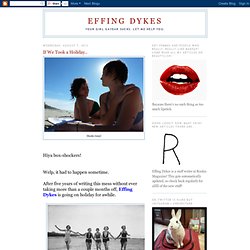 Hiya box-shockers! Welp, it had to happen sometime. After five years of writing this mess without ever taking more than a couple months off, Effing Dykes is going on holiday for awhile. I need a little break.
Effing Dykes
Films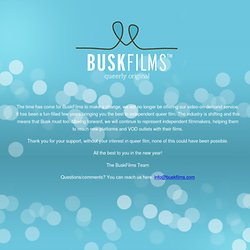 The time has come for BuskFilms to make a change, we will no longer be offering our video-on-demand service. It has been a fun-filled few years bringing you the best in independent queer film. The industry is shifting and this means that Busk must too. Moving forward, we will continue to represent independent filmmakers, helping them to reach new platforms and VOD outlets with their films. Thank you for your support, without your interest in queer film, none of this could have been possible. All the best to you in the new year!
Outro Espaço – Downloads, filmes e seriados para lésbicas.
Posted May 7, 2012 by Gary Nelson A Letter to Any Teen Who's Thinking About Suicide Dear friend, Let me start by telling you that I love you. No, I don't know you at all. I might have passed you at the mall or caught a glimpse of you driving down the road, but chances are you live far away from me, in another state or even in another country. I love you just the same.
It Gets Better Project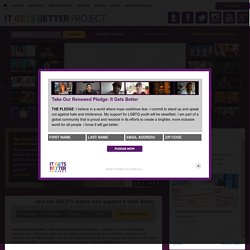 AfterEllen.com
Autostraddle
I finally feel safe enough to imagine the big queer family I never had. A home where gender is an option, not an obligation, where parents can apologize to each other as well as to their kids and where long, ongoing conversations about race, power and privilege exist. This week on a show that makes my own therapist worried about me, Ghost is little more than a thin membrane of double standards, Farrah and orders her dessert before her drinks, and Whitney and Sara float blankly in the corner until they talk about hitting each other because they are "passionate". Everyone Is Gay debuts a compilation album of everyone you love: Mal Blum, Ingrid Michaelson, Allison Weiss, Jenny Owen Youngs, and Gregory and the Hawk, for starters. Did we mention it's for a great cause?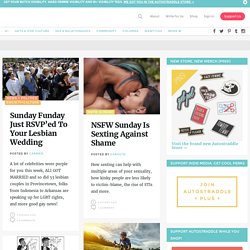 The Lesbian Handbook.com
The L Word Vaults
The Bizarre World of the Bisexual
The Perils of Lesbianity
Greatest Yahoo Answer. Ever.
My first time, I was so extraordinarily nervous that afterward I could not remember much of what happened. I still don't today. Entirely unexpectedly, I have actual amnesia. When I try to remember, I see flashes of images, I feel a few bursting emotions, and there are a handful of distinct thoughts that I can recall. But these span no more than a few seconds – brief moments that randomly intersperse those five minutes.
Homosexuality and the Bible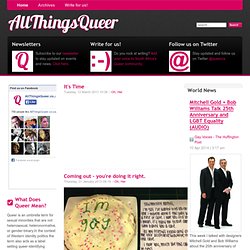 The L Chat