LeWeb 2010!
Open Courses | Free Online Classes
Europe's largest innovation conference — 2,400 entrepreneurs, leaders, investors, bloggers, journalists gathering for two days in Paris — has just released its programme of speakers. LeWeb 2010 does not disappoint. Founder Loic Le Meur and wife Geraldine have gathered speakers come from such organisations as Microsoft, Facebook, MySpace, Playfish, Rovio, Nokia, Paypal, Google, RIM, foursquare, Digg, Mozilla, WordPress, Twitter, LinkedIn, Ning, Intel, Seesmic, Evernote, Yahoo. And in most cases these are either CEOs or very big cheeses indeed — such as Google's Marissa Mayer, just promoted to vice president of geographic and local services, or Marko Ahtisaari, SVP Design at Nokia (and son of the former president of Finland) to name but two. Quizzing them will be the usual array of tech bloggers — the likes of Robert Scobble, TechCrunch's Mike Arrington, Tekzilla's Veronica Belmont, Engadget's Ryan Block and the elected President of the Internet, Leo Laporte.
LeWeb To Bring Silicon Valley to Paris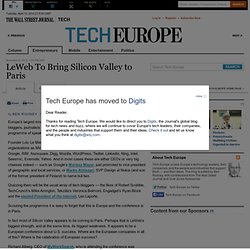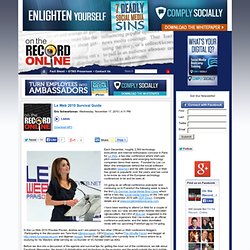 Each December, roughly 2,500 technology executives and Internet enthusiasts convene in Paris for Le Web, a two-day conference where start-ups pitch venture capitalists and emerging technology companies demo their wares. Founded by Loic Le Meur (the entrepenuer behind the social software application Seesmic) and his wife Geraldine, Le Web has grown in popularity over the years and has come to be know as one of the European technology conferences to be and be seen at. I'm going as an official conference podcaster and continuing on to Frankfurt the following week to teach the first US-German Social Media Boot Camp which will be a two-day social media training on the 14th and 15th of December 2010 with DDP Direct. Complete details are at www.socialmediabootcamp.com
Le Web 2010 Survival Guide - Podcast Episode / On the Record...Online
What's hot at leweb?