Innov'acteurs
Get flash to fully experience Pearltrees
Plenary Panel Member, mLearnCon June, 2011 Deisgning Social Interactions in Online Learning Keynote Speaker, Florida International University Miami FL, March, 2011 [ video ] New Perspectives in Learning Keynote Speaker, DevLearn 2010 San Francisco CA, Nov 3-5, 2010 Delivering Online Learning with Google and Twitter Presenter, Innovations in eLearning Symposium Fairfax VA, June 1-2, 2010 ( Google Wave )
54 Votes Description In the future, learning will happen outside the walls of the traditional classroom and the smartest societies will find new ways of educating their citizens in a networked, constructivist manner. Why this speaker? I'm helping educational innovators remake learning in the digital age.
09. March 2012 by Bea Beste PlayDUcation entwickelt Forscher-, Entdecker- und Erfinderspiele für Kinder aller Altersgruppen.
Jane McGonigal (born October 21, 1977) is an American game designer and author who advocates the use of mobile and digital technology to channel positive attitudes and collaboration, in a real world context. [ edit ] Background and career McGonigal was brought up in New Jersey by teacher parents who emphasized intellectual attainment; her identical twin sister, Kelly, is a psychologist and author. McGonigal received her BA in English from Fordham University in 1999, [ 1 ] and her PhD in Performance Studies from the University of California, Berkeley in 2006. [ 2 ] As a designer McGonigal became known for location-based and alternate reality games . [ 3 ] Her last game, SuperBetter , was created to help her overcome debilitating after-effects from a concussion injury.
Cheveux longs attachés, courte barbe, chemise rouge et pantalon noir, Simon Bachelier a une voix douce et accueillante. Non content d'être une vraie encyclopédie des jeux vidéo, il sait également décrypter ce monde de manière fine. Rencontre avec ce jeune homme au profil original. Quel est ton parcours ?
Bret Victor / April 11, 2011 The power to understand and predict the quantities of the world should not be restricted to those with a freakish knack for manipulating abstract symbols. When most people speak of Math, what they have in mind is more its mechanism than its essence. This "Math" consists of assigning meaning to a set of symbols, blindly shuffling around these symbols according to arcane rules, and then interpreting a meaning from the shuffled result.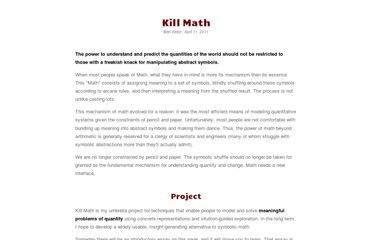 Posted on February 14, 2011 The Learning Lab is an independent studio and think tank founded by dr. Thieu Besselink.
Victoria (Vicky) Colbert has designed and spread a revolutionary model for rural education in Colombia: Escuela Nueva, or New School. As she continues to push that innovation forward, she is simultaneously developing a new methodology to address the unique educational needs of children displaced by Colombia's armed conflict. Having studied sociology and education in Latin America and the United States, Vicky returned to Colombia in the mid-1970s to introduce Escuela Nueva, or New School, a model that blended elements she had studied. Using this educational approach, she converted ... Read More [+] dysfunctional rural schools into those that connected with students, taught relevant skills, linked schools to community life, and offered participatory and self-paced learning to students. The model worked, the strategy for introducing it proved effective, and the Ministry of Education made it a national policy, bringing it to 18,000 rural schools in Colombia.