Lesson Plans
Beacon Learning Center - Online Resources for Teachers and Students
www.pbs.org/newshour/thenews/materials/papers_la_lesson.pdf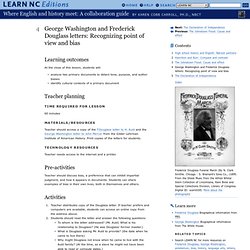 Learning outcomes At the close of this lesson, students will: analyze two primary documents to detect tone, purpose, and author biases identify cultural contexts of a primary document Teacher planning Time required for lesson 60 minutes
George Washington and Frederick Douglass letters: Recognizing point of view and bias - Where English and history meet: A collaboration guide
An Exploration of Text Sets: Supporting All Readers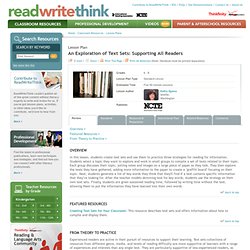 ReadWriteThink couldn't publish all of this great content without literacy experts to write and review for us. If you've got lessons plans, activities, or other ideas you'd like to contribute, we'd love to hear from you. More Find the latest in professional publications, learn new techniques and strategies, and find out how you can connect with other literacy professionals. More
Middle School Activities
K-12 Core Lesson Plans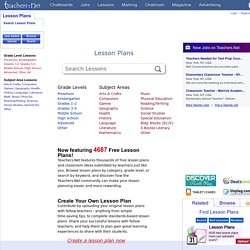 Now featuring 4685 Free Lesson Plans! Teachers.Net features thousands of free lesson plans and classroom ideas submitted by teachers just like you. Browse lesson plans by category, grade level, or search by keyword, and discover how the Teachers.Net community can make your lesson planning easier and more rewarding. Create Your Own Lesson Plan Contribute by uploading your original lesson plans with fellow teachers - anything from simple time-saving tips, to complete standards-based lesson plans.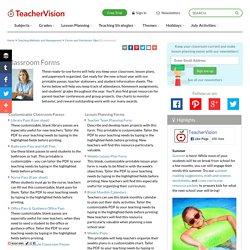 Printable Classroom Forms for Teachers, Grades K-12
Easter & Passover Get ready for fun classroom crafts: Easter and Passover are both approaching! Passover begins Friday, April 14 and Easter is Sunday, April 20. Poptropica Teaching GuidesPoptropica is one of the Internet's most popular sites for kids—and now it's available as an app for the iPad! It's not just a place to play games; each of the islands featured on the site provides a learning opportunity. Check out our teaching guides to four of Poptropica's islands: 24 Carrot Island, Time Tangled Island, Mystery Train Island, and Mythology Island. April Calendar of Events April is full of holidays and events that you can incorporate into your standard curriculum.
Free Teacher Resources - Free Lessons, Activities, Brain Teasers, Teaching Tips & More