E-learning
TECHNOHAIKU - APLICACIONES EN LÍNEA PARA LA EDUCACIÓN 2.0. SchoolTool: el Sistema Global de Información Estudiantil. Noticias de recursoseducativos | RecursosEducativos.35webs.com. ArchiveCMS: Product List. About good practices and sound policies that accelerate the effective adoption and use of technologies in teaching and learning.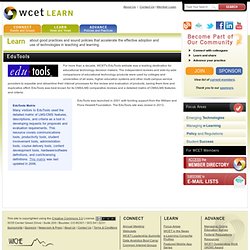 For more than a decade, WCET's EduTools website was a leading destination for educational technology decision makers. The independent reviews and side-by-side comparisons of educational technology products were used by colleges and universities of all sizes, higher education systems and other multi-campus service providers to expedite and streamline their internal processes for the review and evaluation of products, saving them time and duplicative effort. EduTools was best known for its CMS/LMS comparative reviews and a detailed matrix of CMS/LMS features and criteria.
EduTools Matrix Many visitors to EduTools used the detailed matrix of LMS/CMS features, descriptions, and criteria as a tool in developing requests for proposals and evaluation requirements.
RENATA
Cursos de Programación Web, Mobile y Seguridad en ITMaster Professional Training. Los más actualizados cursos para profesionales tanto presenciales, online y para empresas.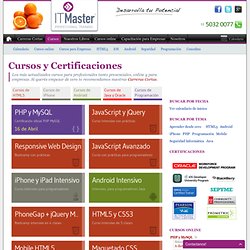 Si querés empezar de cero te recomendamos nuestras Carreras Cortas. Certificación oficial PHP MySQL Curso Intensivo con prácticas Curso con prácticas para programadores. EXPOELEARNING - Congreso Internacional y Feria Profesional. PublicacionesElearning. MASTER UOC. CNICE Red Digital. 41 Websites for Teachers to Integrate Tech into Your Classroom. This list has a little bit of everything, and will kick-start your effort to put technology into your lesson plans: Do you have any to add to this list?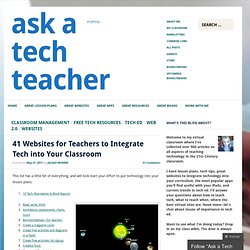 Jacqui Murray is the editor of a technology curriculum for K-fifth grade and creator of two technology training books for middle school. She is the author of Building a Midshipman, the story of her daughter's journey from high school to United States Naval Academy midshipman. Glosario de elearning « Elearning en Argentina. Glosario de términos de elearning Accesibilidad Este término puede definirse en dos sentidos.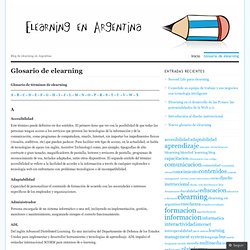 El primero tiene que ver con la posibilidad de que todas las personas tengan acceso a los servicios que proveen las tecnologías de la información y de la comunicación, como programas de computadora, emails, Internet, sin importar los impedimentos físicos (visuales, auditivos, etc) que puedan padecer.
---