Lesson
Auditing: Four Types of Reports essays. Auditing: Four Types of Reports 1: There are four different types of audit reports.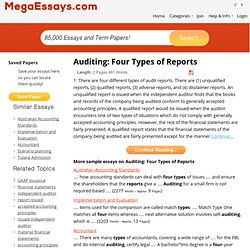 There are (1) unqualified reports, (2) qualified reports, (3) adverse reports, and (4) disclaimer reports. An unqualified report is issued when the independent auditor finds that the books and records of the company being audited conform to generally accepted accounting principles. Accounting Concepts and Conventions. Author: Jim Riley Last updated: Sunday 23 September, 2012 Accounting concepts and conventions In drawing up accounting statements, whether they are external "financial accounts" or internally-focused "management accounts", a clear objective has to be that the accounts fairly reflect the true "substance" of the business and the results of its operation.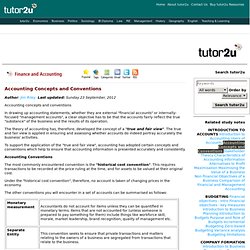 The theory of accounting has, therefore, developed the concept of a "true and fair view". Www.pwc.ch/user_content/editor/files/publ_ass/pwc_summary_similarities_and_diff_07_08_e.pdf. Www.iasplus.com/en/binary/dttpubs/0809ifrsusgaap.pdf. The FAR Group - CPA Exam Club. CPAnet's Groups - CPA Exam Club. Learn Accounting Online for Free | AccountingCoach.com.
Real Life Accounting - Learn Accounting Step by Step - Online & E-book Tutorials Teaching Basic Accounting. Errors in Accounting. Errors of Commission These errors by definition are of clerical nature.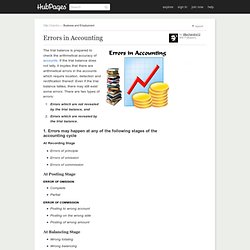 These errors may be committed at the time of recording and/or posting. At the time of recording, the wrong amount may be recorded in journal which will be carried throughout. Such errors will not affect the agreement of the trial balance. Your Source For Investing Education. Adjusting Entries in Accounting | Accounting: Accounting Cycle | College-Cram.com. Posted by Professor Cram in Accounting Cycle Adjusting Entries in Accounting – Introduction Adjusting Entries are journal entries that are made at the end of the accounting period, to adjust expenses and revenues to the accounting period where they actually occurred.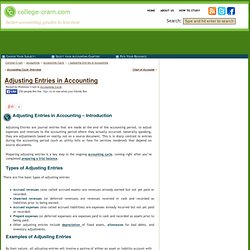 Generally speaking, they are adjustments based on reality, not on a source document. Accounting Today - Tools and Resources for the Electronic Accountant - An Investcorp and SourceMedia Publication. SAS 70 Audit Training Videos | Learn about Type I and Type II Compliance. SAS 70 training videos, developed by NDB Accountants and Consultants, are an excellent resource for learning all you need to know about Statement on Auditing Standards No. 70 (SAS 70) Type I and Type II audits.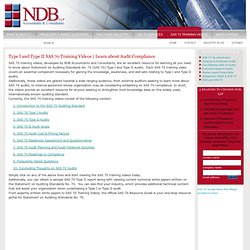 Each SAS 70 training video covers an essential component necessary for gaining the knowledge, awareness, and skill sets relating to Type I and Type II audits. Additionally, these videos are geared towards a wide ranging audience, from external auditors seeking to learn more about SAS 70 audits, to internal personnel whose organization may be considering embarking on SAS 70 compliance. In short, the videos provide an excellent resource for anyone seeking to strengthen their knowledge base on this widely used, internationally known auditing standard. Currently, the SAS 70 training videos consist of the following content: Market Size and Liquidity | What is Forex? Unlike other financial markets like the New York Stock Exchange, the forex spot market has neither a physical location nor a central exchange.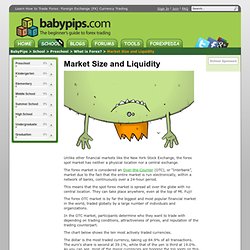 The forex market is considered an Over-the-Counter (OTC), or "Interbank", market due to the fact that the entire market is run electronically, within a network of banks, continuously over a 24-hour period. This means that the spot forex market is spread all over the globe with no central location. Principles of Management Slide Shows. Forum: FAR - Financial Accounting & Reporting.
---