Lazarus y Free Pascal
Nuestro objetivo es compartir toda la información disponible sobre Lazarus y Free Pascal, haciéndola más accesible a los desarrolladores joseme Mar 28
Free Pascal Answers
Leonardo's blog
PascalSCADA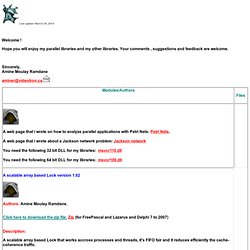 PArchiver 1.51 Author: Amine Moulay Ramdane Click here to download the zip file: Zip
Delphi and Multicore and Perl for Win32 Modules
Saludos, Tengo una base de datos en firebird 2.1 que tiene todos los indices desactivados, puedo activarlos desde el administrador grafico que uso (IBEXPERT), pero realmente es sumamente tedioso para mi, ya que la base de datos tiene mas de 70 tablas y el 90% de las tablas cuentan con un minimo de 4 o 5 indices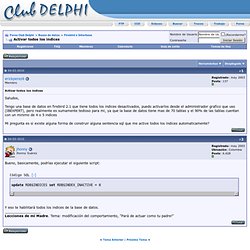 Activar todos los indices - Foros Club Delphi - Waterfox
Blog del Prof. Alejandro Camacho » Entorno de Programación Lazarus
Freepascal meets SDL
September 9, 2011 Earlier I wrote that there are a lot of things which are, compared to Delphi, better implemented in Lazarus. One of those things are projects and packages. Project settings part of the code?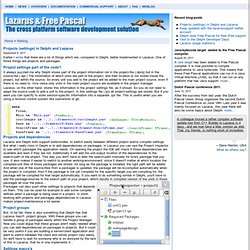 Weblog - Lazarus support
lazsolutions - Project Hosting on Google Code
Composants logiciels libres Les composants logiciels qui suivent sont réalisés tout ou partie par moi.
Problem loading page - Waterfox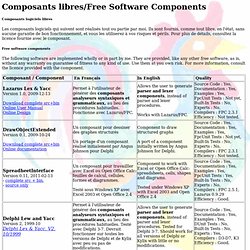 The Road to Delphi – a Blog about programming - Waterfox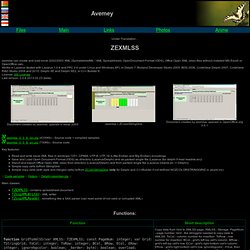 Under Translation...
component zexmlss
Remository - Waterfox
Club des développeurs Pascal : actualités, cours et tutoriels sur la programmation, FAQ, outils et compilateurs, sources
miXimum is the DJ's best friend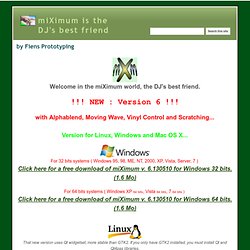 Welcome in the miXimum world, the DJ's best friend. !!!
glh33 – Home automation & xPL
Professor Carlos Araújo | Programação Lazarus/Free Pascal/Java/Delphi
Comunidade brasileira de Lazarus e FreePascal
Composants
Observations on FreePascal and Lazarus Development | Richard's IT Blog
Free Spider web development package for Free Pascal/Lazarus Free Spider is an object oriented web development package for Free Pascal / Lazarus .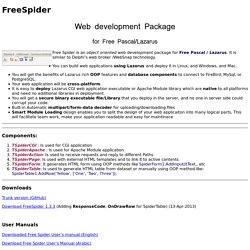 Spider web
FCL-Web FCL-Web is a toolkit to develop web-applications with freepascal.
Informatiesystemen
Hispalazarus • Página principal
News
Thank you to all our users, partners, donators and contributers which supported us during the year 2012.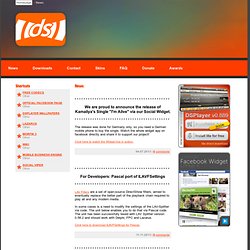 wmi-delphi-code-creator - Allows you to generate object pascal and C++ code to access the WMI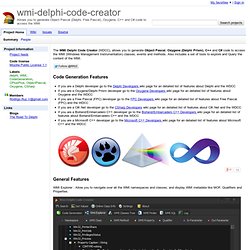 The WMI Delphi Code Creator (WDCC), allows you to generate Object Pascal , Oxygene (Delphi Prism) , C++ and C# code to access the WMI (Windows Management Instrumentation) classes, events and methods. Also includes a set of tools to explore and Query the content of the WMI. Code Generation Features
Pascal / Lazarus / DG Application Server | My Blog for Pascal
It is a fully web based application for storing Mikrotik Web log to MySQL database server .
Documents
The Lazarus Project Welcome to our school of computer programming. A school where to learn by yourself with basic but powerful explanation here delivered: examples and arguments are treated in their essence to make you focus where is needed.
Programming School | Hardware To Software
voiciXs notes
Proyectos, librerías y componentes
Pascal Game Development
Free Pascal Tutorials - Lazarus
Contains the link to download Free Pascal and Lazarus, shows how to make and compile a program.
SourceForge.net: eclib - Project Web Hosting - Open Source Software
Página principal - A Bíblia do Lazarus
Tips for Lazarus
Dicas for Lazarus
On the road with Lazarus/Freepascal
Lazarus Development
MWA Software is pleased to announce that it has successfully delivered an integrated Stock Management, Purchasing and Point of Sale System to Winchester's newest Toy Shop, Childhood's Dream .
MWA Software - Home
Noticias