Layout
CSS3 has got a huge potential to create very elaborate and complicated details by strictly using CSS and no images.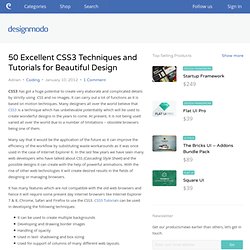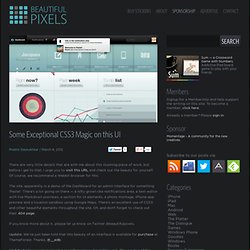 There are very little details that are with me about this stunning piece of work, but before I get to that, I urge you to visit this URL and check out the beauty for yourself. Of course, we recommend a Webkit browser for this. The site, apparently, is a demo of the Dashboard for an admin interface for something 'Pastel'. There's a lot going on there — a nifty growl-like notifications area, a text-editor with live Markdown previews, a section for UI elements, a photo montage, iPhone app preview and a location sandbox using Google Maps. There's an excellent use of CSS3 and other beautiful elements throughout the site. Oh, and don't forget to check out their 404 page.
Some Exceptional CSS3 Magic on this UI
Inspired by the contact form on Clear Span Media website I decided to recreate an effect of a letter sliding out from an envelope on mouse hover. You may see the demo here. It works in browsers supporting css3 transitions.
create a unique contact form with css3 transitions | PeHaa Blog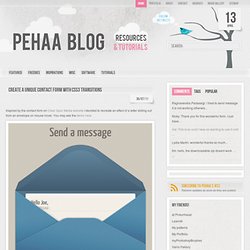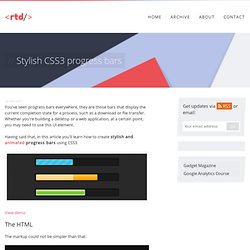 Stylish CSS3 progress bars
You've seen progress bars everywhere, they are those bars that display the current completion state for a process, such as a download or file transfer. Whether you're building a desktop or a web application, at a certain point, you may need to use this UI element. Having said that, in this article you'll learn how to create stylish and animated progress bars using CSS3.
These Aren't the Sites You're Looking For: Modern Web Apps
I am starting to think, I will create this as monthly feature, maybe not only picking beautiful web design scratches from DeviantArt, but also featuring latest month best web design related articles. There is a reason why domain name is 1st web designer – I really want to make even bigger focus to just web design.
46 Outstanding Web Layouts From DeviantArt: September 2009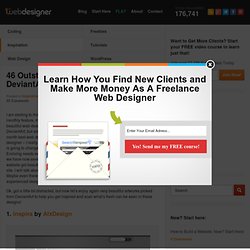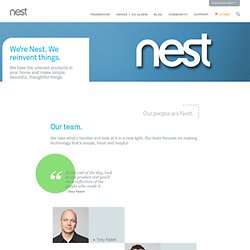 The Learning Thermostat | About Us
We take what's familiar and look at it in a new light. Our team focuses on making technology that's simple, fresh and helpful. At the end of the day, look at our product and you'll see a reflection of the people who made it. TitleFounder & CEOBioTony led the team that created the first 18 generations of the iPod and the first three generations of the iPhone.
A Website Design & Development Studio | HatBox
Co-Work | Smarter office space
Destroy Convention. Create Demand. | space150 a Digital Agency in MPLS/NYC/LA – space150.com
Kansas City CreepFest | October 28—29, 2011
An Outstanding College | West London | Uxbridge College
Niepubliczna Szkoła Muzyczna I stopnia im. Augustyna Blocha w Warszawie
Morteza heydari - Google+
Oink: Rate the adventure!
Boombox & Boombox Pro, Gorlochs
ColorSnapper — the missing color picker for Mac OS X
On this day... historical events and birthdays for any day of the year
I've had an amazing time with Sophiestication Software over the last seven years. That said, I have to admit that working on shopping lists, tip calculators and the likes wore me out a little. It's time for the next step: I'm happy to announce that I'm moving to the Bay Area to join the UIKit Frameworks team at Apple!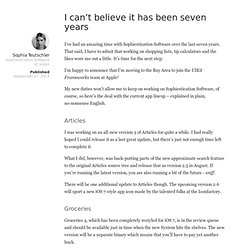 Stocks is a Beautiful, User-Friendly Finance App for iPad - Creative in Austria
Your life is unique – so it's no surprise that after just a little while, your Things looks like no one else's.