Ecuador Living GREEN
Portal CONDESAN | movilizando la riqueza de abdes para superar la pobreza y la exclusión social. Welcome to Fundacion Zoobreviven. Inicio. Fundación Natura - Comprometidos con el Ambiente. Fundación Futuro Latinoamericano. Bienvenidos a Fundecol. Altropico. :: Fondo Ambiental Nacional :: Corporación Gestión y Derecho Ambiental ECOLEX. Asociación Ecuatoriana de Ecoturismo ASEC. Supporting Indigenous Peoples, Protecting the Amazon. Acción Ecológica. Decoin. FUNDACIÓN JATUN SACHA. Fundación Ecológica Arcoiris. Página Principal. En la Amazonia ecuatoriana está la región de Yasuní, una de las áreas más biodiversas del mundo y que ha sido declarada Reserva de la Biosfera por la UNESCO La riqueza ecológica de Yasuní entra en conflicto con la explotación de petróleo en la región, uno de los principales recursos económicos de Ecuador.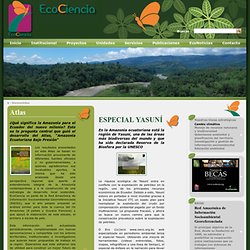 Debido a esto, Yasuní estuvo en portadas a nivel mundial gracias a la Iniciativa Yasuní ITT, un osado plan para reemplazar la explotación del crudo por compensación ambiental pagada por un fondo multinacional. Asamblea de Unidad Cantonal de Cotacachi :: Imbabura - Ecuador.
---