Languages
Get flash to fully experience Pearltrees
Language teacher advice and tips: I know from my own experience that being on a continual path of self-improvement is an absolute necessity toward be a good teacher.
German ( Deutsch [ˈdɔʏtʃ] (
English is a West Germanic language that was first spoken in early medieval England and is now the most widely used language in the world. [ 4 ] It is spoken as a first language by the majority populations of several sovereign states , including the United Kingdom , the United States , Canada , Australia , Ireland , New Zealand and a number of Caribbean nations.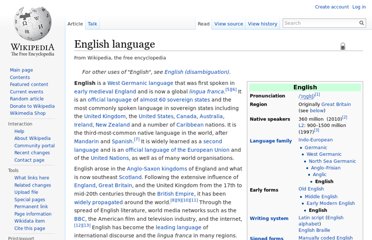 The Germanic languages are a sub-branch of the Indo-European language family spoken by Germanic peoples .
A lingua franca (or working language , bridge language , vehicular language , unifying language ) is a language systematically used to make communication possible between people not sharing a mother tongue , in particular when it is a third language, distinct from both mother tongues. [ 1 ] Lingua francas have arisen around the globe throughout human history, sometimes for commercial reasons (so-called "trade languages") but also for diplomatic and administrative convenience, and as a means of exchanging information between scientists and other scholars of different nationalities.
Greek ( ελληνικά [eliniˈka] ellīniká or ελληνική γλώσσα [eliniˈci ˈɣlosa] ellīnikī glōssa ) is an independent branch of the Indo-European family of languages.
The Indo-European languages are a family (or phylum ) of several hundred related languages and dialects . There are about 439 languages and dialects, according to the 2009 Ethnologue estimate, about half (221) belonging to the Indo-Aryan subbranch. [ 1 ] It includes most major current languages of Europe , the Iranian plateau , and Indian Subcontinent , and was also predominant in ancient Anatolia .
Origin The Greek alphabet has been in continuous use for the past 2,750 years or so since about 750 BC. It was developed from the Canaanite/Phoenician alphabet and the order and names of the letters are derived from Phoenician.
Latin (
The Romance languages (sometimes referred to as Romanic languages , Latin languages or Neo-Latin languages ) are all the related languages derived from Vulgar Latin and forming a subgroup of the Italic languages within the Indo-European language family.