Spelling and vocabulary
Welcome to Flashcard Machine — a free service for creating web-based study flashcards that can be shared with others. With over 91.1 million flash cards created to-date, Flashcard Machine is your premier online study tool. Get started by registering here. Students — Create flash cards to study for your next exam. Share them with your classmates and friends. Teachers — Create flash cards for your students.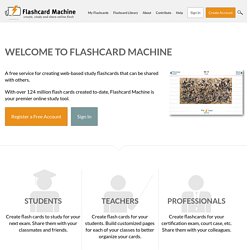 Great Websites To Develop Students Vocabulary
Spelling Match Game
Free Spelling Games And Activities For Kids - By KidsSpell.com
Spelling Bee the Game
Expressing our Gratitude VocabularySpellingCity appreciates teachers and parents who recommend our site and mobile apps to colleagues and friends, share us on Facebook, follow us on Twitter, and other social media. Thanks to all teachers who have shared their best classroom practices using VocabularySpellingCity via online reviews, speaking at conferences and posting on social media about us. We especially appreciate the thoughtful input you give us to help guide our product development to better serve you and your students. The VocabularySpellingCity team has also developed Science4Us.com which provides an elementary core science curriculum specifically for kindergarten, first grade, and second grade.