Python-eclipse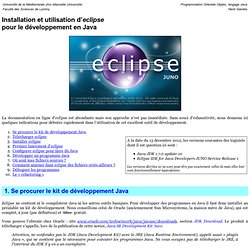 La documentation en ligne d'eclipse est abondante mais son approche n'est pas immédiate. Sans souci d'exhaustivité, nous donnons ici quelques indications pour débuter rapidement dans l'utilisation de cet excellent outil de développement. 1. Se procurer le kit de développement Java Eclipse ne contient ni le compilateur Java ni les autres outils basiques.
Utiliser eclipse
Téléchargement de TUTORIEL - COMPILATION AVEC PY2EXE
Christophe Jacquet — SQLite et Python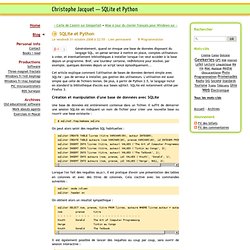 Généralement, quand on évoque une base de données disposant du langage SQL, on pense serveur à mettre en place, comptes utilisateurs à créer, et éventuellement bibliothèques à installer lorsque l'on veut accéder à la base depuis un programme. Bref, une lourdeur certaine, rédhibitoire pour stocker, par exemple, quelques données depuis un script lancé épisodiquement... Cet article explique comment l'utilisation de bases de données devient simple avec SQLite : pas de serveur à installer, pas gestion des utilisateurs.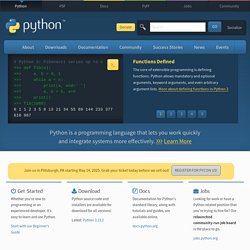 Get Started Whether you're new to programming or an experienced developer, it's easy to learn and use Python. Start with our Beginner's Guide Download Python source code and installers are available for download for all versions! Not sure which version to use?