Kop and Fournier on MOOC Learning
Cloud Computing and Creativity: Learning on a Massive Open Online Course. Rita Kop [Frederika.Kop@nrc-cnrc.gc.ca] Fiona Carroll [fcarroll@glam.ac.uk] National Research Council of Canada, Institute for Information Technology, Learning and Collaborative Technologies Group, 100, rue des Aboiteaux, suite 1113, Moncton, New Brunswick, E1A 7R1, Canada, [ This paper explores cloud computing and how it might advance learning and teaching, particularly in terms of social creativity and collaborative learning.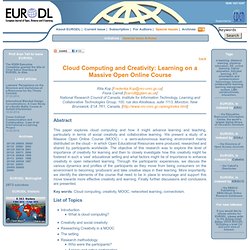 We present a study of a Massive Open Online Course (MOOC) – a semi-autonomous learning environment mainly distributed on the cloud – in which Open Educational Resources were produced, researched and shared by participants worldwide. Download Factors Affecting the Development of Personal Learning Network. Fournier kop barcelona research ple 2010 07072010 2. Download Researching the design and development of a Personal Learning Environment. Kop Fournier Self-directed learning Florida 2011. Research publications on Massive Open Online Courses and Personal Learning Environments. People interested in Massive Open Online Courses will probably be aware of the research by Helene Fournier and me on Personal Learning Environments and MOOCs.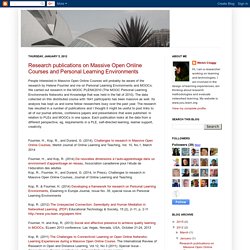 We carried out research in the MOOC PLENK2010 (The MOOC Personal Learning Environments Networks and Knowledge that was held in the fall of 2010). The data collected on this distributed course with 1641 participants has been massive as well. Its analysis has kept us and some fellow researchers busy over the past year. The design and development of a personal learning environment: Researching the learning experience (Rita Kop) A PLE will be different from other information gathering tools as it aims to provide learners with tailor made informationin a type of application that is centred on the student and would constitute the student's personal educational record,portfolio, business and educational contacts, communications and creativity tools, library and resource subscriptionmanagement, and related services.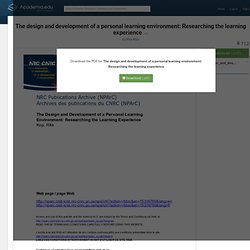 In short, it combines all tools and applications a learner needs to start a learning journey with recommendations of information based on earlier searches and personal profile, in addition to feedbackfrom others on their learning. The PLE can be used by learners in a variety of contexts. They might like to carry out alearning project independently from others, or have contact with others during their learning. The PLE would recommendtools according to learner activity and learner project. Rita eden valencia may 2010. The challenges to connectivist learning on open online networks: Learning experiences during a massive open online course | Kop. The PDF file you selected should load here if your Web browser has a PDF reader plug-in installed (for example, a recent version of Adobe Acrobat Reader).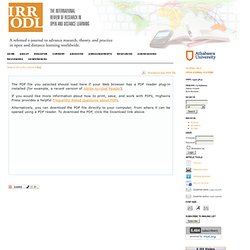 If you would like more information about how to print, save, and work with PDFs, Highwire Press provides a helpful Frequently Asked Questions about PDFs. Alternatively, you can download the PDF file directly to your computer, from where it can be opened using a PDF reader. Download Challenges to Connectivist... The Value of Learning Analytics to Networked Learning on a Personal Learning Environment - NRC Publications Archive - CISTI - NRC-CNRC.
Affiliation: NRC Institute for Information Technology; National Research Council Canada Type: Conference publication Conference: 1st International Conference Learning Analytics and Knowledge, Banff, Alberta, February 27-March 1, 2011.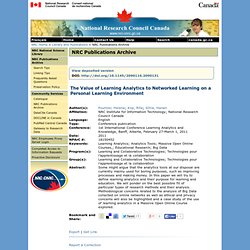 Kop and Fournier Learning Analytics Banff feb11. Facilitating Quality Learning in a Personal Learning Environment through Educational Research — CIDER. 134175 Views Description: The Canadian Initiative for Distance Education Research (CIDER) is a research initiative of the Centre for Distance Education, Canada's largest graduate and professional distance education programming provider, at Athabasca University, Canada's Open University.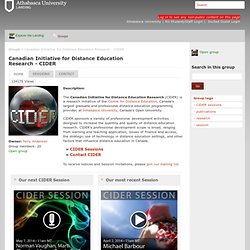 CIDER sponsors a variety of professional development activities designed to increase the quantity and quality of distance education research. CIDER's professional development scope is broad, ranging from learning and teaching application, issues of finance and access, the strategic use of technology in distance education settings, and other factors that influence distance education in Canada. » CIDER Sessions » Contact CIDER. A pedagogy of abundance or a pedagogy to support human beings? Participant support on massive open online courses | Kop. A pedagogy of abundance or a pedagogy to support human beings?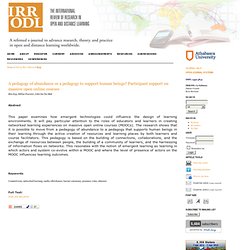 Participant support on massive open online courses Rita Kop, Hélène Fournier, John Sui Fai Mak Abstract This paper examines how emergent technologies could influence the design of learning environments. It will pay particular attention to the roles of educators and learners in creating networked learning experiences on massive open online courses (MOOCs).
---