Kinect Resources
Not sure what we are just yet! Just looking to create a great visual repository of resources for Kinect in Education! david.lopez Jun 5
Students, educators, and enthusiasts are creating amazing things with Microsoft's Kinect for education. While new Kinect development resources are constantly emerging, here are 9 people-driven and digital resources that offer assistance for developing Kinect applications. Channel 9 has projects, guides, and people to help create future software for classrooms. Channel 9 describes themselves as a community that brings forward people behind Microsoft's products and connects them with those who use them.
9 Excellent Programming Resources for Kinect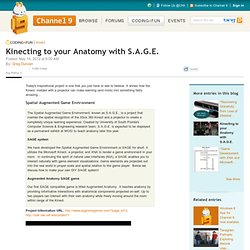 Today's inspirational project is one that you just have to see to believe. It shows how the Kinect, melded with a projector can make learning (and more) into something fairly amazing... The Spatial Augmented Game Environment, known as S.A.G.E., is a project that marries the spatial recognition of the Xbox 360 Kinect and a projector to create a completely unique learning experience.
Kinecting to your Anatomy with S.A.G.E. | Coding4Fun Kinect Projects
Put down the measuring tape. Using the Kinect to find your height | Coding4Fun Kinect Projects
When I saw this, the first thing I thought was just how cool a thing an amusement park could build with this. Gone could be the days of the "You must be taller than this bar," instead replaced with an interactive, themed for the park, height measurement experience. Image standing there with a virtual Mickey or Donald or Bugs Bunny and using the Kinect to measure your children's height, compared to them? (Can't you just see Mickey holding up his virtual hand over a child's head and saying, "Great!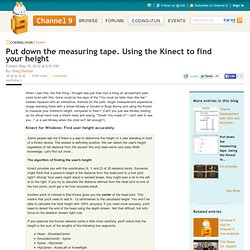 nsquared spydar
InterKnowlogy Touchless Operating Room v2
Buy Brain Rules Also by Pear Press A MUST-READ LEADERSHIP BOOK The 12 Brain Rules, illustrated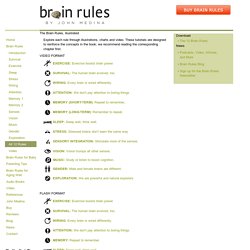 This site is not directly related to Kinect, but the Brain Rules Ideas fit in with what the Kinect can do for the brain if applied in a classroom. There are some great videos and the book is available there too. by david.lopez Sep 17
Get Students Engaged: Learning through Motion with Kinect for Education Easy to use and instantly fun, Kinect gets students' whole body—and attention—into learning fun. Students can use their arms as the hands on a clock to form the correct time, or play a game where they read "red" on the screen then vigorously pop all the red balloons. Students can even collaborate on projects using avatars. For more than 100 classroom and after-school activities, click the School activity plans tab on this page.
Bring Learning to Life with Kinect
The Kinect at Lakeside Center for Autism
Witness the maturation of Xbox Kinect | E3 2012
(Credit: James Martin/CNET) LOS ANGELES--If you thought Microsoft's motion-sensing controllerless technology Kinect was going to take a back seat this year, you were wrong. In the minutes leading up to the press conference's start, I first noticed a trio of Kinect sensors slyly facing the stage. It would be a telling premonition of what was in store for the world's fastest-selling electronic gadget .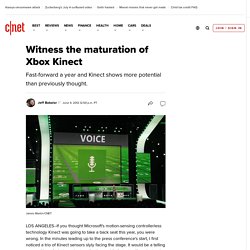 Personify
Technology behind Vix immersive video presentations
Kinect Effect
Winect - Windows Mouse Cursor Control using Kinect - Ixora Studios
Community - Community-Generated Education Apps - Kinect Math - A Kinesthetic Learning Experience
Home » Community-Generated Education Apps "Kinect Math" utilizes Microsoft Kinect to bring a new perspective to teaching. It provides more interactive, way for teachers to teach these abstract concepts to their students and also gives the students an easier way to visualize the mathematical concepts by using a real time display. Check out our video on Youtube: "Kinect Math - A Kinesthetic Learning Experience" ( http://youtu.be/5GXdNQzoPrk) Viewed: 10127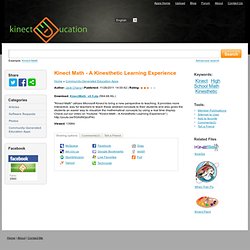 Cheryl Arnett is an elementary teacher from Craig, Colorado. In 2010, she was a winner in Microsoft's US Partner in Learning event. I had the opportunity to meet Cheryl this past summer and have maintained contact with her through an initiative we are working on together with to develop Kinect activities .
Kinect Reflections After 30 Days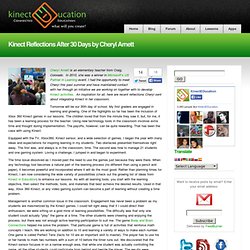 Doug Bergman's Beginner's Guide to Kinect Programming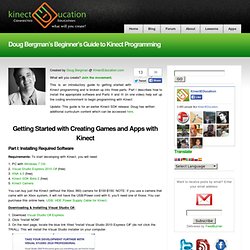 Created by Doug Bergman @ KinectEducation.com What will you create? Join the movement . This is an introductory guide to getting started with Kinect programming and is broken up into three parts. Part I describes how to install the appropriate software and Parts II and III (in one video) help set up the coding environment to begin programming with Kinect Update: This guide is for an earlier Kinect SDK release; Doug has written additional curriculum content which can be accessed here .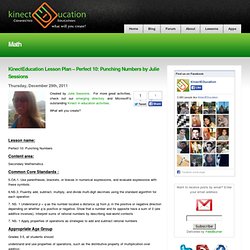 KinectEducation Lesson Plan – Perfect 10: Punching Numbers by Julie Sessions Thursday, December 29th, 2011 Created by Julie Sessions . For more great activities, check out our emerging directory and Microsoft's outstanding Kinect in education activities . What will you create?
Math
9 Incredible Developments for Kinect in Education
For those of us raised in typical school settings, the memory of straight-row desks with little activity is all too familiar. As we're all aware, the Kinect has the potential to evolve classrooms beyond this 18 th century model of learning to a structure that's aligned with brain research and the benefits of active learning . With the release of the noncommercial Kinect SDK, several new Kinect applications are emerging. These range from simple apps (such as creating "3D air drawings") to more complex applications (such as sign language recognition). Regardless, every single one of these developments has the potential to drastically enhance teaching and learning in all learning environments.
Augmented Reality: Kreek Prototype 2.0, Kinect-controlled interface | Beyond The Beyond
*If the infrared beams that power Kinects and Leaps can penetrate that elastic fabric, we've got a very interesting haptic interface here. Imagine this with sub-millimeter accuracy. *In some ways it's even more interesting than a "Corning day made of glass" — because it's a day made of silk.