Kids
As class sizes keep growing, it becomes harder and harder to find the time to look for new elementary teaching materials , while still giving your kids the personalized attention they need (and deserve!). After all, you can only be pulled in so many directions at once, right? With that in mind, I put together this list of websites for elementary teachers , hoping that you'll finally be able add something fresh and fun to your lesson plan. Now, you don't have to skim the results of hundreds of Google searches to find a handful of useable internet resources—I've already got 101 of 'em! 1. GoEd Online Elementary GoEd Online is more than just a blog—it's a one-stop shop for teaching materials!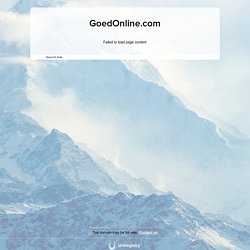 Printable Animal Masks Craft | Kids' Crafts
Penmanship: The Art of Teaching Handwriting
I don't teach the letters in order from A to Z; instead, I teach them according to the type of strokes that are used to form each letter. I first teach u, i, and t . These are the simplest letters and when the children practice them they can write the words it and the Spanish word for you: tu . Point out to the children that they do not pick up their pencils until the have finished the whole word and then go back to dot the i 's and cross the t 's and that you use a backward stroke to cross the t 's. Children love to write long lines of i 's and t 's and then go back to dot and cross. Next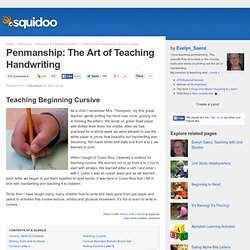 Sea Printables for Kids - Sea Coloring Pages - Sea Creatures Printables - Kaboose.com
Whats on Edinburgh and Things to do in Edinburgh | InformedEdinburgh.co.uk
Language Learning: Flash Card and Other Games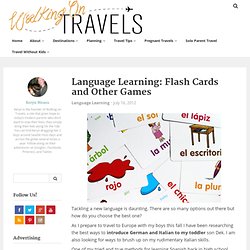 Tackling a new language is daunting. There are so many options out there but how do you choose the best one? As I prepare to travel to Europe with my boys this fall I have been researching the best ways to introduce German and Italian to my toddler son Dek. I am also looking for ways to brush up on my rudimentary Italian skills.
Telediario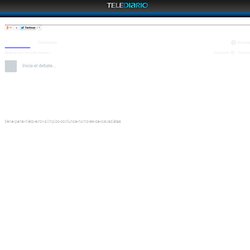 Tiene Peña Nieto error olímpico; confunde nombres de clavadistas El priista felicitó a "Alejandra Espinosa y Paola Orozco", en referencia a las clavadistas Paola Espinosa y Alejandra Orozco, quienes lograron medalla de plata en clavados sincronizados. Enrique Peña Nieto felicitó a las clavadistas mexicanas que lograron hoy una medalla de plata, pero equivocó sus apellidos y celebró a ""Alejandra Espinosa y Paola Orozco"", refiriéndose a Paola Espinosa y Alejandra Orozco.
What's on for Kids and Families in Edinburgh, Scotland. Events, activities and attractions, thing's to do for families and children in Edinburgh. Family friendly holiday destination ideas in the Edinburgh area.
Free Printable Kids Word matching Games
Games
Print out a stock of these printable games to take with you to restaurants, while travelling, and on holiday - or put a selection into a folder for the children to dive into whenever they are bored. Ideas for using our printable games cards Minibeasts games Butterfly games Maple leaf tic tac toe We've got lots of printable Easter games, including these Easter egg dominoes!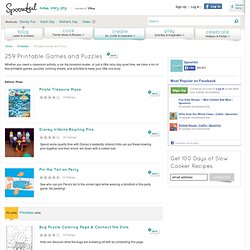 Mickey's St. Patrick's Day Activity Page save Average rating of 5 /5. ( 1 Ratings) There is a whole lot of fun at the end of this rainbow! Celebrate St. Patrick's Day with this Mickey-themed activity page! 1333059123 St. Patrick's Day Treasure Hunt save Average rating of 4.5 /5. ( 6 Ratings) Hide some gold coins of your own, fill out the cards with clues, and send kids off on a fun treasure hunt!
Kids Activities: The Official Site - Iron Man, Spider-Man, Hulk, X-Men, Captain America, Thor, Wolverine, Ultimate Spider-Man, Superhero Squad, Fantastic Four, Avengers: Earth's Mightiest Heroes, Activities & Puzzles, Online Games, Digital Comics, Animate
Overview
Dot-to-dot - Connect the dots and color
Aquatic Life Worksheets - Twisty Noodle
Lesson Plans - PRE-SCHOOL LESSON PLANS - Upload and share your lesson plans with Teachers.Net, your source for free lesson plans on the Web. Submit your lesson plan today!
Preschool Themes and Lesson Plans
Preschool Preschool helps with child development and preschoolers will respond positively to discipline with the right approach, and enjoy preschool learning through kids games, preschool toys, nursery rhymes and kids songs. Find all you need to help your preschooler learn and prepare for school. Book mark this page for preschool information and advice. Kids games | Preschool discipline | Early childhood | Preschool toys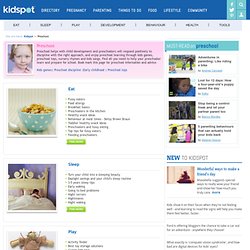 Kids | Preschool | Kindergarten
There are not many websites designed especially for elementary-age English language learners. In order to provide these students with extra practice in English, it is necessary to examine sites intended for English native speakers. How do students use these sites? First, I introduce a web site in ESL class and allow students to try out a few activities. In order to do this, you will need to have a computer in your room or access to a computer lab.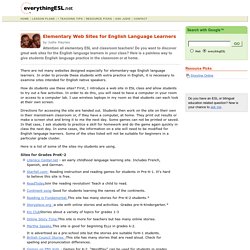 Elementary Web Sites for English Language Learners