Journalism and Web2.0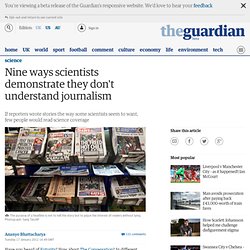 Have you heard of Futurity?
Nine ways scientists demonstrate they don't understand journalism | Ananyo Bhattacharya | Science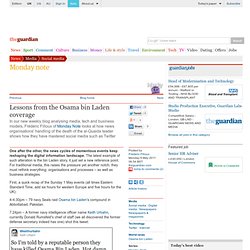 Lessons from the Osama bin Laden coverage | Technology
One after the other, the news cycles of momentous events keep reshaping the digital information landscape.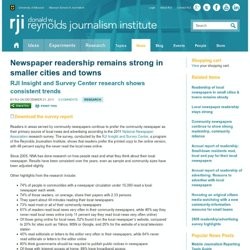 Newspaper readership remains strong in smaller cities and towns
Readers in areas served by community newspapers continue to prefer the community newspaper as their primary source of local news and advertising according to the 2011 National Newspaper Association research survey. The survey, conducted by the RJI Insight and Survey Center , a program of the Reynolds Journalism Institute, shows that readers prefer the printed copy to the online version, with 48 percent saying the never read the local news online.
Tech Research & Development
Dispelling the Darkness with Brand Journalism Brian Solis
inShare4 Guest post by Kyle Monson, a former technology journalist and editor at PC Magazine, is Content Strategy Director at JWT. Follow him on Twitter @kmonson You probably already know this, but we marketers are the bad guys in the battle of good versus evil.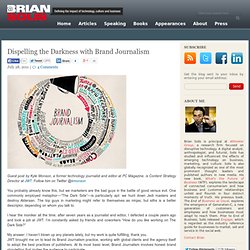 Celebrating innovation in digital journalism
Journalism is changing fast as media businesses adapt and experiment with ways of gathering and reporting the news in the digital age. Here's news of two contests we're sponsoring to help stimulate innovation in digital reporting. IPI News Innovation Contest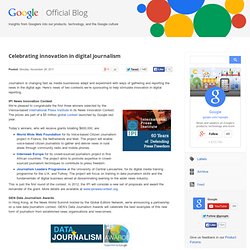 A really interesting discussion arose recently about a memo sent to journalists working on a group of newspapers just outside Detroit of what was expected of them in the age of digital journalism and social media.
Is social media killing journalism?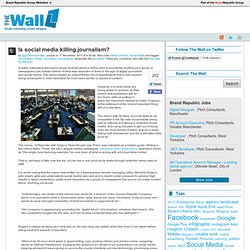 We the Media (by Dan Gillmor)
We freeze some moments in time. Every culture has its frozen moments, events so important and personal that they transcend the normal flow of news. Americans of a certain age, for example, know precisely where they were and what they were doing when they learned that President Franklin D. Roosevelt died. Another generation has absolute clarity of John F. Kennedy's assassination.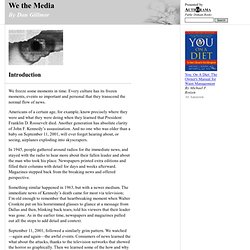 Former Seattle Times Executive Editor Michael R. Fancher considered the question of whether "The Journalist's Creed," written in 1914 by Walter Williams, founder of the Missouri School of Journalism, remains viable in the digital age. "The whole world is watching." Demonstrators chanted those words in the streets of Chicago in 1968, and many people throughout the world did watch as the story was told through the voices of professional print and broadcast journalists.
The 21st Century Journalist's Creed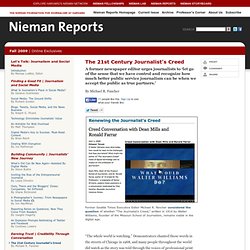 Journalists
Journalist Crowdsources An Article About A Crowdsourcing Company, Hilarity Ensues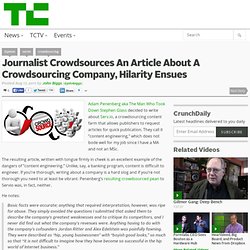 Adam Penenberg aka The Man Who Took Down Stephen Glass decided to write about Serv.io, a crowdsourcing content farm that allows publishers to request articles for quick publication. They call it "content engineering," which does not bode well for my job since I have a MA and not an MSc. The resulting article, written with tongue firmly in cheek is an excellent example of the dangers of "content engineering." Unlike, say, a banking program, content is difficult to engineer. If you're thorough, writing about a company is a hard slog and if you're not thorough you need to at least be vibrant. Penenberg's resulting crowdsourced pean to Servio was, in fact, neither.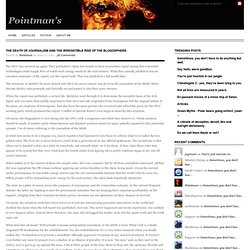 The death of journalism and the irresistible rise of the blogosphere. Posted by Pointman on June 17, 2011 · 36 Comments The IPCC has screwed up again. They published a claim last month in their renewables report saying that renewable technologies could supply 80% of world-wide energy needs by the mid-century. What they actually published was an executive summary of the report, not the report itself.
The death of journalism and the irresistible rise of the blogosphere. « Pointman's
I have just spent the past three months teaching first-year university students to be journalists. In the same three months, journalists employed at Fairfax and News Ltd have been fighting for their livelihoods, with the help of the Media Entertainment and Arts Alliance. How do we explain this to these students, many of whom have made great sacrifices to do this course? Firstly, we aim to arm them with the skills they'll need to find employment, and secondly with some strategies – including a final semester lecture by journalist and media expert Margaret Simons titled "hope and despair", outlining the fall and potential rise of the Australian media. The fall, Simons argues, is due to the business model, not journalism itself. The rivers of gold may be dead, but the hunger for news is greater than ever, she argues.
The death of journalism « Jane Cafarella
Extra, extra, read all about it: Internet Murders Newspaper [Inforagphic]
Extra, extra, read all about it! The concept of a newspaper was first executed in 1605 by Johann Carlous in Germany. Since then, the medium has changed, though never dramatically. However, as the late 1900s brought on the revolutionary Internet, this once immortal platform began to sweat with fear.
The Guardian Newsblog and the Death of Journalism « The Louse & the Flea
Roll 'em: The Guardian's newsblog
The Death of the Reader | Journalism Ethics
Think about the best article you read last year.
What Does The New Business Model For Journalism Need To Be? | SEO CHIEF
Social media: The next frontier for journalism - Technorati Technology
A new phenomenon means sweeping changes are in store for traditional journalism: Social media are beginning to outpace mainstream media in disseminating news. Reporters sent to the field find that news has broken over Twitter and Facebook long before they arrive on the scene; and when gathering eyewitness accounts, all they need to do is check for steady streams of tweets and wall posts. More than just a way to socialize, social networks are quickly turning into mighty forces in the world of journalism. In an article for The Next Web, Deborah Mackay writes that "over the last few years social media has been the first source for a number of big international news stories." The Mumbai attacks, the uprising in Egypt, and even the death of Osama Bin Laden were all news that spread like wildfire through social media before being reported by the mainstream media.
Survey shows how business journalists rely on social media
Journalists issued new social media guidelines: focus on Twitter
SEO and Journalism
Facebook: Journalists' friend or foe?
The writer as content curator | WordCount
Future of Media: Curation, Verification and News as a Process: Tech News and Analysis «
What happens when journalism is everywhere?
YouTube: a treasure-trove for professional journalists and curators
Who are the UK's 100 most influential journalists online? | Journalism.co.uk Editors' Blog
How the five journalists with the greatest online influence use social media | Journalism.co.uk Editors' Blog
How to: get to grips with SEO as a journalist | How to succeed in journalism
Wall Street Journal Launches WikiLeaks-Style Site: WSJ SafeHouse
Center for Digital Ethics and Policy | Loyola University Chicago
How Journalists Can Leverage Facebook's New Features [VIDEO]
The Role Of Curation In Journalism
Should Shield Laws Protect Journalists? Or Journalism?
Journalism Opportunities Aren't Drying Up, They Are Just Changing
Google News is Broken: The Importance of Real Time Content Curation
Storify Collects Strands of News on the Social Web
Putting together some links for a conference on journalism and WEB2.0 - A good start. by seocopy Apr 25
4 ways content management systems are evolving & why it matters to journalists
Why The New York Times replaced its Twitter 'cyborg' with people this week
Survey: Mobile News & Paying Online
Meet Facebook's Journalist Ambassador (Yes, We Said Ambassador)