Joomla Portale & Foren
Joomla!® User Group Fulda - Startseite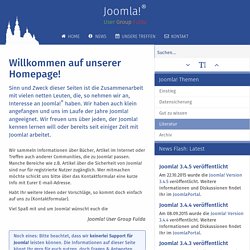 Das 12. Treffen der Joomla! User Group Fulda fand im großen Konferenzraum der Office Factory Fulda statt. Heute zeigte uns Michael Baas wie leicht es sein kann, neue Beiträge auf eine Seite zu stellen. Einfach eine E-Mail schreiben und der Beitrag ist Online. Michael Baas hat mit der Erweiterung " ContentByMail" eine Möglichkeit geschaffen, die es noch einfacher macht Inhalte zu erstellen.
ChangelogHQ Saves Time in Software Development ChangelogHQ is a great changelog generator for all web developers. If you are always having issues of time and manpower to generate changelogs of your software, ChangelogHQ will replace the job of a project manager. All your software development activities… Balbooa - Joomla Google map module - 6maps New Year's Eve, one of the most anticipated day of the year. Today, we want to share our plans with you again.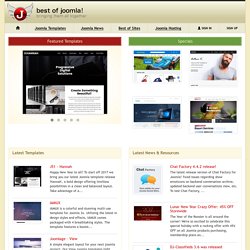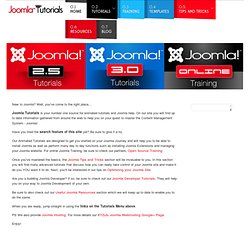 New to Joomla? Well, you've come to the right place... Joomla Tutorials is your number one source for animated tutorials and Joomla help. On our site you will find up to date information gathered from around the web to help you on your quest to master the Content Management System - Joomla! Have you tried the search feature of this site yet?
Joomla Downloads
Der CMS-Garden ist vielen Joomla Nutzern bestimmt noch vom letzten Jahr von der CeBIT, dem LinuxTag Berlin, der FrOSCon in Sankt Augustin oder der DMS-Expo in Stuttgart bekannt. Einem Projekt das das sich zur Aufgabe gemacht hat nicht nur ein einzelnes CMS zu bewerben, sondern einen unabhängigen Überblick über die bekanntesten Open Source Content Managegement Systeme zu geben und diese bestmöglich zu unterstützen. Interessierten Anwendern quasi einen unvoreingenommenen Blick über den bekannten Tellerrand hinaus zu ermöglich und das jeweils Beste an den unterschiedlichen Projekten hervorzuheben. Und so wollen die virtuellen Gärtner auch dieses Jahr wieder ihren CMS-Garden eröffnen und den unterschiedlichen Communitys eine feste Anlaufstelle ermöglichen. Mitwirkende Systeme im Verein sind aktuell: Contao, contenido, djangoCMS, Drupal, Joomla!, OpenCms, PAPAYA, Plone, Redaxo, Scientific CMS, TYPO3 und Wordpress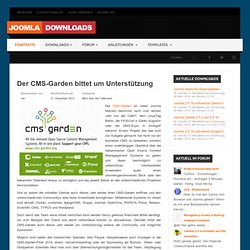 Joomla Downloads - Support-Forum
Joomla CMS Support Forum
Joomla 1.5
Heute (06.11.2013) sind zwei neue Joomla-Versionen erschienen. Beim Update von Joomla 2.5 auf die nur 8 Stunden nach Version 2.5.15 erschienen Version 2.5.16 werden drei Sicherheitslücken geschlossen, zwei davon sind als mittlere Bedrohungen und eine als hohe Bedrohung eingestuft worden, ein Update ist also dringend vorzunehmen. Hier gibt es die Update-Pakete zum Download . Auf dem Weg zu Joomla 3.5 ist jetzt Joomla 3.2 erschienen. Gegenüber der Version 3.1.5 werden mit dieser Version 375 Bugs gefixt. Außerdem werden in dieser Version auch drei Sicherheitslücken aus Joomla 3.1.5 gefixt, ein Update sollte also auch hier unbedingt vorgenommen werden.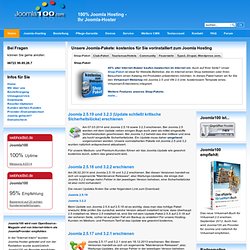 Joomla Hosting - Joomla100 - Ihr Joomla-Hoster, vorinstallierte Joomla-Pakete zum Webspace, Hosting auf Joomla abgestimmt - Home
Joomla100.com - 100% Joomla! (Mambo)-Hosting - Index
Joomla Hosting - Free Joomla Installation, Free Templates
Techjoomla. For All Things Joomla! The One stop portal for Joomla Extensions, Joomla Training & Joomla Support, JomSocial Extensions, Community Builder Extensions & More !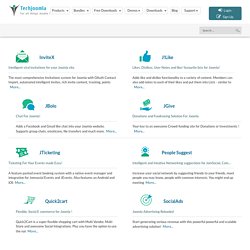 Fundraising & Crowd Funding for the future with JGive 1.6 It gives me great pleasure to announce the availability of JGive v.1.6. JGive is one of our most popular extensions & this release seriously packs a PUNCH ! We know this release has taken a little bit more time than initially planned, but we do hope you will find it worth the wait ! Quick glimpse of Features:
Extensions, addons, plugins, bridges for Joomla 1.5, 1.6 and 1.7 by JoomPlace
Support & Maintenance Service: Entrust Your Website to Professional Joomla! Support Team JoomPlace Support Services is the right choice if you need timely and quality support and maintenance service for your Joomla! website.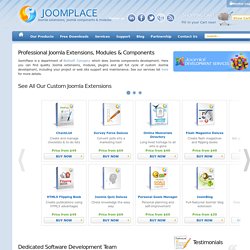 Joomla WebHoster | Joomla Hoster | Joomla Web Hosting | Joomla Templates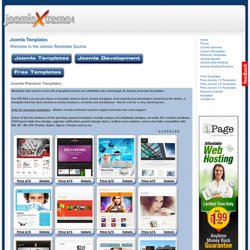 Websites that need an extra bit of graphical touch can definitely take advantage of Joomla premium templates. For $55-$85 you can purchase a template which a team of web designers and experienced developers worked on for weeks, a template that has been tested on many browsers, screens and resolutions - this is a lot for a very decent price. Only for premium templates - lifetime e-mail and ticket system support and also live chat support.
Joomla 1.6 Templates - Free and Premium Joomla Templates
Welcome to the Frontpage
Joomla International Sites