JOOMLA
Customising the Beez template/CSS/template.css
ChangelogHQ Saves Time in Software Development ChangelogHQ is a great changelog generator for all web developers. If you are always having issues of time and manpower to generate changelogs of your software, ChangelogHQ will replace the job of a project manager. All your software development activities… Balbooa - Joomla Google map module - 6maps New Year's Eve, one of the most anticipated day of the year.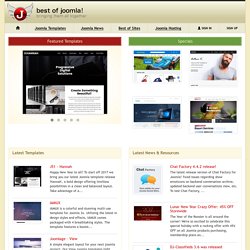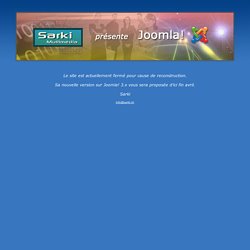 Ce portail, dédié à la présentation de Joomla!, s'adresse aux futurs utilisateurs de ce système. Son but est d'offrir une présentation conviviale sur son fonctionnement et son utilisation. La compréhension de son contenu ne nécessite aucune connaissance informatique particulière ! Joomla!
600 template joomla gratuit !!! Templates joomla
Joomla Template Builder
Notice: The Joomla! Template builder is compatible with Joomla! version 1.5 only.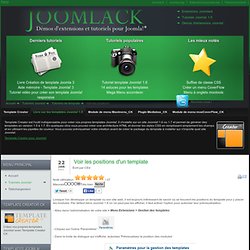 Note utilisateur: Lorsque l'on développe un template ou son site web, il est toujours intéressant de savoir où se trouvent les positions du template pour y placer les modules. Par défaut dans Joomla!
Voir les positions - Tutoriels Joomla! 1.6 - Tutoriels Joomlack pour menu, template et mootools dans Joomla! 1.6
Juin 2008 Nous avons vu dans Comprendre Joomla à l'aide d'UML comment se structurait un site Joomla. Nous allons maintenant comprendre comment est gérée la présentation de ce site. Pour ce faire, nous allons étudier les différentes classes de style (CSS) de Joomla ainsi que les différents modules de Joomla. L'étude des pages modèles (templates) fera l'objet d'un autre article.
Les classes CSS et les modules de Joomla - l'informalibre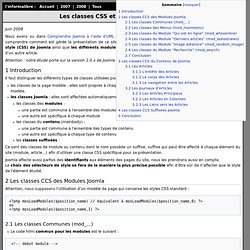 JomDoc.com - The Joomla Doctors - Advice, Blogs, and Opinions on the Joomla! CMS
First, let me say that I downloaded the Kindle version of this from PacktPub.com. I was concerned about the screenshots being viewable because my other (unrelated) Kindle books from Amazon had photos and illustrations that were such a low resolution they were not helpful. Fortunately, the screenshots in this book are clear enough to view and get all the details needed. I've been building Joomla! sites since 2006 and building custom extensions since 2009.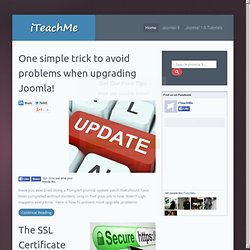 iTeachMe - Online Learning System for Joomla Users
Presenting information is very much like serving food – you do not serve a sirloin steak on a mouse pad. Likewise, the 2D computer screen is not the perfect plate for serving websites that appear as flat images - slideshows are best, but they seldom give the familiar feel of a magazine or book. If you prefer websites served à la livre, try FlippingBook Joomla!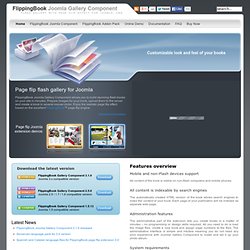 FlippingBook Joomla Gallery Component - Page flip flash gallery for Joomla. Create online portfolio, magazines, photo albums and flip books with the real page turning effect.