J$$mla Templates
Joomla templates : professional, custom, unique design for Joomla 2.5 - Design-Joomla. Joomla Templates - 8000+ Professional Templates for Joomla. Joomla Templates and Joomla Extensions - JoomlaShine. Joomla Templates - Joomla Website Templates - Joomla CMS Templates. Artisteer - web design software and joomla template maker. How to use joomla templates.
Documentation > Joomla Installing Joomla Template To install an exported and zipped template via the Joomla administration panel in Joomla 2.5 please do the following: Go to Joomla Administrator (www.your-site.com/administrator) -> Extensions -> Extension Manager In the "Extension Manager" choose the first option "Upload Package File" Click the "Choose...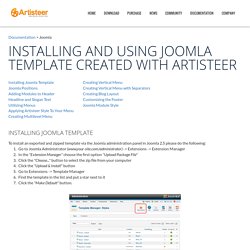 " button to select the zip file from your computer Click the "Upload & Install" button Go to Extensions -> Template Manager Find the template in the list and put a star next to it Click the "Make Default" button. NOTE: If the name of the template you would like to install already exists, you should rename or delete the existing template before installing a new template with the identical name. Such procedure is typical for Joomla. Joomla Templates - Professionelle Joomla Template Vorlagen. Alternative zum Template Club. Joomla Templates, Webdesign Internet-Agentur, Joomla Webagentur. Professionelles Joomla Design. - Design-Joomla.de.
---