JBoss
Tutorial EJB3 Session stateless Eclipse Galileo / jBoss 5.1.0
Installation_JBoss - master-auction - Tutoriel détaillant l'installation de JBoss pour une une utilisation avec Eclipse IDE - JEE web auction application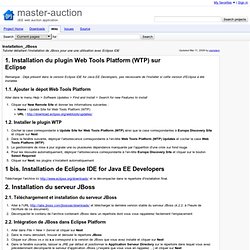 Remarque : Déjà présent dans la version Eclipse IDE for Java EE Developers, pas nécessaire de l'installer si cette version d'Eclipse à été installée 1.1. Ajouter le dépot Web Tools Platform Aller dans le menu Help > Software Updates > Find and Install > Search for new Features to install
Tutorial Alfresco et jBoss BPM: développement workflow avancé de gestion des dossiers de crédit.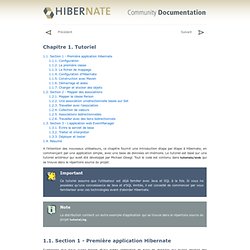 A l'intention des nouveaux utilisateurs, ce chapitre fournit une introduction étape par étape à Hibernate, en commençant par une application simple, avec une base de données en-mémoire. Le tutoriel est basé sur une tutoriel antérieur qui avait été développé par Michael Gloegl. Tout le code est contenu dans tutorials/web qui se trouve dans le répertoire source du projet. Supposons que nous ayons besoin d'une petite application de base de données qui puisse stocker des événements que nous voulons suivre, et des informations à propos des hôtes de ces événements.
Chapitre 1. Tutoriel
Tutorial EJB 3.0 de Session avec JBoss 4.2
(publié le 16/03/2007 - Versions utilisées : Eclipse 3.2.1 - WTP 1.5.2 - JBoss 4.0.5 - JDK 5.0) Tutorial : développer des EJB 3 avec Eclipse et JBoss Mise en place Pour ce tutorial, la mise en place consiste en l'installation d'un JDK, d'Eclipse Web Tools et de JBoss. La procédure d'installation de WTP est décrite dans notre tutorial 'Développement de Servlets et JSP avec Eclipse WTP'.
Tutorial : développement d'EJB 3 avec Eclipse et JBoss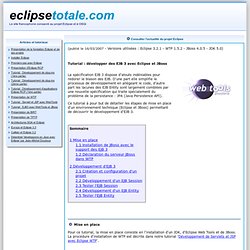 Tutoriel administration Jboss N°6 : intégration MySQL
Maîtrisez la configuration d'une source de données JDBC (MySQL, Oracle) dans JBoss 5. Mettez en œuvre une datasource dans l'arbre JNDI de Jboss 5. Accédez à vos données à partir d'une application jee (war).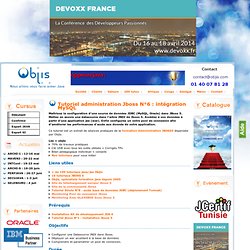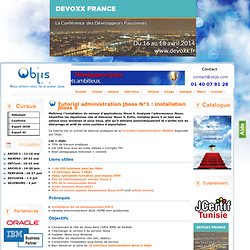 Maîtrisez l'installation du serveur d'applications Jboss 5. Analysez l'arborescence Jboss. Identifiez les répertoires clés et démarrez Jboss 5. Enfin, installez jboss 5 en tant que service sous windows et sous linux, afin qu'il démarre automatiquement et s'arrête lors du démarrage et arrêt de votre système d'exploitation
Tutoriel administration jboss N°1 : installation jboss 5
The next step is to create an EJB. For simplicity, it will be a stateless session bean, but others types are also easy to write. To make this interesting, we will create a business method for our EJB that computes a Fibonacci suite.
Chapter 4. The EJB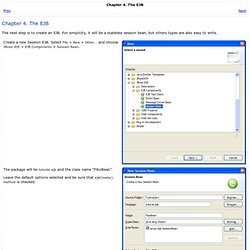 Mozilla Firefox
Mozilla Firefox
Application Server Downloads