Android/smartphone apps to learn japanese
Android App for jap vocabulary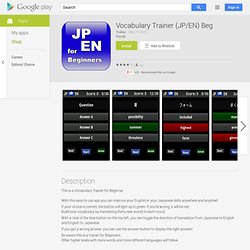 Este es un entrenador de vocabulario para principiantes. Con esta aplicación fácil de usar usted puede mejorar su Inglés y sus habilidades de Japón en cualquier lugar y en cualquier momento! Si su elección es correcta, el botón se iluminará en verde.
Android app to train your vocabulary. No Furigana though, so you need to know on/yun pronunciation or you won't be able to speak what you read.... by zerpalmer Jul 1
JA Sensei ~ Application Android v1.4.1 Par RaphaelW | Enseignement
great app, love it ! No vocabulary but kanji hira, kata ! by zerpalmer Jul 1
Greaaat app ! Wonderful ! text spoken, answer in kanji and kana + android apps with same features ! X_x ' by zerpalmer Jul 1
Android RPG wich involves japanese voca and sentences !