The pro-israel lobby in the US
Lobby? What Lobby? - by Michael Scheuer. Last December, I spoke to the nonpartisan Jamestown Foundation's annual conference on al-Qaeda.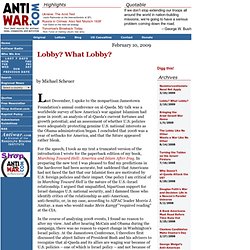 My talk was a worldwide survey of how America's war against Islamism had gone in 2008; an analysis of al-Qaeda's current fortunes and growth potential; and an assessment of whether U.S. policies were adequately protecting genuine U.S. national interests as the Obama administration began. I concluded that 2008 was a year of setbacks for America, and that the future appeared rather bleak. For the speech, I took as my text a truncated version of the introduction I wrote for the paperback edition of my book, Marching Toward Hell: America and Islam After Iraq.
In preparing the new text I was pleased to find my predictions in the hardcover had been accurate, but saddened that Americans had not faced the fact that our Islamist foes are motivated by U.S. foreign policies and their impact. John Mearsheimer and Stephen Walt · The Israel Lobby: the Israel Lobby · LRB 23 March 2006. For the past several decades, and especially since the Six-Day War in 1967, the centrepiece of US Middle Eastern policy has been its relationship with Israel.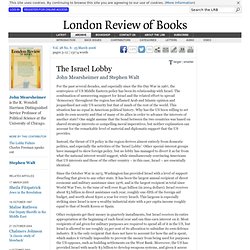 The combination of unwavering support for Israel and the related effort to spread 'democracy' throughout the region has inflamed Arab and Islamic opinion and jeopardised not only US security but that of much of the rest of the world. This situation has no equal in American political history. Why has the US been willing to set aside its own security and that of many of its allies in order to advance the interests of another state? Stephen Walt: Iraq, Iran and the Israel Lobby. The Israel Lobby and U.S. Foreign Policy | John J. Mearsheimer and Stephen M. Walt. "Controversial."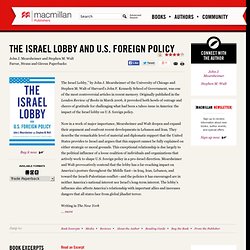 —Terry Gross, Fresh Air, NPR "It could not be more timely." —David Bromwich, The Huffington Post "The strategic questions they raise now, particularly about Israel's privileged relationship with the United States, are worth debating." —David Remnick. Did 'The Israel Lobby' Change Anything? - By Stephen M. Walt. Five years ago this week, John Mearsheimer and I published The Israel Lobby in the London Review of Books. Our goal in writing the article (and subsequent book) was to break the taboo on discussions of the lobby's impact on U.S. foreign policy and to transform it into a topic that people could talk about openly and calmly. Because we believed the "special relationship" that the lobby had promoted was harmful to the United States and Israel (not to mention the Palestinians), we hoped that a more open discourse on this topic would move U.S. Middle East policy in a direction that would be better for almost everyone. Did we succeed? There's little question that the article and book opened up discussion, aided by the efforts of a number of other people and by developments in the region (alas, most of them unfortunate). The Reviews of Walt and Mearsheimer: Moving Past the "Lobby" and Getting Stuck in the "Middle"
AIPAC
Christian Zionists gain Israel's inner sanctum. OAKLAND, California, 3 Jan (IPS) - After raising more than two hundred million dollars for various projects in Israel, Rabbi Yechiel Eckstein and the International Fellowship of Christians and Jews (IFCJ), the organization he founded and is president of, has hit pay-dirt.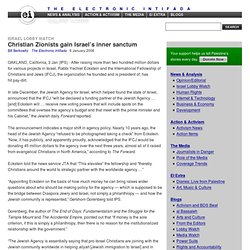 In late December, the Jewish Agency for Israel, which helped found the state of Israel, announced that the IFCJ "will be declared a funding partner of the Jewish Agency … [and] Eckstein will … receive new voting powers that will include spots on the committees that oversee the agency's budget and that meet with the prime minister and his Cabinet," the Jewish daily Forward reported. The announcement indicates a major shift in agency policy.
Nearly 10 years ago, the head of the Jewish Agency "refused to be photographed taking a check" from Eckstein. Stand for Israel: War, Peace and Politics. War and terrorism directed against Jews has been a fact of life for Israel ever since the modern Zionist movement began to bring Jews from around the world to resettle their biblical and ancestral homeland.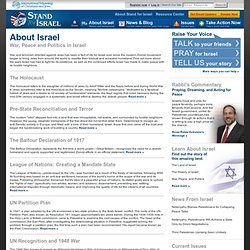 Find out more about the wars Israel has had to fight for its existence, as well as the continued efforts Israel has made to make peace with its hostile neighbors. The Holocaust The Holocaust refers to the slaughter of millions of Jews by Adolf Hitler and the Nazis before and during World War II.
Middle East Forum. ADL. WINEP. Alan Derschowitz. Pro-israel lobby - curators... Israel Lobby Watch. Pro-Israel: Long-Term Contribution Trends. Industries in this Sector: Search for an industry: Find Your Representatives †These numbers show how the industry ranks in total campaign giving as compared to more than 80 other industries.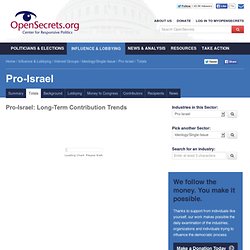 The Israel Lobby (Marije Meerman, VPRO Backlight 2007) Israel Lobby" authors Steven Walt and John Mearsheimer. 'The sugar mama of anti-Muslim hate' Why did it take 6 years to talk about the Israel lobby? Walt and Mearsheimer's 2006 article Six years ago when Walt and Mearsheimer published their landmark paper on the Israel lobby and U.S. foreign policy in the London Review of Books, I thought there was going to be a vigorous democratic debate of their assertions, including a lot of investigative reporting on campaign donations.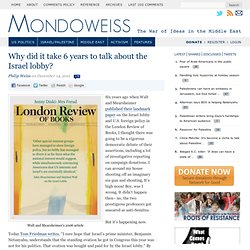 I ran around my house shooting off an imaginary six-gun and shouting, It's high noon! Boy, was I wrong. Is It Possible to Talk Sensibly about Middle East Policy. Steve Clemons of the New America Foundation is on a roll, doing his best to help the United States move toward a more sensible Middle East policy and to conduct a more civilized public discourse on that difficult topic. He made two important contributions in the past week, and I want to call your attention to both. Item No. 1: Steve and several of his associates have sponsored an important open letter, co-signed by an impressive list of former government officials, journalists, and academics. Why Peter Beinart is driving the 'pro-Israel' establishment crazy. Washington, DC - Almost all the criticism of (and controversy about) Peter Beinart's The Crisis of Zionism comes down to two major complaints: The first is that he is a "liberal Zionist" which, by some definitions, means he is just as indifferent to Palestinian rights as a right-wing Zionist.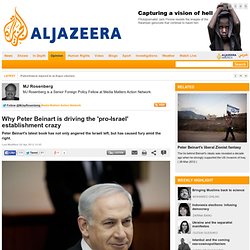 For example, he believes in the idea and reality of a Jewish state and is primarily motivated by his sense of urgency about preserving it. He also does not support granting the right to return to Israel to all the Palestinian refugees (dating back to 1947) and their millions of descendants, viewing full return as a means to ending Israel's existence. And, worst of all to some on the left, Beinart favours the so-called "two-state solution" which, although repeatedly thwarted primarily by settler-supporting Israeli governments, Beinart sees as the only means to achieve a solution fair to both peoples.
Dear Israel Lobby, We Give Up -- Please Give Us an Acceptable Way of Insulting You. February 13, 2012 | Like this article? Join our email list: Stay up to date with the latest headlines via email. Aaron David Miller - Israel's Lawyer - washingtonpost.com. I'm not a lawyer by training, but I know one when I see one. For far too long, many American officials involved in Arab-Israeli peacemaking, myself included, have acted as Israel's attorney, catering and coordinating with the Israelis at the expense of successful peace negotiations. If the United States wants to be an honest and effective broker on the Arab-Israeli issue, than surely it can have only one client: the pursuit of a solution that meets the needs and requirements of both sides.
The case for Israel-first advocacy is compelling. How The Lobby Chills Middle East Debate. This week, following that tumultuous reception for Prime Minister Netanyahu at the congressional joint meeting, I want to share a personal recollection of how the Middle East status quo is preserved on Capitol Hill. It was in 1988 and I was a foreign policy aide to Sen.
Carl Levin (D-MI). An ambassador smeared. The U.S. ambassador to Belgium, Howard Gutman, is facing an intense campaign by hard-line pro-Israel voices in the U.S. who want him fired over remarks he made about anti-Semitism late last month. Gutman, an Obama fundraiser turned ambassador, as well as a Jew and child of a Holocaust survivor, was addressing a Brussels conference devoted to combating anti-Semitism in Europe last month when he launched into a discussion of the relationship between the Israel-Palestine conflict and tensions between Muslims and Jews. The first thing to note about the Gutman affair – which has now prompted Mitt Romney and Newt Gingrich, as well as pundits at Commentary and elsewhere to call for his firing – is that the initial reaction was based on a woefully inaccurate account of his remarks. U.S. Envoy 'Blames' Israel for Bias (Echoing IDF) – Forward Thinking.
December 5, 2011, 4:10am By J.J. Goldberg getty images. Freeman hits 'Israel lobby' on way out - Ben Smith. The Israeli Lobby's Poisonous Influence on US Policy. Zionist Organization of America board member leads class action lawsuit against Jimmy Carter for Apartheid book. Robert Fisk: They're all grovelling and you can guess the reason - Robert Fisk, Commentators. Robert Fisk: United States of Israel? - Robert Fisk, Commentators. What If the Israel Lobby was the Islamic Lobby? (Part Two)
---