Irish and Ireland
Irish Girls Names and their meaning, baby names
Irish Boys Names and their meaning, baby names
Meaning of some specific animals in Celtic Art
Celtic Beat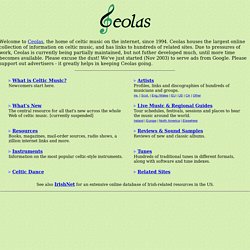 Welcome to Ceolas, the home of celtic music on the internet, since 1994. Ceolas houses the largest online collection of information on celtic music, and has links to hundreds of related sites. Due to pressures of work, Ceolas is currently being partially maintained, but not futher developed much, until more time becomes available. Please excuse the dust! We've just started (Nov 2003) to serve ads from Google.
20 great things to do in Dublin - Time Out Dublin
By Time Out editors and Sulakshana Gupta 1. Experience Dublin as the locals do Despite its unsavoury reputation in past years, Temple Bar is one of the city's most charming neighbourhoods and residents are trying hard to keep it that way. Cobblestone streets, bars, cafés, art galleries and architectural splendour harmoniously blend with old streetscapes and eco-friendly schemes.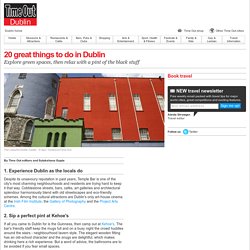 Scottish and Irish folk songs combined with the Lord of the Rings music and a wee bit o'Celtic fun. The Brobdingnagian Bards (pronounced brob-din-nahg-EE-en) are The Original Celtic Renaissance music duo. It's great Celtic music from Austin, Texas. Their unique brand of folk music on the autoharp, recorder, and mandolin made them one of the most-popular Celtic groups online. Brobdingnagian Bards performed coast-to-coast, and in a given month were at a Lord of the Rings Oscar Party, a Celtic festival, or a Science Fiction Convention. However, they were an absolute favorite at Renaissance Faires where they added high-energy and wit to make every show a memorable experience.
Brobdingnagian Bards - Irish, Folk & Celtic Music from Austin, Texas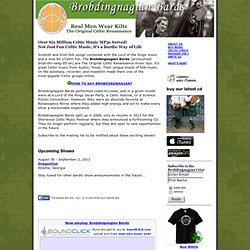 RAPALJE - Wat zullen we drinken (Zeven dagen lang)
The Dubliners - The Rocky Road to Dublin
Clannad - Caisleáin Óir
Loreena McKennitt- The Mystic's Dream
Mordred's Lullaby
Clannad, Robin (The hooded man)
:: Young Dubliners :: Celtic Rock and Roll ::
Welcome to shee
Tickets are now on-sale for The Chieftains 2013 US tour – ticket links and information below! February 9, 2013 – Naples, FL - Buy Tickets Here February 10, 2013 – Gainesville, FL – Buy Tickets Here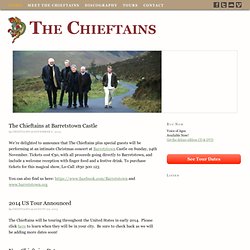 The Best of Ireland's Festivals and Events | The Best of Ireland | Lonely Planet
The more we stay in travel lodges and soulless hotels, the more we all crave an experiential night's stay. Because of Ireland's colourful history, its landscape is a rich tapestry of architectural styles, with Norman castles and neo-classical mansions sitting side by side with cosy farmhouses and contemporary wonders. One thing's for sure, all around the island you'll find a warm welcome in interesting, charming accommodations that are packed with character, and characters! So in the spirit of turning your Ireland trip into a real journey, here are some of the most memorable places to stay along the way. Cullintra House, Inistiogue, Co Kilkenny At Cullintra House, a cosy chocolate box 19th-century home in the Kilkenny heritage village of Inistiogue, you'll find a warm welcome but soon discover you're not the house's most important guest.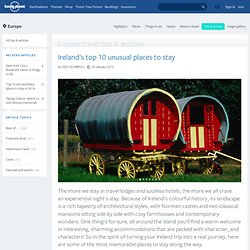 Songbook - Harvard Celtic Society
Renaissance Era, Folk and Celtic Musical Instruments | Gentle Maiden by Ivory
Old Irish Online: Table of Contents
MYTHICAL IRELAND - Newgrange, ancient sites, myths, mysteries, tours and astronomy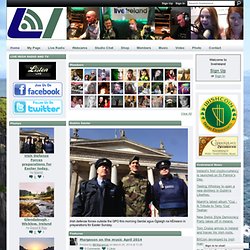 St. Pat's is over and I assume you have recovered. Was on LiveIreland Radio from Dublin with Imelda on THE day when we got a chat room visit from Tadaka Simafune from Japan and Christina from St. Petersburg in Russia at the exact same moment. The power of the internet.
liveIreland
Listen to Spooky Hallowe'en Sayings in Irish language
Irish songs, lyrics, streaming MP3s, and chords. Listen to Irish songs. Learn Celtic songs by ear! Welcome to Marc Gunn's Irish Songs Lyrics presented by the Celtic Music Magazine and the Irish & Celtic Music Podcast.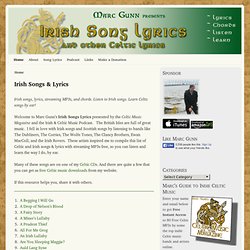 Irish culture and Irish customs - World Cultures European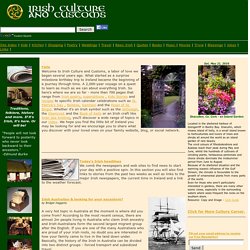 @import url(http://www.google.com/cse/api/branding.css); Site Index | Kids | Kitchen | Shopping | Poetry | Weddings | Travel | Basic Irish | Quotes | Books | Music | Movies | Trivia | Blessings | Jokes | Links | Traditions, folklore, history and more. If it's Irish, it's here. Or will be!
In Search of Ancient Ireland
ncient Ireland is the land of Celtic mysticism, mythical heroes, shamrocks, and St. Patrick. But what is truth and what is legend? To find out, IN SEARCH OF ANCIENT IRELAND journeys across the centuries to explore fabled Erin's remarkable past and uncover the real story behind the island nation's rich global legacy. This Web companion reveals the truth behind many of Ireland's myths and examines the enduring impact the country has had on Western civilization.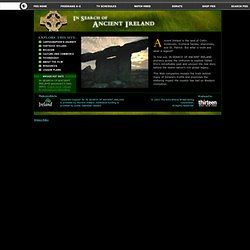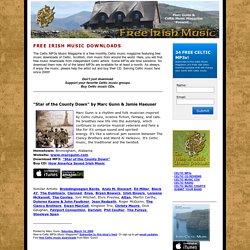 Marc Gunn is an accomplished professional performer, songwriter, and producer who brings a powerful and expressive voice to Celtic music. He is accomplished on an unusual instrument - the autoharp – and has expanded his traditional work in Irish and Scottish music to fuse the roots of Celtic with blues, jazz and folk music. Marc Gunn delivers exciting live shows as well as compelling and original recordings. Gunn has 14 solo albums to his credit to date. Hometown: Austin, TX Website: www.marcgunn.com Download MP3: "St.
Free Irish Music Downloads
Legendary PaganFolk Band OMNIA Returns to Faerieworlds! Faerieworlds is excited to announce that OMNIA will return to the Realm in Eugene, Oregon this summer. Omnia's dynamic blend of folk-rock, Celtic, and …
Faerieworlds Summer Celebration 2011!
Dervish Magical Irish Traditional Music from Ireland
Celtic Irish Carvings - Celtic Knots
Welcome to the Aon Celtic Art website! Featuring the artistic works of international artist Cari Buziak! Find Celtic clothing, prints, posters and jewelry; 1,550 FREE Celtic clip art designs, wedding stationery, Celtic cross stitch patterns, learn Celtic art history and styles and learn how to create a basic celtic knot! If you would like to be notified of any new material on the site as it comes out, sign up here! Feel free to grab one of the Link Banners if you are linking to the site!
Aon Celtic Art
CELT: The online resource for Irish history, literature and politics
Brobdingnagian Bards - Irish, Folk & Celtic Music from Austin, Texas
Handcrafted internet radio