Digital Books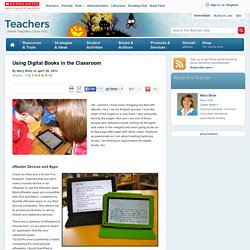 OK, I admit it.
Using Digital Books in the Classroom
Kirkus Reviews - iPad Apps | Kirkus Book Reviews
Since Apple's iPad launched in April of 2010, the iTunes app store has been flooded with picture books to read on the tablet device. Some are adaptations of well-loved classics, others may bring lesser-known, newer books to light and still others are entirely new stories, created to take advantage of the iPad's storytelling capabilities. We have submitted over 50 of these apps to rigorous review, and we can now proudly announce our Top 10 apps. Next week, there will be new apps available, and still others are being crafted even as I type.