iPads in the Classroom
Apple TV in the Classroom | iPad Adoption. Apple TV in the Classroom « PeorBust. For the last 6 months I have been trialling the use of an iPad in school.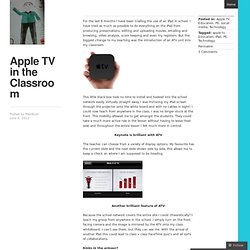 I have tried as much as possible to do everything on the iPad from producing presentations, editing and uploading movies, emailing and browsing, video analysis, score keeping and even my registers. But the biggest change to my teaching was the introduction of an ATV unit into my classroom. This little black box took no time to install and hooked into the school network easily. Virtually straight away I was mirroring my iPad screen through the projector onto the white board and with no cables in sight! I could now teach from anywhere in the class, I was no longer stuck at the front.
AppleTV, Airplay, and VGA. 39 Sites For Using iPads in the Classroom. Pages - Menu This Blog Linked From Here.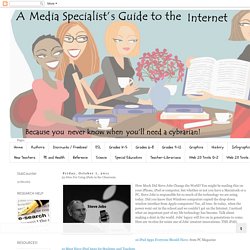 The iPad Part 1 – some thoughts appertaining to its use in education. The Apple iPad 2.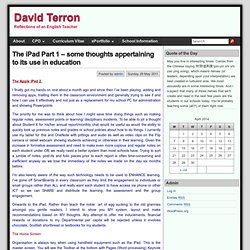 I finally got my hands on one about a month ago and since then I've been playing, adding and removing apps, trialling them in the classroom environment and generally trying to see if and how I can use it effectively and not just as a replacement for my school PC for administration and showing Powerpoints. The priority for me was to think about how I might save time doing things such as making regular notes, assessment points or learning/ disciplinary incidents.
iPads n Apps / Make Your Own iPad Activites using pdf-Notes for iPad. Air Sketch. Description Turn your iPad into a wireless whiteboard!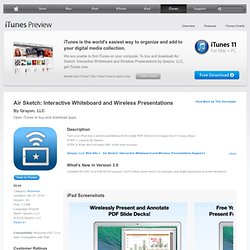 Annotate PDF slides and images live in 3 easy steps:STEP 1: Launch Air Sketch.STEP 2: Enter the indicated URL in the web browser.STEP 3: Everything your present and write is projected to the browser, in real-time.
---