iPad
iBlogTR | iphone 3gs iphone 4 iphone 4s ipad ipad2 new ipad cydia, Ten great iPad tips and tricks. Although it took some criticism at launch as being nothing more than an oversized iPhone, the iPad has turned out to be a handy and wildly popular device--and has even improved some users' lives around the globe.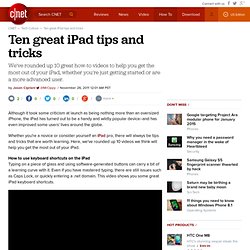 Whether you're a novice or consider yourself an iPad pro, there will always be tips and tricks that are worth learning. Here, we've rounded up 10 videos we think will help you get the most out of your iPad. Simple iPad Tutorials, Help, Tips, Secrets, Reviews, News And Apps. 50 really useful iPad tips and tricks.
26.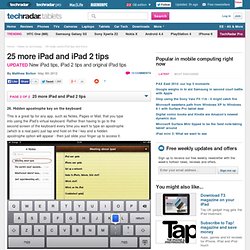 Hidden apostrophe key on the keyboard This is a great tip for any app, such as Notes, Pages or Mail, that you type into using the iPad's virtual keyboard. Deals and Discovery at App Shopper - Pop. AppAdvice - iPhone/iPad App News and Reviews. The APPera: iPhone Game Reviews, iPad Game Reviews, Free iPhone Games. App Chronicles | Free iPhone Apps, App Review and News. iPadNewsDaily.com - Apple iPad tablet news, reviews, apps, games and accessories. iPad. App Advice. The Best iPad Apps. Apple Treats Us to New iPad Wallpapers With iOS 5.1. 9to5 Mac has a nice surprise today with news of the early release by Apple of four new default wallpapers that are expected to come as standard with the iPad version of iOS 5.1, which is expected to appear with the iPad 3 sometime in 2012, possibly March, although that's pure conjecture at this stage of course!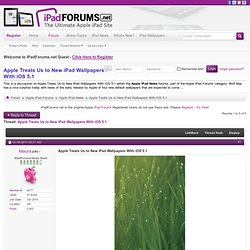 This will come as great news for those of us who are looking for a change from the current default wallpapers and who can't be bothered to install their own personal wallpapers! The four new themes are not especially groundbreaking, however, comprising two ocean wallpapers, waves beating against a sandy shore, and blades of grass. 9to5 Mac actually has the wallpapers available to download now via the link below, not just the iPad versions, but also smaller versions for the iPhone and iPod touch Retina. Simply click on the specific links at the bottom of the news story. Download Apple's new iPad wallpapers coming in iOS 5.1 (iPhone versions, too!) Probably the new default iOS 5.1 has a little gem for wallpaper fanatics like me: Apple will include four new wallpapers in the iPad version of iOS 5.1 (likely the release launching alongside the iPad 3 next year).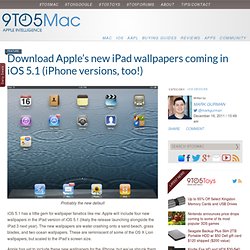 The new wallpapers are water crashing onto a sand beach, grass blades, and two ocean wallpapers. These are reminiscent of some of the OS X Lion wallpapers, but scaled to the iPad's screen size. Scroll | En İyi iPad Uygulamaları. Apple, mobil uygulama dünyasının en güçlü kütüphanelerinden birine sahip.
Yüzbinlerce uygulamaya sahip olan App Store, iOS cihaz sahipleri için bir uygulama okyanusu niteliğinde. Piyasaya ilk çıktığında uygulama azlığı sebebiyle eleştirilen iPad de kısa süre içerisinde kendini geliştirdi. Artık iPad uyumluluğuna sahip onbinlerce uygulama bulmak mümkün. Bugün sizlere bu zengin uygulama kütüphanesinden seçtiğimiz 10 uygulamayı tanıtacağız. iTunes clean up, iTunes cleanup software, proper iTunes library. How to Keep Thieves from Disabling Your iPhone's GPS. 275 Shares Google+ 35 Twitter 95 Facebook 131 LinkedIn 11 inShare11 Reddit 0 Pin It Share 0 Buffer 3 275 Shares × I'm glad Apple made the Find My iPhone feature available for free to all iOS devices.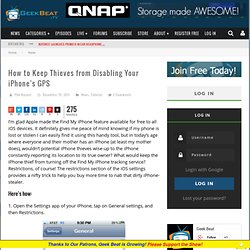 It definitely gives me peace of mind knowing if my phone is lost or stolen I can easily find it using this handy tool, but in today's age where everyone and their mother has an iPhone (at least my mother does), wouldn't potential iPhone thieves wise-up to the iPhone constantly reporting its location to its true owner? What would keep the iPhone thief from turning off the Find My iPhone tracking service?
Apps
---