iPad
In our previous article on getting started with iPhone development, you learnt how to use the iPhone SDK provided by Apple to develop your first iPhone application.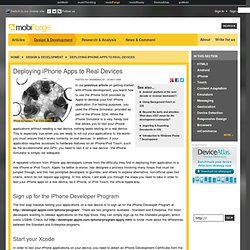 Deploying iPhone Apps to Real Devices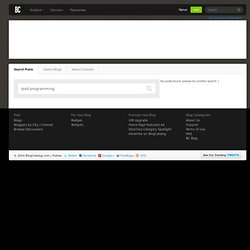 5 Cutting Edge iPad Apps for Creative Thinking & Learning 3D Printing App: Copy Objects Right From Your iPad [Mashable] - A free app from the makers of Autodesk, 123D Catch allows you to turn a series of iPad pictures of an object, shot at multiple angles, into a 3D model you could then have printed. Verde Cargo Bot for iPad Cargo Bot is the first game "that was ever made entirely on the iPad". It used the "Codea" Lua-Scripting environment, where you can code and run scripts directly on the iPad (which I recommend much!).
Ipad Programming / Explore Blog Catalog
Ipad Programming / Explore Blog Catalog
iPad 2 Tips, Tricks, and Shortcuts - Keep a Low Location Profile - Slideshow from PCMag.com
Candy Convertible Apple iPad 2 Case | iPad 2 Cases, Covers, and Skins | Hard Candy Cases
iPad agenda by booq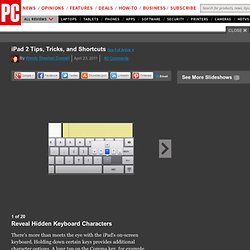 iPad 2 Tips, Tricks, and Shortcuts - Reveal Hidden Keyboard Characters - Slideshow from PCMag.com
Reveal Hidden Keyboard Characters There's more than meets the eye with the iPad's on-screen keyboard. Holding down certain keys provides additional character options. A long tap on the Comma key, for example, brings an apostrophe.
10 iPad Apps Everyone Should Have - Epicurious - Slideshow from PCMag.com
Apple sold more than 1 million copies of iPads in the first 3 months. This gadget is definitely more than just a larger version of iPhone or iPod touch. With 4x the screen of an iPhone, the iPad's display is ideal for reading and for presentations. In today's post, we'd like to highlight some really useful iPad applications that might replace the things you do daily with your laptop or netbook.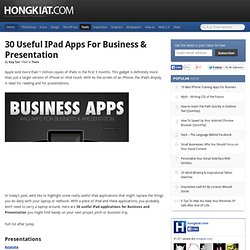 App Store (11)
Lose It! for iPhone, iPod touch, and iPad on the iTunes App Store
Description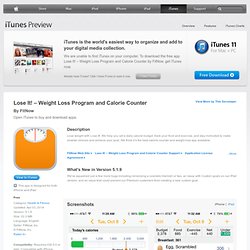 If you just dropped a few hundred dollars on an iPad, you might not have much left in your budget to fill it up with apps. Fortunately, app developers have already stepped up and created a huge collection of completely free iPad apps. Below you'll find over 100 free iPad apps to help you get started. Many of them are only free for a limited time as an introductory special so you'd better grab them fast!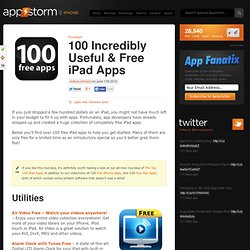 MouthOff™ | ustwo™
MouthOff™ is a real-time mouth simulator phone app. The app basically allows you to control various best of breed designed cartoon mouths, by using just your voice. The app picks up on background noise via the phone's microphone and the results are undoubtedly – laugh out loud hilarious. 45 cartoon mouths, 12 top illustrators, thousands of user videos, and plenty of laughs! Hold your device in front of your mouth and talk, shout, laugh, scream or sing to get the mouth of your choice to animate in time with the sounds you make. Get MouthOff™ on your iPhone or Android device and make life a little sweeter by using it to express yourself!
AppsAmuck iPhone Development Tutorials and Examples
Apple's iPad is the little device that could. Any scepticism about Apple's tablet technology was largely erased as the iPad took touchscreen technology to a larger, more robust high. We've tracked the iPad through its first months in public hands with a slew of features and resources. We've here collected some of our best — sometimes bizarre — resources for you to get all caught up. Whether you're looking for the best business apps, need some decals to trick out your device, or just want to see if your iPad works in space — this collection of more than 50 iPad resources is sure to suit your needs. 10 Beautiful and Usable iPhone and iPad InterfacesIf you're looking for a beautiful, efficient app for your newly minted iPad, take a look at some of these elegant examples ranging from NPR to skee-ball.10 Awesome Apple iPad Decals [PICS]Your iPad should look as beautiful on the outside as it does on the inside.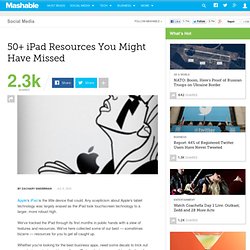 iPad App — Your Kitchen Inspiration
Friendly Plus for Facebook for iPad on the iTunes App Store
May 31 2010 This is the age of iPhones, iPods and iPads, people simply love to have these amazing inventions of information technology. Apple iPhones have created a state of euphoria among its users with its amazing features and iPad is another product from Apple team that will let you browse internet, watch video, listen music, read books with just a finger touch. We are sure some of you have already purchased it and now want to customize it. For this you must be looking for some beautiful wallpapers that will match with the theme of your iPad. So here is the collection for you.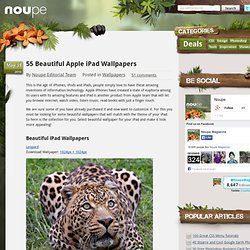 iPad Wallpapers Vadstudio
Buddies Facebook Browser for iPad