Apps
When you start bringing iPads, iPhones, and iPod Touches into your classroom, you're opening up a Pandora's Box of potential problems. For starters, you might not be totally sure which apps are the best ones to install at the start. You may not be sure which games are useful or which productivity apps are worth their salt. I've recently stumbled across an effective chart that actually ranks education apps according to a few critical criteria. The visual from Grasping For Objectivity details 29 different 'edutainment' apps that are both free and paid. I like how each one is laid out and ranked accordingly.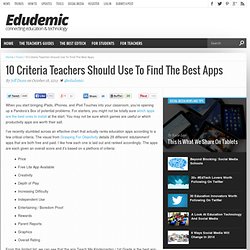 10 Criteria Teachers Should Use To Find The Best Apps
** 2013 CODiE Finalist ** **2012 Tech&Learning Award of Excellence Winner** Eligible for discount through Apple's Volume Purchase Plan for Education. VPP buyers! Get a free app for every 20 purchased: http://www.inspiration.com/mapsform Engage students in active learning with Inspiration Maps. Students build their knowledge by creating diagrams, maps and organizers that help them brainstorm, plan, organize and build thinking skills. Tap to transform visual work into outlines that export for writing.
Inspiration Maps (Education)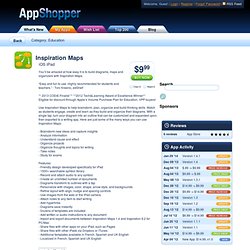 As part of the new primary curriculum for ICT, there is a significant emphasis on computer science. Below I've included what the children should be taught and a selection of apps which can be used in both Key Stage 1 and Key Stage 2. Key Stage 1 Pupils should be taught to: understand what algorithms are, how they are implemented as programs on digital devices, and that programs execute by following a sequence of instructions write and test simple programs use logical reasoning to predict the behaviour of simple programs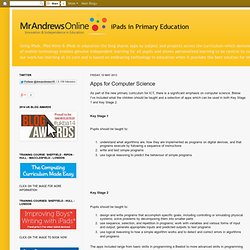 iPads in Primary Education: Apps for Computer Science
Apps for special education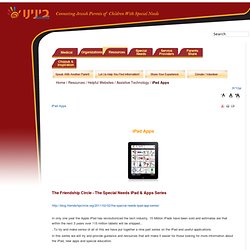 iPad Apps The Friendship Circle - The Special Needs iPad & Apps Series http://blog.friendshipcircle.org/2011/02/02/the-special-needs-ipad-app-series/
iPad Apps
Hello there! If you are new here, you might want to subscribe to the RSS feed for updates and/or follow me on Twitter . Info on how to contact me is on the About page. Thanks for visiting!
Virtual classroom iPad App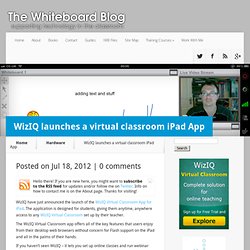 Free iPad Apps to Teach Current Events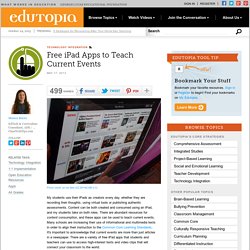 My students use their iPads as creators every day, whether they are recording their thoughts, using virtual tools or publishing authentic assessments. Content can be both created and consumed using an iPad, and my students take on both roles. There are abundant resources for content consumption , and these apps can be used to teach current events. Many schools are increasing their use of informational and multimedia texts in order to align their instruction to the Common Core Learning Standards . It's important to acknowledge that current events are more than just articles in a newspaper. There are a variety of free iPad apps that students and teachers can use to access high-interest texts and video clips that will connect your classroom to the world.
Description Quizboard - the hit new head-to-head social trivia game from Planeto! Challenge your friends to a battle of wits and show off your knowledge of everything from Pop Culture to Popcorn. Master the strategies of 10 different boards where every move you make can take your opponent in a different direction! Are you smarter than your friends? Up on more pop culture?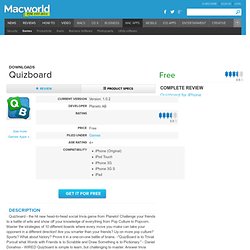 Quizboard Version: 1.0.2 Review | iPhone and iPad Games App
iPadology -It's All About Your App-titude!
InterAction Education - Premier Educational Games - We make educational games and apps for tablets and mobile phones that help kids learn math and science.
iPad App Evaluation