commentary/opinion
Get flash to fully experience Pearltrees
So, here's a Vision Of The Future that's popular right now.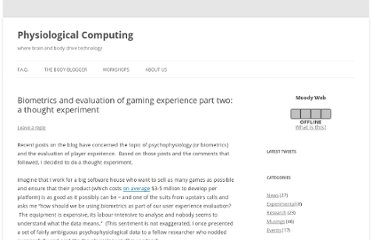 Recent posts on the blog have concerned the topic of psychophysiology (or biometrics) and the evaluation of player experience.
Way back in June, I planned to write a post prompted by Kevin Kelly's talk at the Quantified Self conference in May and a new word I'd heard in an interview with David Brin.