iOS
xcode concatener 2 chaines - Forum de macfr.com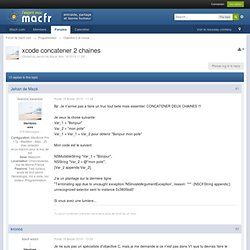 Il y a plein de manières des faire ça en effet. Déjà, dans ton code tu faisais un "=" qui comme dit plus haut attribuait à une variable Var1 une NSString, donc même si Var1 était déclaré NSMutableString, au final dedans c'était un NSString comme objet. Ensuite à un moment tu as mis directement [NSMutableString initWithString:...], or "NSMutableString" est une classe, et "initWithString" est une méthode d'instance (donc à appeler sur un objet) et non une méthode de classe.
To use a keyboard shortcut, or key combination, you press a modifier key with a character key. For example, pressing the Command key (the key that has a symbol) and the "c" key at the same time copies whatever is currently selected (text, graphics, and so forth) into the Clipboard. This is also known as the Command-C key combination (or keyboard shortcut). A modifier key is a part of many key combinations.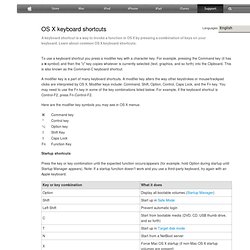 iPhone, development & design
fais gaff scoopit c'est un outil de curation donc ça va pas resté indéfinitivement quand le mec va refaire un journal tu vas perdre ses infos recupère plutot les sources de ce qui t'interesse ;) by malorichard Apr 26
iTunes Link Maker
How to Distribute your iOS Apps Over the Air - Aaron Parecki
Facebook has just released a major overhaul of its software development kit (SDK) for iOS, including support for the forthcoming iOS 6, plus a new iOS Dev Center that includes documentation and resources for developers. Facebook promises the new features in the SDK will make it easier to develop Facebook-integrated mobile apps. Highlights include: -Improved session management, meaning that it will be easier for developers to handle authentication to Facebook. -Pre-built interface tools for displaying user profile pictures, Facebook Places and more. -Improved feature support for Objective-C, the native programming language of iOS, including better memory management.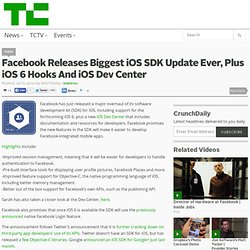 Facebook Releases Biggest iOS SDK Update Ever, Plus iOS 6 Hooks And iOS Dev Center