Linux
Get flash to fully experience Pearltrees
This HOW TO describes enabling support for WiFi devices based on Broadcom 4311/4312/4313/4321/4322/43224/43225 chipsets - using Broadcom's hybrid device driver - on Debian systems. This tutorial was prepared shortly after the release of LMDE 201009 and draws heavily on THIS Debian Wiki page. Support of these chipsets is possible using a driver (wl) made available by the vendor, which includes a binary-only component targeted for the x86 or x86-64 architecture. All supported devices are listed at the end of this page. This is a "non-free" driver.
Installing Ubuntu Hoary on Acer Aspire 1363 WLMi Last updated: 20/03/05 General hardware specifications of Acer Aspire 1363 WLMi: Hardware components Status under Linux Notes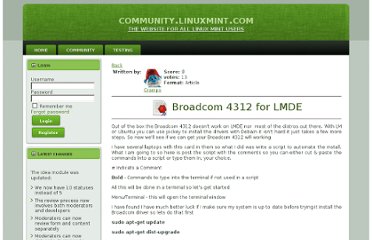 Out of the box the Broadcom 4312 doesn't work on LMDE nor most of the distros out there. With LM or Ubuntu you can use jockey to install the drivers with Debain it isn't hard it just takes a few more steps. So now we'll see if we can get your Broadcom 4312 wifi working. I have several laptops with this card in them so what I did was write a script to automate the install. What I am going to so here is post the script with the comments so you can either cut & paste the commands into a script or type them in, your choice.