Internet tools
Zombie-Fication! Tutorial Magazine - 32 Best Photoshop Tutorials of July 2009. Photoshop How to Digitally Paint Portraits Create digital paintings that look like high-end comics from photos with these great Photoshop tips. | 16643 views | by digitalarts How to Design a Beautiful Website From Scratch.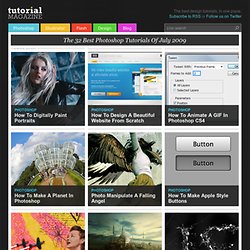 OpenStudy: Study Together. Free High Resolution Textures - Lost and Taken. 80 All-You-Need Photoshop Brushes. BitTorrent So Simple - Official Website. Online converter - convert video, images, audio and documents for free. Free Software | bigBrains.com.
What do you love? 500+ Exceptionally Beautiful Photoshop Patterns For Classy Designs. This time I am proposing 500+ patterns for Photoshop, (PAT) or separate image for your designs funds or CSS, is wood, designs crazy handrawing, skulls, points, slashes and much more are looking for designers, including floral and metal.
Files. PAT can be loaded within Photoshop using the Load command when you are in something that requires adding a pattern as in the properties of a layer (blending options), I have also included for GIMP. Patterns are images or vectors symmetrically repeated horizontally or vertically, or combined to give a sense of continuity, we see clearly in carpets, in honeycomb cells and mutual funds website inclined lines in Photoshop can be used to recreate an image from small to be repeated several times, CSS is applied using the function repeat-x, repeat-y or repeat-x to avoid creating something big. Whatever you need you can create the same but today I come to present a collection of 500+ amazing patterns formats.
---