Interior Design
Basically just find cool interior design things. Have fun?
Loft 24/7. Miss, miss design, miss-design, missdesign, design, illustration, interior, interior design, style interior, interior old style, workspace, workplace, creative workspace, veranda, garden, balcony, exterior, photography, studio, 3d, typography, blog, person, architecture, arts, creative, layout, design studio, inspire, inspiration, technology, resources, tools, internet tools, discussions, bridal bouquet, font, free font, digital art, logo, logotype, typographic design, tutorial, tutorials, icon, icon tutorial, how to, industrial design, camera lens, canon, nikon, pentax, olympus, books, bookshelves, cupboard, chair, unique style, unique design, unique interior, before and after, benchmark.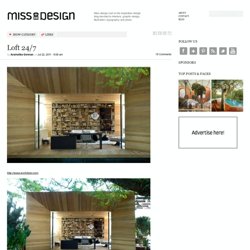 Showbin: Our new tablet pc Gallery. LED Floodlights 10W Flood warm light Waterproof IP65 for sale. A Collection of Awesome Bookshelves | In today's day and age it would appear that books are somewhat going out of favor.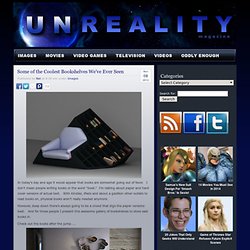 I don't mean people writing books or the word "book." I'm talking about paper and hard cover versions of actual text. With Kindles, iPads and about a gazillion other outlets to read books on, physical books aren't really needed anymore. Sleeping porch | Home Decorating - Design And Ideas.
Dillon Kyle. Overhead-wall-bookshelves.jpg (468×600) High Standards Villa Interior in Lännersta. Decorate. Disco Bedroom Design Inspiration. How Can I Turn My Boring Digs Into an Awesome, Well-Designed Home On the Cheap? This is a great article as I've been wanting to deck out my basement ever since I moved.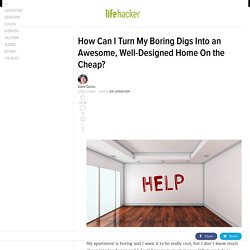 We already got an HDTV with a small DVD/BD library, next step would be to repaint the whole thing to make it more personal. But just how do I go about doing this? I've only ever painted a room once, but I can just look up tips or how to's for that. I browsed Kuler like the article recommended, found a scheme I like. Anamorphic Illusions by Felice Varini. If you're one of those pandas who read our magazine daily, you probably remember Anamorphic Medusa Inside a Factory by Truly Design or Anamorphic Typography by Joseph Egan we've talked about earlier.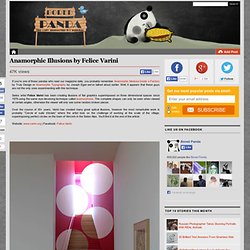 Well, it appears that these guys are not the only ones experimenting with this technique. Swiss artist Felice Varini has been creating illusions of flat graphics superimposed on three dimensional spaces since 1979 using the same eye-deceiving technique called anamorphosis. 193747_700b.jpg (JPEG Image, 500 × 6751 pixels)
30 Thrilling Open Plan Living Rooms with a View. Designing an open floor plan can be a great way to make your living areas seem more spacious.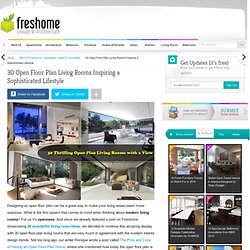 What is the first aspect that comes to mind when thinking about modern living rooms? For us it's openness. And since we already featured a post on Freshome showcasing 26 wonderful living room ideas, we decided to continue this amazing display with 30 open floor plan living rooms that are very much in agreement with the modern interior design trends. Not too long ago, our writer Ronique wrote a post called The Pros and Cons of Having an Open Floor Plan Home, where she mentioned how today the open floor plan is a sought after amenity in any home, as half walls and visual dividers allow a family to converse and interact. What can you do with an old pallet? So many things!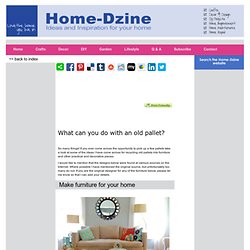 If you ever come across the opportunity to pick up a few pallets take a look at some of the ideas I have come across for recycling old pallets into furniture and other practical and decorative pieces. I would like to mention that the designs below were found at various sources on the Internet. Where possible I have mentioned the original source, but unfortunately too many do not. If you are the original designer for any of the furniture below, please let me know so that I can add your details. Make furniture for your home. Wire Music Decor. The Joy of Adding Color to Your Apartment According to Your Personality! on DesignRulz.
So far you know that white is classic but too much white might cease to be neutral and become and element of stress.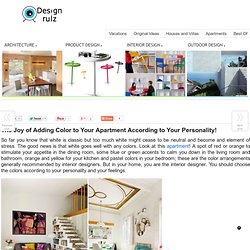 The good news is that white goes well with any colors. Look at this apartment! A spot of red or orange to stimulate your appetite in the dining room, some blue or green accents to calm you down in the living room and bathroom, orange and yellow for your kitchen and pastel colors in your bedroom; these are the color arrangements generally recommended by interior designers. Small Space.
Other Inside. Terrace. Secret Passage. Reactive Paint (by @baekdal) #design. Shi Yuan has created a way to turn normally passive things into something with a life of its own.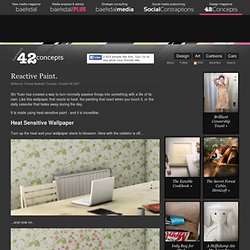 Like this wallpaper that reacts to heat, the painting that react when you touch it, or the daily calendar that fades away during the day. It is made using heat sensitive paint - and it is incredible. Heat Sensitive Wallpaper Turn up the heat and your wallpaper starts to blossom. Make Room! Cool Color-Changing Walls for Your Home « Dornob. This may be the best room-changing design idea since interior house paint: forget your white living room walls, green bedroom or brown kitchen and bring your favorite rooms to life with these incredible, changeable and colorful do-it-yourself pixelated wall displays.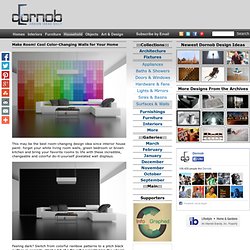 Feeling dark? Switch from colorful rainbow patterns to a pitch black surface in seconds. Dark and moody apartment « Sharona Design. Shop furniture and find interior ideas in the US at mydeco.com. Room for Color 2011. U.S.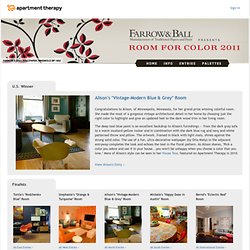 Winner Alison's "Vintage-Modern Blue & Grey" Room Congratulations to Alison, of Minneapolis, Minnesota, for her grand-prize winning colorful room. She made the most of a gorgeous vintage architectural detail in her home by choosing just the right color to highlight and give an updated feel to the dark wood trim in her living room. The deep teal-blue paint is an excellent backdrop to Alison's furnishings — from the dark gray sofa to a warm mustard-yellow rocker and in combination with the dark blue rug and navy and white patterned throw and pillow. "Tear Off" Wallpaper by ZNAK. IdeaPaint Dry-Erase Board Paint. IdeaPaint: Turn Your Entire Office Into a Whiteboard. Interior Design, Interior Decorating Ideas & Architecture Magazine.
How To Design A Two-Room Apartment With Style. A selection of graphic projects. Magazine > Digital Interiors: Pixel Furniture | 8-bit is exploding into a living room near you. Luxurious NYC Penthouse Apartment with Astounding Space Design. The Collector's Loft, Art Gallery and Living Space Combined.
Living Room Designs , Sets, Furniture, Sofas, Ideas.
---