Interesting Stuff
Fall of Kluge Estate is Windfall for Trump. The Google Puzzle. The 25 Best Gadgets of 2011 (So Far) Specs: 85-inch screen, 1080p resolution, Plasma, Automatic Picture Control, Automatic Color Management, BeoLab 10 center speakerPrice: $85,000 Bang & Olufsen only knows how to do things one way: big.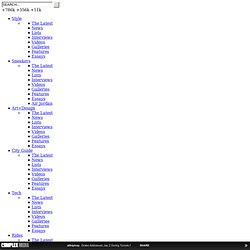 So when it came time for the luxury tech company to enter the 3D HDTV market, it did so in the most extravagant way possible: with an 85-inch plasma TV that rests on a mechanized base. Think of it as the Bugatti Veyron of HDTVs. The large screen displays excellent images, both in 2D and 3D, the sound, courtesy of the BeoLab 10 center speaker (the little triangle number sitting on the bottom of the frame), is outstanding. Batman Rises In a 2012 Lamborghini Aventador. The Dark Knight will be racing through the mean streets of Gotham doing 0-60 in 2.9 seconds in a brand new 2012 Lamborghini Aventador for his next film, Batman: The Dark Knight Rises.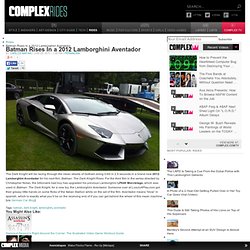 For the third film in the series directed by Christopher Nolan, the billionaire bad boy has upgraded his previous Lamborghini LP640 Murcielago, which was used in Batman: The Dark Knight, for a new toy, the Lamborghini Aventador. Someone over at Luxury4Play.com got their greasy little hands on some flicks of the Italian Stallion while on the set of the film. Aventador means "blow" in spanish, which is exactly what you'll be on the receiving end of if you can get behind the wheel of this mean machine. Tags: batman, dark-knight, lamborghini, aventador. Scorethotics: Cocaine-Filled Kicks Abandoned at JFK. Momma did always say travel light.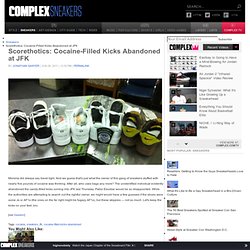 And we guess that's just what the owner of this gang of sneakers stuffed with nearly five pounds of cocaine was thinking. After all, who uses bags any more? The unidentified individual evidently abandoned the candy-filled kicks coming into JFK last Thursday. Pablo Escobar would be so disappointed. Explosive Celebrity Gossip! Amazing Places around the world | LikEAndShARe.info. THE HUNDREDS IS HUGE. Brands-disappear-2012-247: Personal Finance News from Yahoo! Finance. 24/7 Wall St. has created a new list of brands that will disappear, which includes Sears (NASDAQ: SHLD - News), Sony Pictures (NYSE: SNE - News), American Apparel (NYSE: APP - News), Nokia (NYSE: NOK - News), Saab, A&W All-American Foods Restaurants, Soap Opera Digest, Sony Ericsson, MySpace (NYSE: NWS.A - News), and Kellogg's Corn Pops.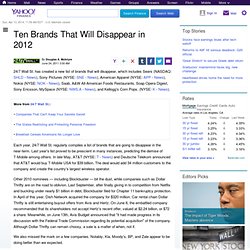 (NYSE: K - News). Each year, 24/7 Wall St. regularly compiles a list of brands that are going to disappear in the near-term. Last year's list proved to be prescient in many instances, predicting the demise of T-Mobile among others. In late May, AT&T (NYSE: T - News) and Deutsche Telekom announced that AT&T would buy T-Mobile USA for $39 billion. Steve-O Talks About Doing Blow With Lindsay Lohan. 12ozprophet COPE2 UNDER THE INFLUENCE MAY 15 AZART GALLERY NYC selectism Easy Accessories with this 6 Piece Pin Badge Set from A.Four freshnessmag LC23 – Spring/Summer 2014 Collection Lookbook livemixtapes Future Presents F.B.G.: The Movie [Mixtape]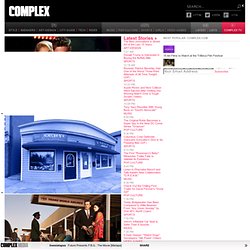 Pics/celeb1789/pics/rosie_jones_01.jpg. Ultimate Garages. When you are high.. When you are high.. (11 votes, average: 5.00 out of 5) Loading ...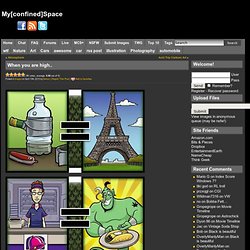 Posted in Images on April 10th, 2010 by Demon | Report This Post | Random funny pictures. Monster, Billionaire Mansions. Facebook billionaire Mark Zuckerberg, 26, may have recently shelled out $7 million for a Palo Alto home, but when it comes to billionaire real estate, that purchase is downright thrifty.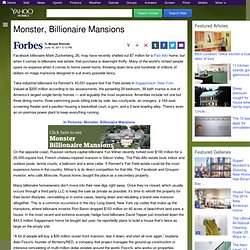 Many of the world's richest people spare no expense when it comes to home sweet home, throwing down tens and hundreds of millions of dollars on mega mansions designed to suit every possible fancy. Take industrial billionaire Ira Rennert's 43,031 square-foot Fair Field estate in Sagaponack, New York. Captured: Great Depression Photos: America in Color 1939-1943. Posted Jul 26, 2010 Share This Gallery inShare324 These images, by photographers of the Farm Security Administration/Office of War Information, are some of the only color photographs taken of the effects of the Depression on America's rural and small town populations.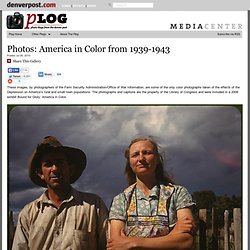 The photographs and captions are the property of the Library of Congress and were included in a 2006 exhibit Bound for Glory: America in Color. Faro and Doris Caudill, homesteaders. Tee'd Off: The Most Racist Moments in Golf History. Over the last two decades, few sports have changed their racial makeup as drastically as golf.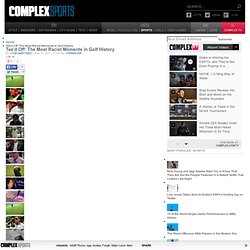 From Tiger Woods' dominance in the 2000s, to the emerging star power of names like K.J. Choi, Vijay Singh, and Jhonattan Vegas—the game done changed. Gumball 3000 Brings Out the High-End Rides. Elisha-Cuthbert-34.jpg (1024×768) 5.jpg (800×1275) 8.jpg (800×1178) Aubrey-oday-0903-2.jpg (1200×900) Homer simpson. Medical Cannabis Cup, 11/14/10. Big.jpg (800×335) Illicit_trafficking_2000.jpg (1593×916) 10 Unique And Amazing Places on Earth.
Our World After seeing "10 More Amazing Wonders of the Natural World", which many contained places I had never even heard of, I was inspired to make my own list.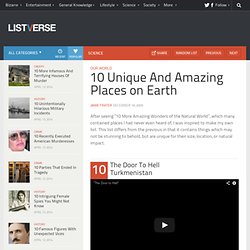 This list differs from the previous in that it contains things which may not be stunning to behold, but are unique for their size, location, or natural impact. Awesome People Hanging Out: Pics, Videos, Links, News. Google. This Is What Millions of Dollars Down the Tube Looks Like. Ferrari-612-GTO-Concept-Rendering-11-lg.jpg (JPEG Image, 1100x688 pixels) - Scaled (91%) Lamborghini-Ankonian-Concept-Design-by-Slavche-Tanevski-Rendering-9-1280x960.jpg (1280×960) Imageseveryone-is-a-genius_small.jpg (JPEG Image, 651x488 pixels) Dude's Got Skills. ← Previous Post Next Post → Dude's Got Skills jon May 28, 2011 0 Other Stuff You Might Also Like» The 9 Most Unusual Models On The Planet. Lakefront Mansion Price Cut by $25 Million.
Knock 25 percent off the listing price of a $100 million home, and you've just saved a prospective buyer a cool $25 million -- a sum that's bound to pique the interest of even the fabulously rich. That's the thinking behind the new asking price for Tranquility, a nine-bedroom, 38,000- square-foot estate in Lake Tahoe, Nev. that originally went on the market in 2006 for $100 million.
The mansion anchors a 210-acre property. Discover the Best of the Web.
---