Bizarre/Hilarious Stuff
Architecture. Imagine the renovation dilemmas.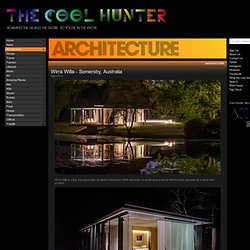 A huge penthouse of a converted 1930s office building in TriBeCa, New York, is to be turned into a functioning home for a family with three teenagers. In fact, we can not quite imagine the issues that faced Steven Harris Architects when the family showed up, literally, at the doorstep of the celebrated architect and asked if he'd like to work on their home. Dress. This is an American-made dress for a 50th wedding anniversary.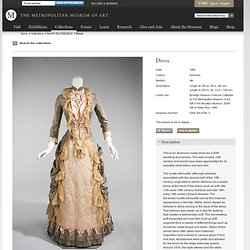 The style evokes 18th century and would have been appreciated for its beautiful embroidery and lace trim. The bustle silhouette, although primarily associated with the second half of the 19th century, originated in earlier fashions as a simple bump at the back of the dress, such as with late 17th-early 18th century mantuas and late 18th- early 19th century Empire dresses. The full-blown bustle silhouette had its first Victorian appearance in the late 1860s, which started as fullness in skirts moving to the back of the dress. HackerThings: Products for the discerning hacker. Natural Pools or Swimming Ponds. Natural Pools or Natural Swimming Ponds (NSPs) Let nature clean the water...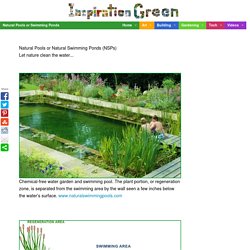 Chemical-free water garden and swimming pool. The plant portion, or regeneration zone, is separated from the swimming area by the wall seen a few inches below the water's surface. www.naturalswimmingpools.com The pools have skimmers and pumps that circulate the water through the regeneration zone and back into the swimming area. The aquatic plants filter out contaminants and use nutrients from the water as food which helps prevent algae. Brilliant Stairs photos.
Gadgets and Objects. Steampunk. Animator_vs__Animation_by_alanbecker. Glow-in-the-Dark Tattoos Hide During the Day, Come Out at Night « How-To News. Want a tattoo that's daytime work-safe (invisible), but nighttime party-friendly (UV blacklight)?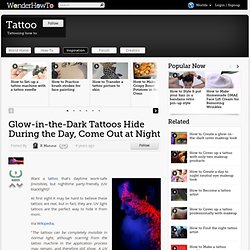 At first sight it may be hard to believe these tattoos are real, but in fact, they are. UV light tattoos are the perfect way to hide it from mom. Via Wikipedia, "The tattoos can be completely invisible in normal light, although scarring from the tattoo machine in the application process may remain, and therefore still show.
---