Joseph Campbell
Joseph Campbell – Tout savoir sur les produits Joseph Campbell avec la Fnac. Joseph Campbell Foundation. Two New Joseph Campbell DownloadsPrint | The Joseph Campbell & Jean Erdman ScholarshipPrint | Mythological ToolBox at Esalen, March 23-28, 2014Print | Robert Walter, Joseph Campbell's editor, publisher, and JCF President, will lead the activities, joined by Tai Ji dancer and author, Chungliang Al Huang.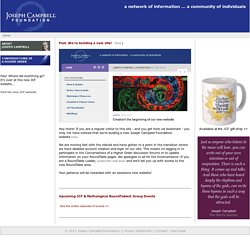 If you dare to revision yourself, you are invited to join our improvisational rebirth rituals, March 23 -28, 2014, at the Esalen Institute in Big Sur CA.. Reserve your spot today! For more information on this year's Mythological ToolBox™ Playshop, visit this page>> New Joseph Campbell Book on Goddesses! Joseph Campbell. Joseph John Campbell (March 26, 1904 – October 30, 1987) was an American mythologist, writer and lecturer, best known for his work in comparative mythology and comparative religion.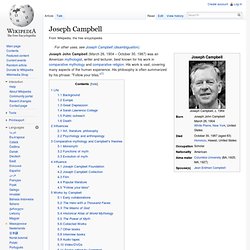 His work is vast, covering many aspects of the human experience. His philosophy is often summarized by his phrase: "Follow your bliss.
---