Miscellaneous
Whimsical Illustrations Merge with Everyday Objects. Instagram continues to pave the way for innovative artists like graphic designer Javier Pérez, who regularly adds to his playful series entitled Instagram Experiments.
Using a variety of everyday objects combined with simple line drawings, the Ecuador-based artist constructs whimsical scenes in all shapes and sizes. From a still life of lungs to adventures in spaghetti rain, Pérez finds ways to bring life to all kinds of static objects. His imagination leads to many inventive creatures and characters and, through just a few quick pen strokes, he transforms small, unexpected food, flowers, gadgets, and tools into lively and expressive artworks.
His cheerful collection, which will certainly make you smile, is the artist's way of reminding us that "we [all] have an inner child who wants to have fun and play. " Via thatscienceguy: I have always wondered what. 537669_10150829425571481_503906480_10119328_2011840328_n.jpg (960×960) A Cathedral Made from 55,000 LED Lights. The Luminarie De Cagna is an imposing cathedral-like structure that was recently on display at the 2012 Light Festival in Ghent, Belgium.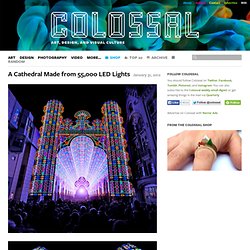 The festival was host to almost 30 exhibitions including plenty of 3D projection mapping, fields of luminous flowers, and a glowing phone booth aquarium, however with 55,000 LEDs and towering 28 meters high the Luminarie De Cagna seems to have stolen the show. ( via stijn coppens, sacha vanhecke, sector271) Stunning Underwater Ink Photography. Yay!everyday. Dream Big by Peter Fecteau. The Infinity Room. With this immersive installation, French artist Serge Salat invites visitors to take a journey through endless layers of space, decked out with cubic shapes, panels of mirrors, shifting lights and music.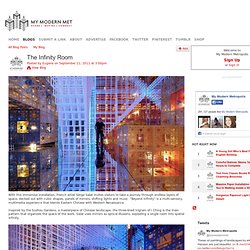 "Beyond Infinity" is a multi-sensory, multimedia experience that blends Eastern Chinese with Western Renaissance. Inspired by the Suzhou Gardens, a masterpiece of Chinese landscape, the three-lined trigram of I Ching is the main pattern that organizes the space of the work. The Tire Art of Wim Delvoye. For his series titled "Pneu", Belgian artist Wim Delvoye created a series of decorative objects by hand-carving intricate patterns and floral motifs on used car tires.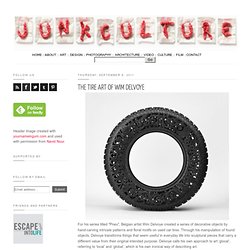 Through his manipulation of found objects, Delvoye transforms things that seem useful in everyday life into sculptural pieces that carry a different value from their original intended purpose. Delvoye calls his own approach to art 'glocal', referring to 'local' and 'global', which is his own ironical way of describing art. Find out more about Wim's work here. Creative waterfall. Sculptures Popping Out of Paintings. Oh, to have been in Tokyo in June!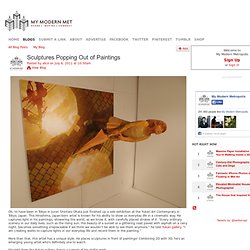 Shintaro Ohata just finished up a solo exhibition at the Yukari Art Contemprary in Tokyo, Japan. This Hiroshima, Japan-born artist is known for his ability to show us everyday life in a cinematic way. He captures light in his paintings, showering the world, as we know it, with carefully placed strokes of it. "Every ordinary scenery in our daily lives, such as the rising sun, the beauty of a sunset or a glittering road paved with asphalt on a rainy night, becomes something irreplaceable if we think we wouldn't be able to see them anymore," he told Yukari gallery. Amazing Exotic Gourd Lamps from Calabarte. Creative ways to light up a room with amazing exotic gourd Lamps by Calabarte.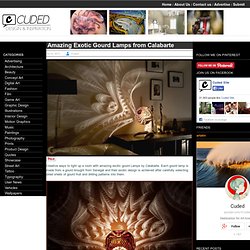 Each gourd lamp is made from a gourd brought from Senegal and their exotic design is achieved after carefully selecting dried shells of gourd fruit and drilling patterns into them. Different patterns are designed by carving deeper or shallower into layers of wood. Artist James Hopkins. Simple Ideas That Are Borderline Genius (40 Pics) Biggest Drawing in the World. Netflix Envelope Doodles. Admit it, you've done it.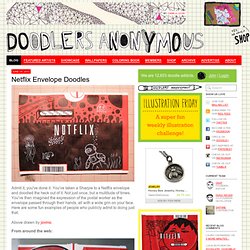 You've taken a Sharpie to a Netflix envelope and doodled the heck out of it. Not just once, but a multitude of times. You've then imagined the expression of the postal worker as the envelope passed through their hands, all with a wide grin on your face. TetraBox Light by Ed Chew. Liquid to Light Designer Ed Chew takes a green step in the right direction with the TetraBox lamp, a light object made from discarded drink packets that would have otherwise ended up in landfills already packed to the brim.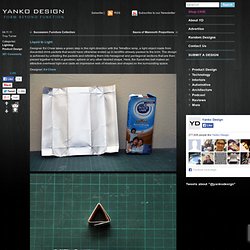 The design is achieved by unfolding the packets and refolding them into hexagonal and pentagonal sections that are then pieced together to form a geodesic sphere or any other desired shape. Samples | electric sheep. Seaweed. 3D Paintings on Panes of Glass. Using multiple layers of clear glass, Canada based David Spriggs and Chinese born Xia Xiaowan, transform flat artwork into 3D sculptures.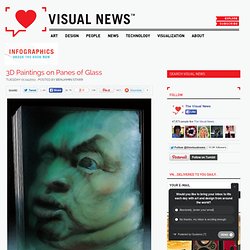 Viewers are treated to different shifting perspectives of the works based on where they stand in the art space. Spriggs work revolves around powerful explosive imagery, often resembling storms, cosmic blasts or firework like explosions. Xiawan's "spatial paintings," which often feature distorted figures, are drawn individually using colored pencil on tinted glass. Only when these pieces are combined on their floor racks do the images create the whole hologram like effect. 50 Creative Food Photos / Inspiration / Splashnology - Web Design and Web Technology Community. InShare0 In this post we collect some of most beautiful food crafts.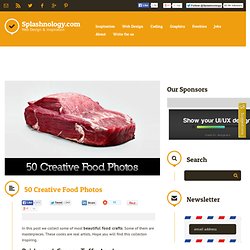 Some of them are masterpieces. These cooks are real artists. Hope you will find this collecton inspiring. Bride and Groom Taffy Apple. 30 Unusual and Incredible Surreal Artworks. Today, we bring a collection of the most meaningful and conceptually creative surreal artworks. Surreal Art has now become a very familiar medium of art and it is growing continuously in its popularity because in this medium of art, artist has much more room to show his creativity and convey his feelings and way of thinking to his audience.
Here is a collection of 30 very conceptual and momentous Surreal Artworks for you. We are very much sure you will be inspired and enthused by this attractive surreal art collection. Staples Art. Amazing Book Carving Art. Amazing Book Carving Art Most of these carving are made on old books and some carving made on magazines which has high-quality paper and vivid color. First is even made on 8 brand new books. Anyway amazing art! 10 Comments: The art of cutting leaves  | Sepientia.
---