INSECTS
Ravoux's slavemaker ant
Unlocking the Secrets of Animal Locomotion
students discover that native ants use chemical weapon to turn back invading Argentine ants
Trevor Sorrells A native winter ant in the act of trying to apply a drop of the whitish toxin it can secrete from its abdomen onto an Argentine ant. The angle of the photograph distorts the relative sizes of the two species, which are roughly the same size. Argentine ants are taking over the world – or at least the nice temperate parts. They've spread into Mediterranean and subtropical climates across the globe in sugar shipments from Argentina, and no native ant species has been known to withstand their onslaught – until now.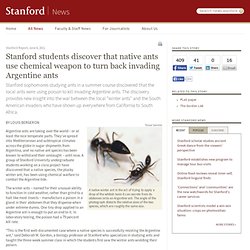 Burying beetle
Burying beetles or sexton beetles (genus Nicrophorus) are the best-known members of the family Silphidae (carrion beetles). Most of these beetles are black with red markings on the elytra (forewings). Burying beetles are true to their name- they bury the carcasses of small vertebrates such as birds and rodents as a food source for their larvae. They are unusual among insects in that both the male and female parents take care of the brood.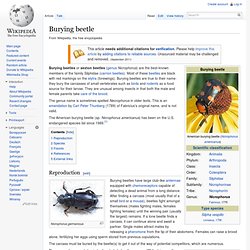 robber flies - Asilidae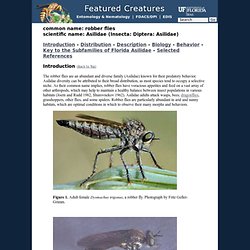 common name: robber flies scientific name: Asilidae (Insecta: Diptera: Asilidae) Introduction - Distribution - Description - Biology - Behavior - Key to the Subfamilies of Florida Asilidae - Selected References Introduction (Back to Top) The robber flies are an abundant and diverse family (Asilidae) known for their predatory behavior. Asilidae diversity can be attributed to their broad distribution, as most species tend to occupy a selective niche.
Southern Bee Killer Robber Fly - Mallophora orcina , captured in Brushy Creek, Round Rock, Texas - a photo on Flickriver
Badge creator Use Flickriver Badge Creator to create a badge linking to your photos, your group or any other Flickriver view. You can place your badge on your Flickr profile, Blog or Website. Add to your iGoogle or Netvibes page Flickriver widget for iGoogle or Netvibes can display almost any Flickriver view - most interesting today, by user, by group, by tag etc.
Dear scientists, Owing to a series of recent incidents where my photographs have been used in technical papers without my consent, without credit, and released under Creative Commons licenses, I am sorry to announce I am ending my policy of free use of photographs for scientific papers. Future use of my work will require a paid licensing agreement, the same as for most professional uses of copyrighted content.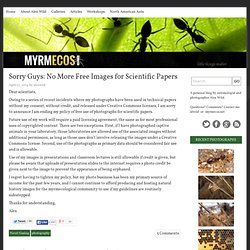 Singing Insects of North America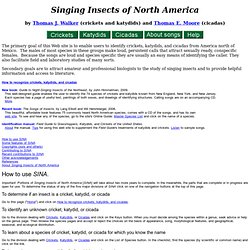 How to use SINASome features of SINACopyrights (ours and others)Contributing to SINARecent contributions to SINAOther acknowledgementsReferencesAbout Singing Insects of North America How to use SINA. Important: Portions of Singing Insects of North America [SINA] will take about two more years to complete.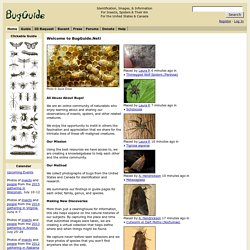 Photo © Joyce Gross All Abuzz About Bugs! We are an online community of naturalists who enjoy learning about and sharing our observations of insects, spiders, and other related creatures. We enjoy the opportunity to instill in others the fascination and appreciation that we share for the intricate lives of these oft-maligned creatures. Our Mission
Bug Review
The Ant Room