DNS & LoadBalancing
HOWTO - Configure Round Robin and Load Balancing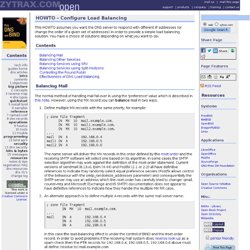 This HOWTO assumes you want the DNS server to respond with different IP addresses (or change the order of a given set of addresses) in order to provide a simple load balancing solution. You have a choice of solutions depending on what you want to do: Contents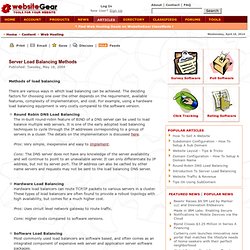 Server Load Balancing Methods - WebsiteGear
Server Load Balancing Methods Published: Tuesday, May 18, 2004 Methods of load balancing There are various ways in which load balancing can be achieved.
Round Robin DNS Load Balancing Published: Thursday, May 20, 2004 How DNS load balancing works When the request comes to the DNS server to resolve the domain name, it gives out one of the several canonical names in a rotated order. This redirects the request to one of the several servers in a server group.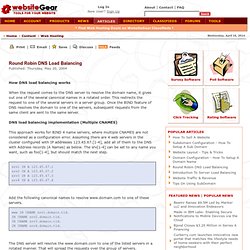 Round Robin DNS Load Balancing - WebsiteGear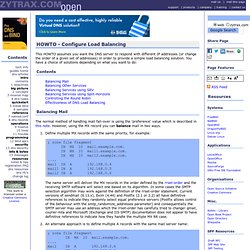 HOWTO - Configure Round Robin and Load Balancing
This HOWTO assumes you want the DNS server to respond with different IP addresses (or change the order of a given set of addresses) in order to provide a simple load balancing solution. You have a choice of solutions depending on what you want to do: Contents Balancing Mail Balancing Other Services Balancing Services using SRV Balancing Services using Split-Horizons Controlling the Round Robin Effectiveness of DNS Load Balancing Balancing Mail
This chapter describes all the statements available in BIND 9.3.x relating to or controlling queries. Full list of statements . additional-from-auth, additional-from-cache additional-from-auth yes | no ; additional-from-cache yes | no ; additional-from-auth and additional-from-cache control the behaviour when zones have additional (out-of-zone) data or when following CNAME or DNAME records. These options are for used for configuring authoritative-only (non-caching) servers and are only effective if recursion no is specified in a global options clause or in a view clause.
DNS BIND Query Statements