@nonymous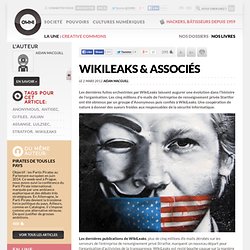 Les dernières fuites orchestrées par WikiLeaks laissent augurer une évolution dans l'histoire de l'organisation. Les cinq millions d'e-mails de l'entreprise de renseignement privée Startfor ont été obtenus par un groupe d'Anonymous puis confiés à WikiLeaks. Une coopération de nature à donner des sueurs froides aux responsables de la sécurité informatique.
What's to Come From an Anonymous / WikiLeaks Partnership?
WikiLeaks latest release, of some five million emails stolen from the servers of private intelligence company Stratfor, marks a new departure for the whistleblowing organisation.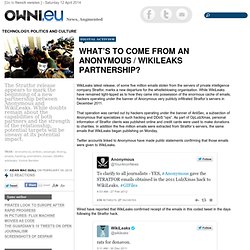 Radio Anonymous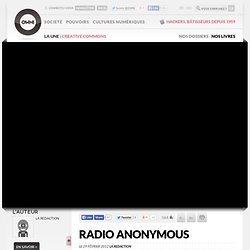 Aujourd'hui, c'est la journée des Anonymous. OWNI envahit le Mouv' pour parler hacktivisme, démocratie numérique, lulz et action collective.
Occupy Movement @ Facebook
Anonymous: "Citoyens de Grèce et du Monde, ne servez plus le Système !" #OpGreece
@WikiLeaks Publishes Global Intelligence Files: Over 5 Million Emails
Anatomie d'une attaque informatique des Anonymous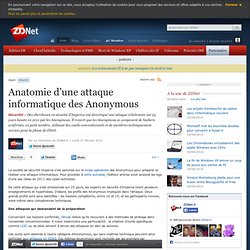 La société de sécurité Imperva s'est penchée sur le mode opératoire des Anonymous pour préparer et réaliser une attaque informatique. Pour procéder à cette autopsie, l'éditeur précise avoir analysé les logs d'une des cibles en 2011 des cyber-activistes. De cette attaque qui s'est échelonnée sur 25 jours, les experts en sécurité d'Imperva tirent plusieurs enseignements et hypothèses.
Projet de loi C-30 - Anonymous s'attaque au site de l'Association des chefs de police de l'Ontario
TORONTO – Des pirates informatiques qui se réclament du collectif Anonymous auraient attaqué le site web de l'Association des chefs de polices de l'Ontario, vendredi soir, pour protester contre le projet de loi C-30, sur la surveillance des internautes.