IPO - Valuation infographics
La dernière infographie en date de Column Five Media pour Udemy recense les investissements dans les startups aux Etats-Unis depuis 2008, avant la crise, avec en question sous-jacente: les indicateurs sont-ils annonciateurs d'une bulle 2.0 ? Les principaux éléments à retenir: Si le nombre de deals en Q1 2011 est encore inférieur à la moyenne des trois premiers trimestres 2008, les 7.5 milliards de dollars investis sont au dessus de la moyenne de 2008 Le ratio valorisation 2011 / CA 2010 est de 50 pour Facebook, 37 pour LinkedIn, 33 pour Groupon et supérieur à 10 pour Skype et Pandora… Le social commerce représente à lui seul 22% des investissements La Californie est passée en un an sous la barre des 50% d'investissements des VC sur Internet avec une explosion de l'Illinois (Chicago)
Spectre de la bulle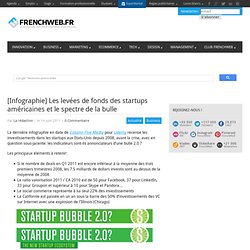 Are We In A Tech Bubble? Here's The History [INFOGRAPHIC]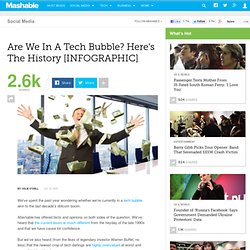 We've spent the past year wondering whether we're currently in a tech bubble akin to the last decade's dotcom boom. Mashable has offered facts and opinions on both sides of the question. We've heard that the current boom is much different from the heyday of the late 1990s and that we have cause for confidence.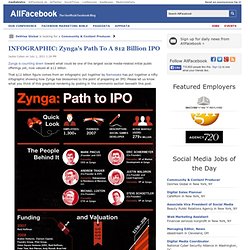 INFOGRAPHIC: Zynga's Path To A $12 Billion IPO
Zynga is counting down toward what could be one of the largest social media-related initial public offerings yet, now valued at $12 billion. That $12 billion figure comes from an infographic put together by Namesake has put together a nifty infographic showing how Zynga has blossomed to the point of preparing an IPO. Please let us know what you think of this graphical rendering by posting in the comments section beneath this post.
[Infographie] Les plus grosses introductions en Bourse des entreprises High-Tech en 2011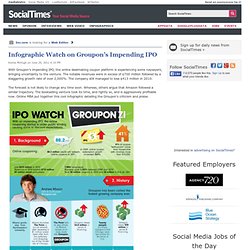 Groupon's Impending IPO
With Groupon's impending IPO, the online dealmaking coupon platform is experiencing some naysayers, bringing uncertainty to the venture. The notable revenues were in excess of $700 million followed by a staggering growth rate of over 2,000%. The company still managed to lose $413 million in 2010. The forecast is not likely to change any time soon.