Indignados
Agendas RV Journées Marches
CoNTacts Tracts. Assemblées et Blogs de Retours des Places. MEDias Presse CoNtre-medias. Les mouvements citoyens mondiaux. Les mouvements sociaux à l'échelle globale se multiplient, je ne parle pas du printemps Arabe, largement traité partout ailleurs depuis 6 mois, je parle de mouvements plus silencieux et qui ne touchent pas l'ensemble des citoyens d'un même pays, mais qui touchent l'ensemble des pays du monde et qui sont forts de plusieurs millions de membres actifs, et qui ne connaissent pas non plus la même attention médiatique: - le premier que je voudrai citer, c'est le mouvement AVAAZ, qui grossit et qui gagne en puissance en se dotant de moyens originaux et ne faisant appel pour son financement qu'à ses membres: Le mouvement revendique un peu plus de 10 Millions de membres à travers le monde.
Leur action à commencé avec la signature de pétitions sur internet, aujourd'hui, même si les pétitions fédèrent la plus grande partie de ses membres, AVAAZ lève des fonds auprès de ses membres sur les différentes campagnes qu'il mène. #OccupyFrance. The Wayseers Manifesto Privacy Policy. Why it's still important that you "chip in" whatever you can...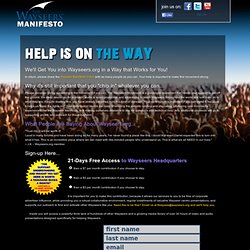 Please consider giving something to the movement if you can. The Wayseers Movement is a grassroots movement that needs your support to get off the ground. We need resources for outreach, audio & video production and advertising to reach Wayseers throughout the world and turn them on to what they are. If you're reading this, you have already benefited from this kind of outreach. Your contribution is important if you can make it, because it helps us "keep the lights on. " UPRISER.com to consolidate web's political power. With its victory against the Stop Online Piracy Act last January, the internet proved its ability to influence the halls of power.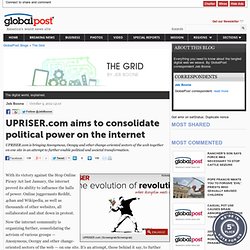 Online juggernauts Reddit, 4chan and Wikipedia, as well as thousands of other websites, all collaborated and shut down in protest. Now the internet community is organizing further, consolidating the actvism of various groups — Anonymous, Occupy and other change-oriented sectors of the web — on one site. It's an attempt, those behind it say, to further enable political and societal transformation using the web. UPRISER.com, using the Reddit open source code, will replace sometimes trivial subreddits with "movements", like whistleblowing, Anonymous or Occupy. Wayseer Manifesto. INDIGNADOS.
Les Indignés avec toi. Occupy Melbourne Tent Monsters. Occupy Melbourne Eviction. EL VIDEO QUE NO QUIEREN QUE MIREMOS !!! France: sauvons internet. 176,578 ont signé la pétition.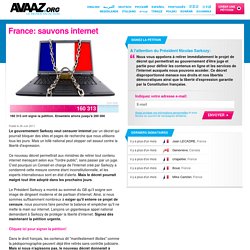 Ensemble allons jusqu'à 200,000 Publié le 29 Juin 2011Le gouvernement Sarkozy veut censurer internet par un décret qui pourrait bloquer des sites et pages de recherche que nous utilisons tous les jours. Mobilisation mondiale des Indignés : marche et assemblée pour les Droits de l'Humain | paris.reelledemocratie.com.
Hackers AnonymousHActivists. Petitions Referendums URGENCES.
---
sizolabarchitecture Feb 4 2012

cette perle comporte l'information en continue dans la presse ou sur les blogs, les contacts, les marches, les groupes de hackers
---