Agendas RV Journées Marches
Accueil. Accueil. #14Ja - Journée mondiale des assemblées populaires. [ENG-ESP-ITA-POR-GER-FRA-TUR] Paris May 1st: General assemblies of workers! 1st of May: General assemblies of workers!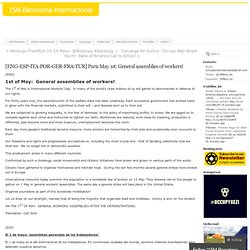 The 1st of May is International Workers' Day. In many of the world's cities millions of us will gather to demonstrate in defence of our rights. For thirty years now, the deconstruction of the welfare state has been underway. Each successive government has worked hand in glove with the financial markets, submitted to their will – and likewise bent us to their will. Pad journal de bord Places indignés Iboz5LxqR1. Global Evolution Day - 12.M 2012.
Cartes des Indigné-e-s / Map of Protesters / Mapa de l@s Indignad@s. #14Ja - Journée mondiale des assemblées populaires. Noticias. Auf dem Weg nach Europa existieren keine Grenzen Die gelungene Zukunft Europas hat nur eine Chance, wenn ein verstärkter Einigungsprozess stattfinden kann.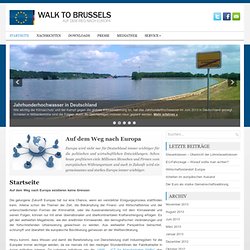 Alleine schon die Themen der Zeit, die Bekämpfung der Finanz- und Wirtschaftskrise und der unterschiedlichsten Formen der Kriminalität, oder die Auseinandersetzung mit dem Klimawandel und seinen Folgen, können nur mit einer übernationalen und überkontinentalen Kraftanstrengung erfolgen. Es gilt den weltweiten Megatrends, wie den erwähnten Klimawandel, den demografischen Veränderungen und der fortschreitenden Urbanisierung gewachsen zu werden. Aus weltweiter Perspektive betrachtet, schrumpft und überaltert die europäische Bevölkerung gemessen an der Weltbevölkerung. Noticias. Noticias.
---