India Info
Noida. Noida is located in Gautam Buddh Nagar district of Uttar Pradesh state.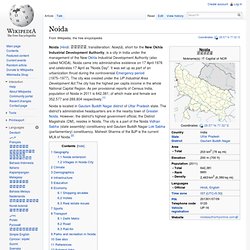 The district's administrative headquarters are in the nearby town of Greater Noida. However, the district's highest government official, the District Magistrate (DM), resides in Noida. The city is a part of the Noida Vidhan Sabha (state assembly) constituency and Gautam Buddh Nagar Lok Sabha (parliamentary) constituency. Mahesh Sharma of the BJP is the current MLA of Noida.[2] India.Com | All New, All Fresh, All India.
India: History, Geography, Government, and Culture. One-third the area of the United States, the Republic of India occupies most of the subcontinent of India in southern Asia.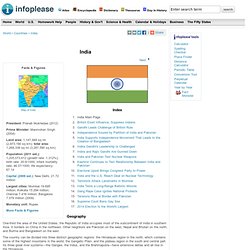 It borders on China in the northeast. Other neighbors are Pakistan on the west, Nepal and Bhutan on the north, and Burma and Bangladesh on the east. The country can be divided into three distinct geographic regions: the Himalayan region in the north, which contains some of the highest mountains in the world, the Gangetic Plain, and the plateau region in the south and central part. Home page.
Companies. Governement. Hotels.
---