Independent Record Lable
All about independent music
UBIQUITY RECORDS. Stax Records. (Est. 1959, includes Volt Records) Stax Records is synonymous with Southern soul music.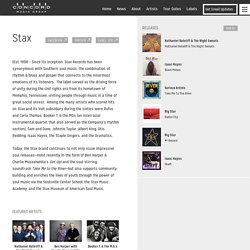 Originally known as Satellite, the Memphis company was founded in 1959 by Jim Stewart and his sister, Estelle Axton, and took its new name in 1961 from the first two letters of their last names. Among the many artists who scored hits on Stax and its Volt subsidiary during the Sixties were Rufus and Carla Thomas, Booker T. & the MGs (an interracial instrumental quartet that also served as the company\'s rhythm section), Sam and Dave, Johnnie Taylor, Albert King, and Otis Redding. Redding\'s death in 1967 signaled the end of the first Stax era (to which Atlantic retains distribution rights).
Subsequently the company spawned a new crop of hit-makers, among them Isaac Hayes, the Staple Singers, and the Dramatics. Música independiente, Entradas para recitales, Reseñas de discos, Entrevistas, Libros, Cine y más | Indie Hoy. Independent Record Lable. Cherry Red Records. Sun Record Company | Where Rock & Roll Was Born. Mercury. RCA Records 2014 GRAMMY Nominees. Electro-swing.com | The world's 1st ElectroSwing website ! Rough Trade Records. Mystic.pl. Music | innergun. Paris qui dort. Thrill Jockey Records. Jim O'rourke (U.S/Japan) - Interview with Musicians - Yamaha - Deutschland.
Deutschland Home > Produkte > Musikinstrumente > Elektronische Unterhaltungsinstrumente > TENORI-ON > Interview with Musicians > Jim O'rourke (U.S/Japan) Jim O'rourke (U.S/Japan) Watch Video 1.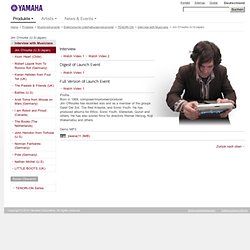 Jim O'Rourke Curates Tokyo ATP Festival. Sonic experimentalist and Sonic Youth/Wilco/Joanna Newsom collaborator Jim O'Rourke is next in line as a curator of an All Tomorrow's Parties Festival.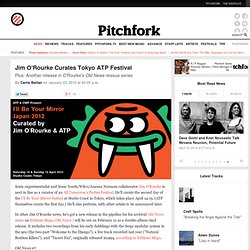 He'll curate the second day of the I'll Be Your Mirror festival at Studio Coast in Tokyo, which takes place April 14-15. (ATP themselves curate the first day.) Epitaph Records. Clown and sunset. Out On A Limb Records | News & Events | NEW WINDINGS DOUBLE A-SIDED 7" & FUNDIT. Morningside Records | Independent record label since 2001. Experimental, ambient, noise, improv record label. Kimi Records. GROENLAND RECORDS.
~ K A A D A * M U S I C ~ PAGAN RECORDS - Extreme Metal Label. NEWS - G-Stone Recordings. Excelsior Recordings. Out | here records. Lil' Chief Records. | Disasters by Choice | Enter | Home: CRAMMED DISCS. Old Europa Cafe: industrial neo-folk, dark-ambient, martial neo-pop, noise mail-order. Ernest Jenning Record Co. Black Mark Production. Hades Records. Editions Mego. Elefant Records. Eibon Records. Crónica label. Fonal Records. Full Time Hobby. [Wired Records] Bang! Records. DOUBLEMOON - Pozitif Music Production. PACIFIC MOON RECORDS-HOME. Amiata Records - home page. Miasmah. Beep! Beep! Back up the Truck. Bad Taste Records - Online Store. ABM index. Åiö Records, Susurrus Station, Pikara, Dead Cinema, Zouaves.
: : O B L I Q S O U N D : : R&S Records. 兵马司/Maybe Mars. 地下调频-中文 哥特 暗潮 工业 新民谣 黑金属王国 (厂牌+网络电台+杂志) Tokyo Dawn Records - Dirty Soulclaps Since 1997. NOCO CREATIVE LIMITED.
---