Independent Record Lable
All about independent music
UBIQUITY RECORDS. RCA Records 2014 GRAMMY Nominees. Música independiente, Entradas para recitales, Reseñas de discos, Entrevistas, Libros, Cine y más | Indie Hoy. Cherry Red Records. Sun Record Company | Where Rock & Roll Was Born. Mercury. Electro-swing.com | The world's 1st ElectroSwing website ! Rough Trade Records. Mystic.pl. Music | innergun. Paris qui dort. Thrill Jockey Records. Jim O'rourke (U.S/Japan) - Interview with Musicians - Yamaha - Deutschland. Deutschland Home > Produkte > Musikinstrumente > Elektronische Unterhaltungsinstrumente > TENORI-ON > Interview with Musicians > Jim O'rourke (U.S/Japan) Jim O'rourke (U.S/Japan) Watch Video 1.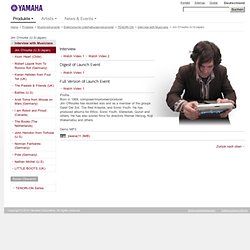 Jim O'Rourke Curates Tokyo ATP Festival. Sonic experimentalist and Sonic Youth/Wilco/Joanna Newsom collaborator Jim O'Rourke is next in line as a curator of an All Tomorrow's Parties Festival.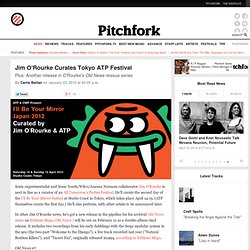 He'll curate the second day of the I'll Be Your Mirror festival at Studio Coast in Tokyo, which takes place April 14-15. (ATP themselves curate the first day.) Epitaph Records. Clown and sunset. Out On A Limb Records | News & Events | NEW WINDINGS DOUBLE A-SIDED 7" & FUNDIT. Morningside Records | Independent record label since 2001.
Experimental, ambient, noise, improv record label. Kimi Records. GROENLAND RECORDS. ~ K A A D A * M U S I C ~ PAGAN RECORDS - Extreme Metal Label. Excelsior Recordings. Out | here records. Lil' Chief Records. | Disasters by Choice | Enter | Home: CRAMMED DISCS. Old Europa Cafe: industrial neo-folk, dark-ambient, martial neo-pop, noise mail-order. Ernest Jenning Record Co. Black Mark Production. Hades Records. Editions Mego. Elefant Records. Eibon Records. Crónica label. Fonal Records. Full Time Hobby. [Wired Records] Bang! Records. DOUBLEMOON - Pozitif Music Production. PACIFIC MOON RECORDS-HOME. Amiata Records - home page. Miasmah. Beep! Beep! Back up the Truck. Bad Taste Records - Online Store. ABM index. Åiö Records, Susurrus Station, Pikara, Dead Cinema, Zouaves.
: : O B L I Q S O U N D : : R&S Records. 兵马司/Maybe Mars. 地下调频-中文 哥特 暗潮 工业 新民谣 黑金属王国 (厂牌+网络电台+杂志) Tokyo Dawn Records - Dirty Soulclaps Since 1997. NOCO CREATIVE LIMITED.
---