Independent Record Lable
All about independent music windywang Feb 16
UBIQUITY RECORDS
Warsaw Afrobeat Orchestra Feat. BOSQ "Only Now 12"" and BOSQ feat. Tall Black Guy "Paciencia De Jo (Tall Black Guy Remix) 12"" are out and now available for purchase. The sound of "The Electric Peanut Butter Co. is spreading across the nation!" With this proud declaration Shawn Lee and Adrian Quesada's collaboration album is on it's way so get ready to JAM! October Releases Out Now!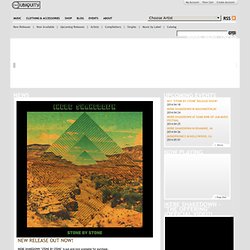 Stax Records
(Est. 1959, includes Volt Records) Stax Records is synonymous with Southern soul music. Originally known as Satellite, the Memphis company was founded in 1959 by Jim Stewart and his sister, Estelle Axton, and took its new name in 1961 from the first two letters of their last names. Among the many artists who scored hits on Stax and its Volt subsidiary during the Sixties were Rufus and Carla Thomas, Booker T. & the MGs (an interracial instrumental quartet that also served as the company\'s rhythm section), Sam and Dave, Johnnie Taylor, Albert King, and Otis Redding. Redding\'s death in 1967 signaled the end of the first Stax era (to which Atlantic retains distribution rights). Subsequently the company spawned a new crop of hit-makers, among them Isaac Hayes, the Staple Singers, and the Dramatics.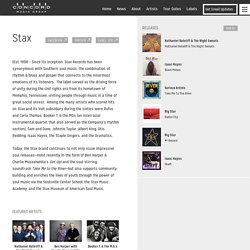 Cherry Red Records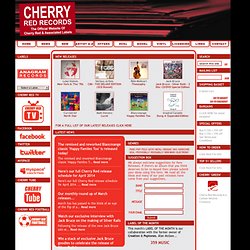 We always welcome suggestions for New Releases. If there's an album that you think deserves to be re-issued then please submit your ideas using this form. We read all the ideas and many of our past releases have come from your suggestions.
Sun Record Company | Where Rock & Roll Was Born
The Sun Sound began when Sam Phillips launched his record company in February of 1952. He named it Sun Records as a sign of his perpetual optimism: a new day and a new beginning. Sam rented a small space at 706 Union Avenue for his own all-purpose studio.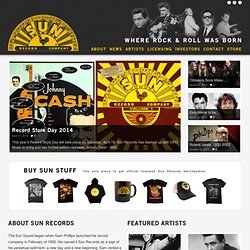 Mercury
RCA Records 2014 GRAMMY Nominees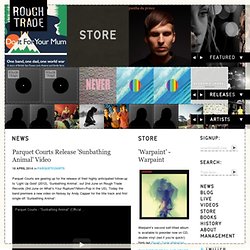 Warpaint In Session For The Line Of Best Fit 17 December 2013 in Warpaint A pre-Christmas treat for you all: Our friends The Line Of Best fit captured Warpaint performing their single 'Love Is To Die' live at The Tabernacle in London, check it out: 'Love Is To Die' is taken from the band's new album 'Warpaint', set for release on Rough Trade on 20th January (21st in the US). It is available to pre-order now from our Rough Trade webstore and iTunes. Warpaint LA Listening Party 16 December 2013 in Warpaint
mystic.pl
Paris qui dort
Jim O'rourke (U.S/Japan) - Interview with Musicians - Yamaha - Deutschland
Deutschland Home > Produkte > Musikinstrumente > Elektronische Unterhaltungsinstrumente > TENORI-ON > Interview with Musicians > Jim O'rourke (U.S/Japan) Jim O'rourke (U.S/Japan) Watch Video 1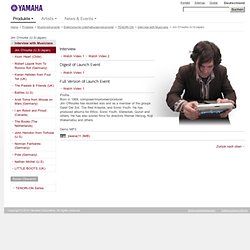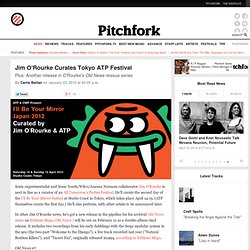 Sonic experimentalist and Sonic Youth/Wilco/Joanna Newsom collaborator Jim O'Rourke is next in line as a curator of an All Tomorrow's Parties Festival. He'll curate the second day of the I'll Be Your Mirror festival at Studio Coast in Tokyo, which takes place April 14-15. (ATP themselves curate the first day.)
Jim O'Rourke Curates Tokyo ATP Festival
clown and sunset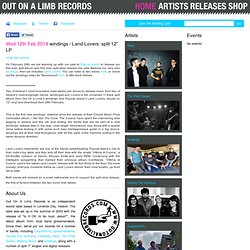 Mon 2nd Dec 2013 Out On A Limb: 2013 Review // 2014 Preview View the archive 2013 has been a very busy year for Out On A Limb Records, with 4 albums released and our tenth birthday taking place this summer. Rest: I Hold The Wolf (Double LP/Digital, February): Stream Peter Delaney - Witch Bottle (CD/Digital, May): Stream
Out On A Limb Records | News & Events | NEW WINDINGS DOUBLE A-SIDED 7" & FUNDIT
Morningside Records | Independent record label since 2001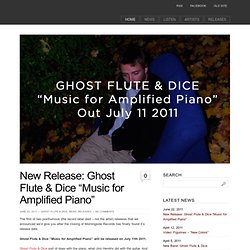 The first of two posthumous (the record label died – not the artist) releases that we announced we'd give you after the closing of Morningside Records has finally found it's release date. Ghost Flute & Dice "Music for Amplified Piano" will be released on July 11th 2011. Ghost Flute & Dice sort of does with the piano, what Jimi Hendrix did with the guitar. And what comes out is fantastic music that wants to take you on a terrific journey through an old musical instruments hidden world of sound. Check out the track "Am" on Bandcamp.
experimental, ambient, noise, improv record label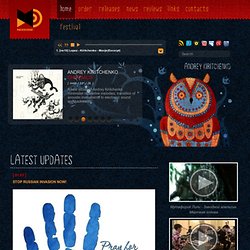 Концерт для Шереха Цього року виповнюється 105 років від дня народження Юрія Шевельова – видатного харків'янина, всесвітньовідомого вченого, філолога, мовознавця. На жаль, ім'я Шевельова й до сьогодні мало знане в рідному місті, зокрема, в Харкові немає жодного пам'ятного знаку, присвяченого вченому. Тому ряд харківських наукових та громадських організацій (Український клуб Слобідщини, Харківське історико-філологічне товариство, Фонд національно-культурних ініціатив імені Гната Хоткевича та інші) виступив із ініціативою встановлення пам'ятної дошки Юрію Шевельову на будинку «Саламандри» (вул. Сумська, 17), де вчений жив з 1915 по 1943рр. Харківський скульпторОлександр Демченко вже виготовив ескіз дошки, використовуючи шрифти та начерки знаного художника Валера Бондара.
Kimi Records
GROENLAND RECORDS
~ K A A D A * M U S I C ~
PAGAN RECORDS - Extreme Metal Label
Tosca - Bonjour (from Odeon, out February 2013) by !K7 Records http://www.k7.com/Toscaodeon/ While many of the songs on Tosca's upcoming album Odeon feature guest vocalists, instrumental, ambient compositions remain an area of expertise for the Viennese duo. "I don't like the term 'ambient' so much, but I use it as a recognition point," says Richard Dorfmeister. Rupert Huber clarifies further, "We don't mean 'ambient' like the ambient scene of the 70s and 80s, or Music for Airports, rather it's more like a sound collage.
NEWS - G-Stone Recordings
Excelsior de club. Jij de supporter. Voor €10,- per maand selecteren wij.
Excelsior Recordings
Out | here records
Lil' Chief Records
| Disasters by Choice | Enter |
MADE TO MEASURE could be described as the aural equivalent of a collection of art books. 35 albums came out, by artists such as Hector Zazou, John Lurie (with his soundtracks for Jim Jarmusch's "Stranger Than Paradise" and "Down By Law"), Fred Frith, Arto Lindsay, Zelwer, Steven Brown, Peter Principle, David Cunningham, Benjamin Lew, Daniel Schell, Aksak Maboul, Minimal Compact and more. The loose idea behind the title of the series was: this is music which had been or could have been "made to measure" for other media (film, theatre, dance, video). We have recently repressed the inaugural release of the MADE TO MEASURE series which includes pieces by four artists:
Old Europa Cafe: industrial neo-folk, dark-ambient, martial neo-pop, noise mail-order
Ernest Jenning Record Co.
Black Mark Production
Hades Records
Editions Mego
Elefant Records
Eibon Records
Crónica label
Fonal Records
Full Time Hobby
[Wired Records]
Bang! Records
DOUBLEMOON - Pozitif Music Production
PACIFIC MOON RECORDS-HOME
Amiata Records - home page
Miasmah
Beep! Beep! Back up the Truck
Bad Taste Records - Online Store
ABM index
Åiö Records, Susurrus Station, Pikara, Dead Cinema, Zouaves
: : O B L I Q S O U N D : :
兵马司/Maybe Mars
地下调频-中文 哥特 暗潮 工业 新民谣 黑金属王国 (厂牌+网络电台+杂志)
Tokyo Dawn Records - Dirty Soulclaps Since 1997
NOCO CREATIVE LIMITED